Automotive
Published on October 28th, 2019 | by Subhash Nair
0
The Current 3-Series got the BMW ALPINA Treatment @ TMS 2019
While BMW was completely absent from the 2019 Tokyo Motor Show, tuning company ALPINA was present, launching their B3 Saloon. The B3 Touring was shown earlier at the 2019 Frankfurt Motor Show with similar specifications, but slightly lower performance figures owing to the wagon's higher weight.
Under the Hood
The B3 Saloon uses a 3-litre inline 6 BMW petrol motor that has been retuned and reengineered by ALPINA to produce an impressive 462hp and 700Nm of torque linearly.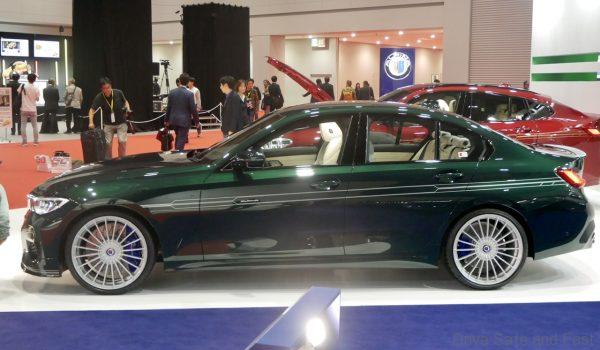 The B58 engine in the standard BMW 3-Series can be found on the M340i model, where it produces 382hp and 500Nm of torque.
The additional power comes from new flow-optimised turbine housings for the engine's turbochargers. ALPINA have specified their own cooling system to ensure the additional power can be produced at stably.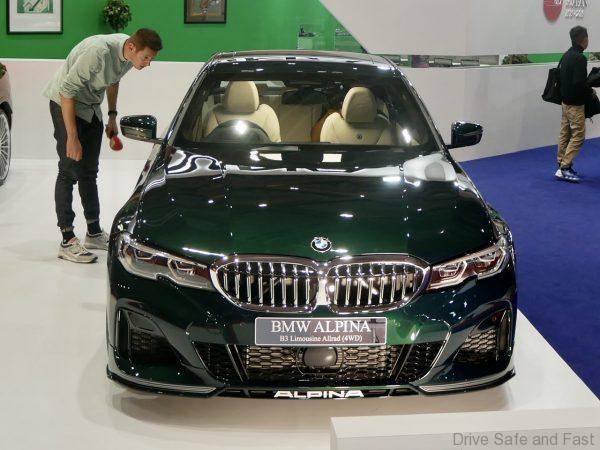 The BMW ALPINA B3 gets all-wheel drive that's based on the standard xDrive system. ALPINA have tuned the Driving Experience Control for more rear-biased output in most situations.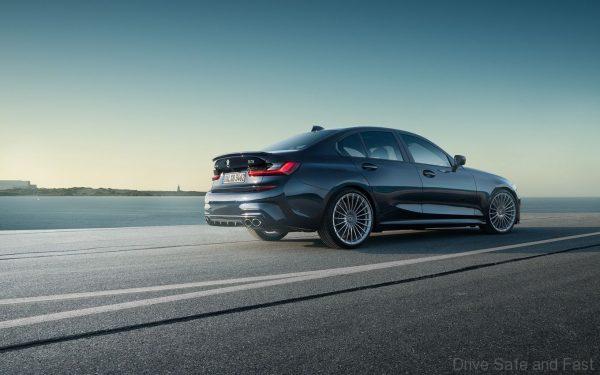 ALPINA also outfits the B3 with their own stainless steel exhaust system whose finishers integrate right into the vehicle's rear apron.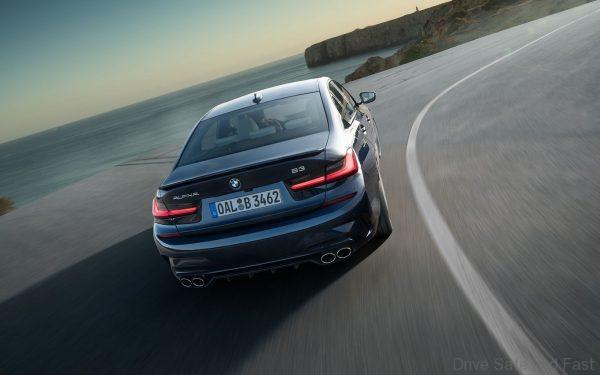 Figures
Compared to the B3 Touring's 300km/h top speed and 3.9 second century sprint time, the B3 Saloon is mildly more impressive at 303km/h and 3.8 seconds respectively.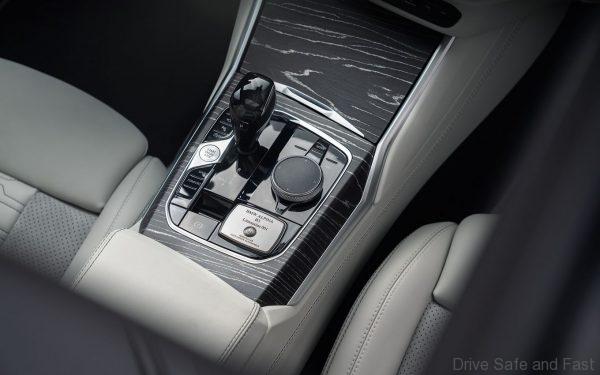 There's a new Launch Control function on the B3 Saloon which enables it to get from 0-200km/h in just 13.4 seconds. A whole 5 seconds faster than the Touring takes.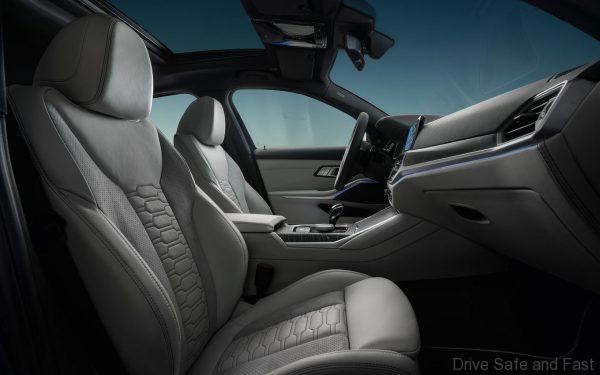 For more on the BMW ALPINA B3 Sedan Allrad, check out the excerpts from the press release below.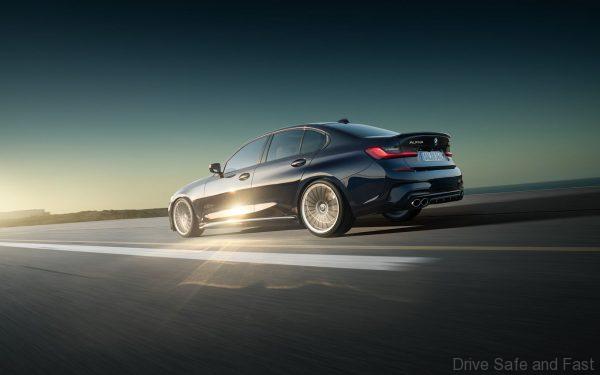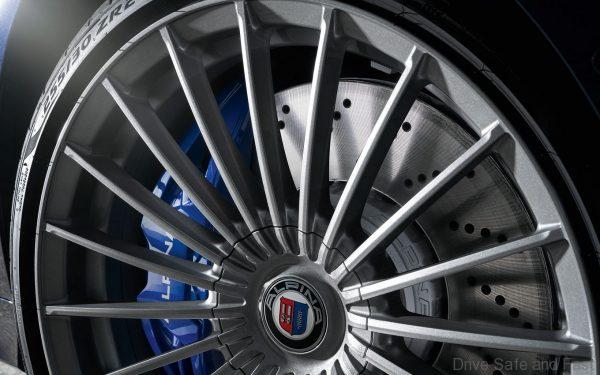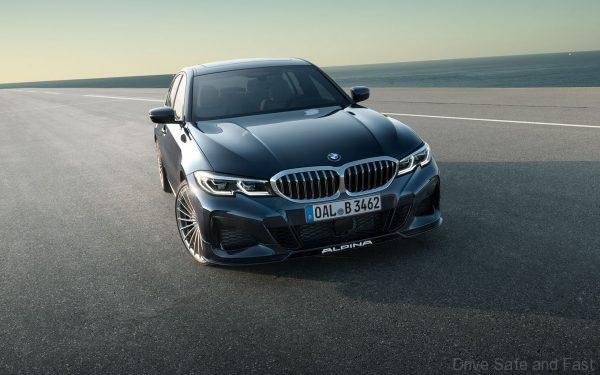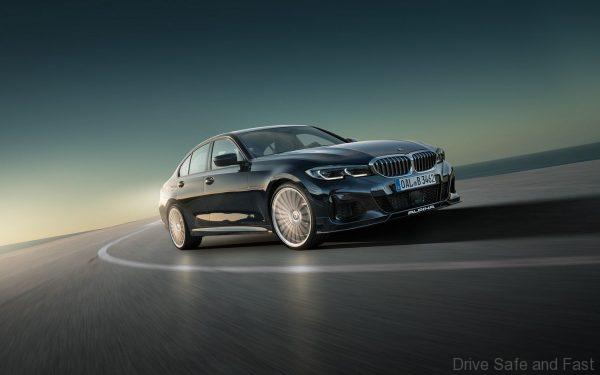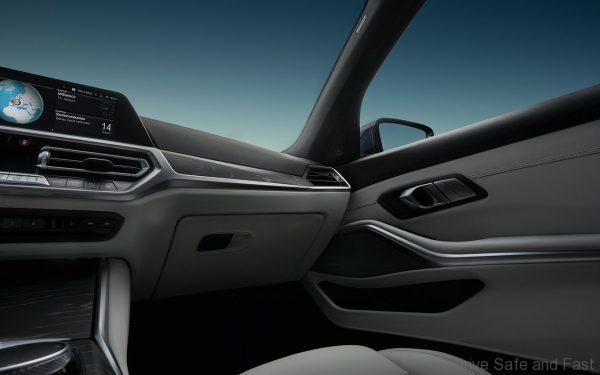 PRESS RELEASE
ALPINA SWITCH-TRONIC
For maximum dynamics the driver can change gears using the SWITCH-TRONIC shift buttons on the back of the steering wheel in MANUAL Shift Mode. In combination with the SPORT+ setting of the Driving Experience Control, automatic up-shifts at red-line rpm are supressed for more driver control. New ergonomically optimised SWITCH-TRONIC shift paddles, CNC machined from solid aluminium and finished in black matt, are optionally available for the first time.
ALPINA sports suspension
The ALPINA sports suspension combines sport springs and stiff anti-roll bars to provide superior road holding, balanced handling and pronounced agility. The adaptation of the Variable Damper Control bears the unmistakable signature of ALPINA engineers. It offers three modes COMFORT+, COMFORT and SPORT which provide a wide range of driving experiences ranging from pronounced ride comfort to maximum agility and dynamics.
Variable sports steering
The enhanced variable sports steering system supports directional stability, agility when cornering, and comfortable manoeuvring. For the first time the driver can choose from three steering modes: COMFORT, SPORT and SPORT+. While in COMFORT mode the focus is on smooth directional stability with a high sense of safety even at high speeds, while the SPORT modes aim to maximise responsiveness and precision.
High-performance brakes
The performance brake system, comprising four-piston fixed brake callipers with brake discs of 395 mm diameter on the front axle and floating brake callipers with brake discs of 345 mm diameter on the rear axle, offers excellent deceleration and sensitive modulation. Brake callipers are finished in ALPINA Blue and feature a white ALPINA logo. The optionally available high-performance brake system with light-weight drilled brake discs and highly heat-resistant brake pads offers even more direct pedal feedback and thermodynamic reserves.
Ultra-high-performance tyres
Superior road holding, balanced handling and precision steering are also the result of an intelligent wheel and tyre choice. Customers may choose between an entirely new ALPINA DYNAMIC 19" wheelset featuring a 5×4 multispoke design or an optional ALPINA CLASSIC 20" forged wheelset with a traditional, minimalistic 20 spoke design which also sees the reintroduction of the trademark lockable wheel hub cover. Specifically developed by Pirelli tyre experts for the BMW ALPINA B3, the new Pirelli P Zero marked ALP utilises ultra-high-performance compounds to deliver highest grip levels in all situations.
Limited-slip differential as standard
The electronically controlled rear axle limited-slip differential increases driving dynamics particularly when cornering with high lateral loads. The BMW ALPINA B3 corners with a rear-wheel drive emphasis and the increased power transfer and traction allow particularly dynamic acceleration out of corners.
Exterior Design
Progressive tradition
The exterior design of the new BMW ALPINA B3 is more progressive than ever before. The ALPINA design and aerodynamic elements accentuate the new BMW 3 Series' clean and precise design language, combining a more dynamic appearance with functionality. Following the ALPINA philosophy of "form follows function", the front has optimised air intakes for increased cooling performance while both front and rear aerodynamics reduce uplift to a minimum for maximum high speed stability. The front apron with large air intakes features a free-floating ALPINA logo.
Unmistakeably ALPINA
Elegant and exquisite, the ALPINA Blue metallic and ALPINA Green metallic paint finishes are exclusively reserved for BMW ALPINA automobiles. There is also a wide variety of BMW and BMW Individual paint finishes available to choose from.
Interior Design
ALPINA details
Classic ALPINA details, such as metal emblems in the floor mats and seat backrests, ALPINA door sills and a production plaque with build number set stylish accents in the interior. The hand-stitched LAVALINA leather ALPINA sports steering wheel with steering wheel heating ensures a comfortable grip in any season.
High-tech cockpit
Digital services and advanced driver-assistance systems, such as Parking Assistant or Active Guard Plus, are on board as standard. The optionally available Driving Assistant Professional offers a high degree of active safety with its comprehensive package of innovative assistance systems. The leading BMW navigation, communication and infotainment systems are included in the standard equipment and clearly demonstrate that the new BMW ALPINA B3 is also state-of-the-art in terms of digital services.
Craftmanship
The in-house ALPINA leather workshop offers customers almost unlimited possibilities to create their own interior compositions: piping, stitching, embroidery and embossing, made to customer specifications, add a personal touch to the ALPINA interior design. The untreated LAVALINA leather extends the BMW equipment range with the highest quality natural material used in the automotive industry. Connoisseurs particularly value the comfort and climate properties of this special leather.
SALOON
The new BMW ALPINA B3 Saloon underscores its athletic, yet elegant appearance with impressive performance figures. Accelerating from 0 to 100 km/h takes just 3.8 seconds, while the 200 km/h mark is passed in 13.4 seconds on to a top speed of 303 km/h.
TOURING
In terms of everyday practicality, the Touring convinces with a functional stowage space volume of 500 to 1,510 litres and an innovative luggage compartment concept. With a top speed of 300 km/h, the new BMW ALPINA B3 Touring is one of the fastest of its kind. Accelerating from 0 to 100 km/h takes just 3.9 seconds and 200 km/h is reached in 13.9 seconds.