Automotive
Published on October 23rd, 2019 | by Subhash Nair
0
Mazda MX-30 Debuts e-Skyactiv Electric Motor and has RX-8 Doors
We all knew Mazda would be introducing their first production ready electric vehicle at the 2019 Tokyo Motor Show, but none of us could have predicted their direction for this project. First of all, the name. It's called the MX-30, merging the MX half from their reknown 'MX-5' roadster with the new double digit part of their nomenclature first shown on their 'CX-30' crossover.
But the new name isn't the only strange move by Mazda. They've also given their first electric vehicle suicide doors in the style of the RX-8. This gives you better access to the rear seats than a coupe, but the aperture is much smaller than regular doors. Mazda are calling these 'freestyle doors'.
The main talking point though is the e-Skyactiv powertrain. This consists of a 143 horsepower electric motor that draws from a rather conservative 35.5kWh that gives the MX-30 a total range of just 210 kilometres. That's lower than the already short-ranged MINI Cooper SE.
But as the name suggests, the MX-30 is meant to be a sporty EV. They've built the car on the new Skyactive-Vehicle Architecture, making it the third 'new generation' Mazda model after the Mazda3 and Mazda CX-30. They've developed e-GVC Plus to make driving this electric Mazda as natural and intuitive as any of their other models.
The interior consists of many recycled or otherwise environmentally-friendly sourced materials. The central tray, for instance, is made from cork that is harvested without chopping down trees. There are other fibrous materials used throughout the cabin that have a low impact on the environment and are sustainably sourced.
Mazda's design team pursued the concept of "Human Modern" to evolve Kodo to align itself with current values.
The Mazda MX-30 comes with a 7″ free-standing touch panel that has a dynamic welcome animation, which changes depending on the external environment.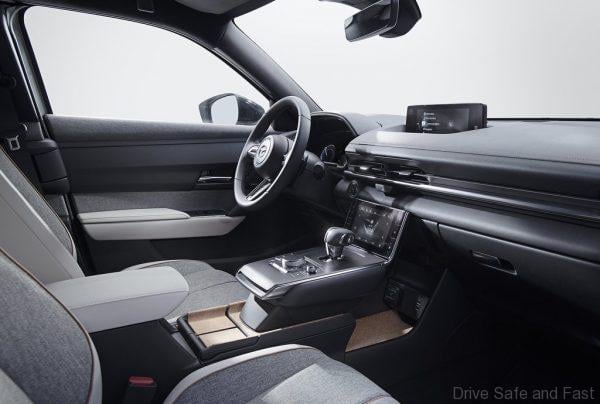 They've also gone and outfitted the car with Mazda's latest i-Activesense safety suite. This now evolves Smart Brake Support to now keep drivers on roads even without lane markings or discernible road edges. They've also made the necessary safety precautions to make the MX-30 withstand side impacts despite the door design. They battery pack also gets a special structure to protect it in crashes.