Automotive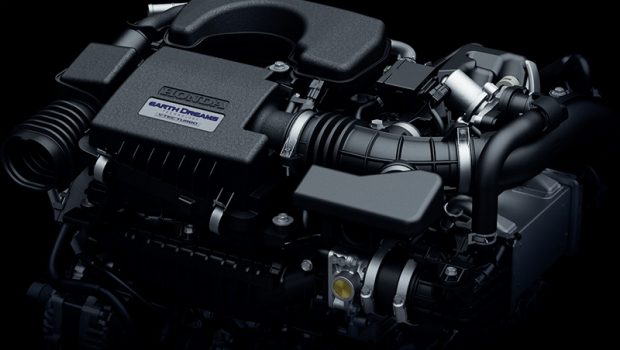 Published on November 26th, 2019 | by Subhash Nair
0
A Closer Look At the Honda City's 1-litre Turbo Engine
Honda unveiled their latest version of the City yesterday in Thailand. While the design remains conservative, under the hood is where Honda are making some dramatic changes. Honda are offering the new City with a 'P10A2' 1-litre 3-cylinder turbocharged engine right here in South East Asia. To date, none of the Honda City's direct rivals from Japan or Korea have offered such an engine. The Ford Fiesta EcoBoost offered an engine in a similar configuration. The Peugeot 208 too had a similar motor, while the Renault Captur and Clio too introduced elements of downsizing and forced induction to the B-segment.
The outgoing City was available with either a port injection 1.5-litre i-VTEC engine in the petrol models or a direct injection 1.5-litre Earth Dreams engine in the hybrid model. No hybrid models were announced at the launch yesterday for the Thai market despite strong indications that the i-MMD system from the new Fit / Jazz would be featured here. They also won't be selling this model with any of the existing 1.5-litre engines there. And while this new City hasn't been confirmed for Malaysia, we can assume that it will indeed be what Honda Malaysia starts selling here next year instead of the City
Features of this new Honda 1-litre
Direct Injection
High Efficiency Turbo Charger with electric waste gate
Power and response of a naturally-aspirated 1.6-litre to 1.8-litre petrol engine
Dual Variable Valve Timing Control
Intake-side VTEC
Variable capacity oil pump
Pistons with cooling gallery
Timing belt coated in oil
Constructed mainly from aluminium
Power output of this Honda engine:
122PS @ 5500rpm
173Nm @ 2000-4500rpm
We know the European Honda Civic comes with a 1-litre VTEC Turbo engine with a higher output of 200Nm. That car has impressive performance figures with a top speed of over 200km/h and a 0-100km/h time of 9.5 seconds. That being said, the lower output here may translate to a much slower car.
The engine is available only with a CVT automatic. Paddle shifters will allow the driver to 'shift' through its seven simulated gear ratios.