Automotive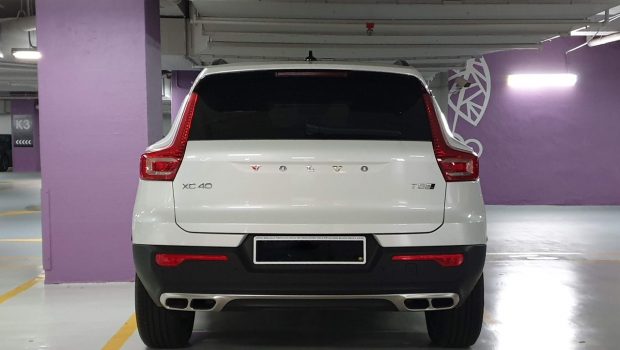 Published on January 15th, 2020 | by Subhash Nair
0
Volvo XC40's RM13,388 Exterior Styling Package… Yay or Nay?
We're big fans of Volvo's XC40. While a lot of compact premium crossovers feel like compromised versions of their bigger brothers, Volvo took pains to engineer the XC40 around the smaller and more space-efficient Compact Modular Architecture (CMA). Plus it gives more for the same amount of money, which is always nice. But does the value proposition still stand if you get an XC40 with this 'Exterior Styling Package' for RM13,388?
Well, yes and no…
The Exterior Stying Package's most apparent feature: satin-finished trim pieces: front and rear skid plates, lower door mouldings (side skirts mouldings), quad tailpipe look, etc.
I'd say it's good for bringing attention to your particular XC40. We saw this unit at an upmarket mall which was already populated with at least two other XC40s. It immediately struck as a little different to the others. The faux quad tailpipes were especially eyecatching in this design.
At the same time… that finish looks a little strange doesn't it? I mean, the XC40's strongest design feature is that it sticks to as few lines and as little 'busy-ness' as possible. Opting in for this set of Champagne Gold/Rose Gold trim pieces detracts from its handsome posture and look.
What's more, the XC40's colour palette in Malaysia has been whittled down a very sombre selection.
Black Stone
Fusion Red Metallic
Thunder Grey
Crystal White Pearl
Bursting Blue Metallic
Peter Horbury, head of Geely Auto Group design, once told us that his team looked to the iPhone and Apple design principles to guide them. This in mind, let's look at how Apple deals with colours like Gold or Rose Gold:
The alternate colour is white, and black is almost absent on the device except on cameras and ports.
On the XC40, this owner has opted for Crystal White Pearl, which is the correct choice. However, the R-Design grille, the plastic cladding at the side, foglight inserts, the entire roof and many more elements are finished in black. It's great when it's just the black and white on the standard XC40, but there's a real conflict in colours when the Exterior Styling Package is opted in.
If this same package is offered on other colours… Well, the results COULD be worse, but we'd rather see it before judging.