Cars
Published on March 11th, 2020 | by Subhash Nair
0
Lexus ES 250 Luxury Review: Worth Its Weight in Gold
Here's a question for you: what do you really need out of a luxury sedan? Traditionally, the answer includes a rear-wheel drive configuration, a high-output turbocharged engine, and a European badge with a long legacy attached to it. But perhaps it is time to reexamine how much value those 3 'necessities' add. Rear-wheel drive? Volvo and Audi seem to be doing just fine. High-output turbocharging? Sure, but what if you don't break the speed limits or if you plan to keep your car years after its warranty expires? And what about that European badge? Well, do those brands still represent the same values they espoused 20 years ago? No. I would argue that a luxury sedan should look respectable, be built like a tank, be comfortable and ergonomic enough for 4-5 LARGE adults, have just enough performance to overtake and to cruise comfortably on the highway. In that sense, the new Lexus ES 250 scores well in all departments.
Ever since Lexus started using this oversized Spindle Grille to define the face of their cars, the response has been a bit mixed. On some vehicles, the grille looks a little disproportionate or out of place. The creature from the Predator series comes to mind. But as of late, Lexus has hit its stride. This all-new ES looks classy and just aggressive enough. It's not a particularly sporty look, but I feel Lexus knows that their customers don't drive their cars particularly hard either. This is for the mature-minded customer. For those who know bad-mannered driving is beneath their station.
There's an intricacy to every aspect of this vehicle's design. From the elegant headlight cluster, to the 3-dimensional contours of the Spindle Grille we mentioned earlier. Chrome trim is carefully applied to emphasise certain elements on the wing mirrors, tail lamps, bumpers and windows. It's a sharp and timeless design that elevates the ES nameplate beyond any of its predecessors.
Inside, use of material is great. Everything within arms reach feels expensive and solid. They've paid attention to things direct rivals often forget. Carpets are plush, almost 2 cm thick in places. Front passenger seat adjustment can be done by those in the rear. Door handles resemble those seen on the LC 500 supercar. Even the digital animations on the climate control unit are smooth. And that single knob for Audio power, volume and FM tuning has the weight and feel of a high-end home audio system. It's beautiful to use.
It's also well-equipped, with a power boot, a sunroof, Wireless Qi Charging, a mostly digital instrument cluster (engine temp and fuel are kept analogue), paddle shifters, ventilated seats, and a 12.3" widecreen infotainment unit are all present. In the Luxury trim level, we also see climate controls for the rear passengers hidden within the centre armrest.
Safety is also top notch on this Lexus. The ES 250 Luxury comes with the Lexus Safety Suite+ 2.0. You get just about everything you could ask for, from Steering Correction, to Autonomous Braking, to Lane-Keeping Assist. Rear Cross Traffic Alert and a Blind Spot Monitor are all present here as well.
And with these safety elements comes Adaptive Cruise Control, which transforms the Lexus ES into the ideal long-distance cruiser, whether you're driving or being chauffeured. Lexus also beats every one of its rivals when it comes to airbag count, with 10 airbags, including front knee and rear side airbags.
The engine in here is a 2.5-litre A25A-FKS inline 4 producing 204 horsepower and 247Nm of torque. That's not particularly high output, but it manages to get the ES up to speed in a timely manner. The 8-speed automatic is quick and reactive. Most of the time though, the ES 250 prefers being driven at a steady and predictable pace. This is a luxury sedan, and not a sport sedan, so Lexus has kept performance adequate rather than excessive. Still, 0-100km/h in 9.1 seconds and a top speed of 210km/h hardly makes the ES a slouch given it weighs 1660kg.
What's a little problematic is the fact that the ES is fully-imported from Japan. Now, that also means that it's put together beautifully and will most probably retain its value relatively well. But it also means it is priced to go up against locally-assembled rivals one segment larger than it is. And yet, despite costing about the price of an entry level 5-Series or E-Class, it still manages to hold its own.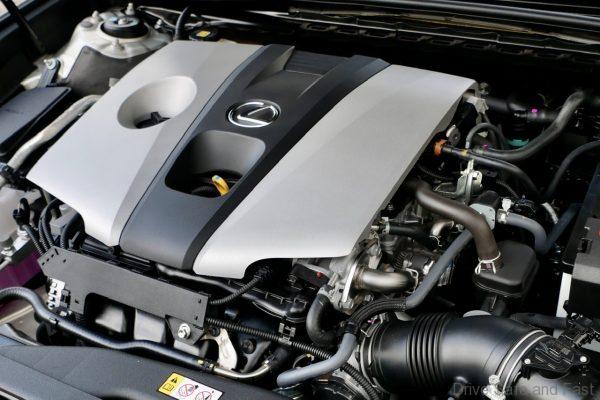 In fact, compared to those cars, the ES is actually quite a bit longer. It's 3 mm narrower than the 5-Series, but 13mm wider than the E-Class. Both those cars have it beat by a large margin when it comes to wheelbase and boot capacity though. But again, it's fighting vehicles that have tax incentive advantages and that are a whole segment above it.
But another thing about luxury cars – in Malaysia today, they seem to be everywhere. The Klang Valley in particular is littered with as many BMWs and Mercedes-Benz vehicles as there once were Sagas. And in this crowd of 'common' German sedans, being seen in the ES is a particularly exclusive experience. And to be honest, Lexus has been around since before I was born. The ES is now in its 7th generation. This company knows what they're doing and you should really give them a shot and see why this brand continues to give older carmakers a tough time.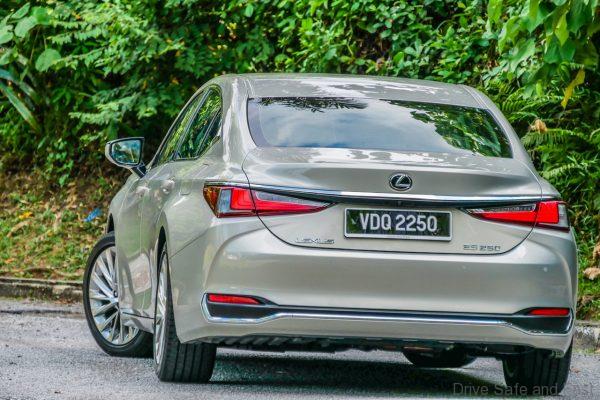 Lexus ES 250 Luxury Specifications
Engine: Inline-4, 16-Valve, DOHC, Petrol
Capacity: 2487 cc
Gearbox: 8-speed Direct Shift CVT Automatic
Max power: 204hp @ 6600rpm
Max torque: 247Nm @ 5000rpm
Top Speed: 210km/h
0-100 km/h: 9.1 seconds
Price: RM332,888