Automotive
Published on March 20th, 2020 | by Subhash Nair
0
How Car Subscription Services Are Affected by the COVID-19 MRO
We spoke to the three major Malaysian car subscription providers to ask how their service was affected by the Movement Restriction Order. Here's how each of them responded [some amendments were made for clarity].
Renault Subscription
Breakdown – our call centre and breakdown assist team are still on standby to assist. The breakdown team will be screened for temperature and have the necessary precautions taken to ensure that they and our the customers are protected.
We still take subscription and purchasing orders via the e-store, submissions and processing is still done normally with our teams working from home. Only difference is that deliveries are delayed to 1 April. Customers will be able to opt for home delivery of these vehicles instead of having to collect them from our showroom. All vehicles will be sanitised before delivery.
They will still accept subscription request and process them accordingly to be ready for collection from April 2020 onwards.
However, any pickup or delivery service within Klang Valley area is postponed until 1/4/2020 due to the movement control order.
They decided to put on hold those services by taking into consideration of our subscribers and employees safety. They want to minimize as much as possible social contact for our community members well-being.
Other than that, new members can still submit their request for subscription cars to book for the upcoming months ahead via our website from the comfort of their home.
As for GoCar's regular, short term leasing programme, here is the official statement from the company:
Some GoCar locations are not available for booking since the buildings closed due to the movement control order to stem the spread of COVID-19 even further.
The locations will be open for booking from 2nd April onwards once the current situation becomes better and the government uplift the movement control order.
GoCar members can still make a booking from other locations, however, GoCar strongly advises to do so if and only if it's an emergency or there is no alternative transportation to move around to the essential shops. Or else, please #StayAtHome as #GoCarCares about our community members.
Additionally:
GoCar provides antibacterial wipes for members to disinfect the relevant areas before and after they use the car as a part of their precaution steps.
Suspension of dynamic pricing, renting an Almera now costs RM6.90 an hour/RM69 a day from 18/3/2020 to 31/3/2020.
Penalty-free cancellations and refunds by sending a request to [email protected] for bookings within 18/3/2020 to 31/3/2020. 
The short answer is that Flux is still accepting reservations but delaying deliveries until after the Movement Control Order is lifted. It's a good time to take advantage of the price drops on Toyota models (more than 12% discount). The long version can be found in the statement below.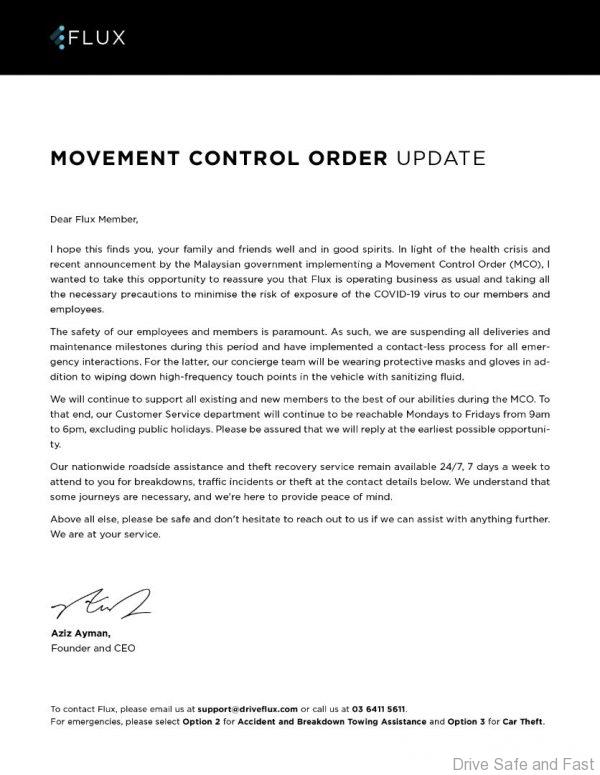 Essentially, deliveries and regular scheduled maintenance are suspended, 24/7 nationwide roadside assistance and theft recovery service is still active. Concierge teams will be wearing protective masks and gloves and sanitising vehicle touch points.