Automotive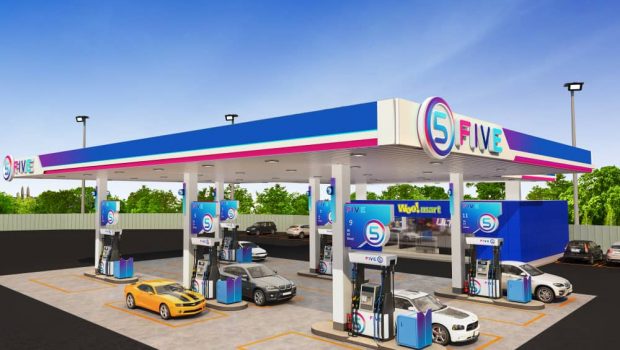 Published on March 18th, 2020 | by Amirul Mukminin
0
New Fuel Brand FIVE Enters Malaysian Market
A newly licensed petroleum company in Malaysia called FIVE Petroleum Malaysia Sdn Bhd is set to open its first station in Kalumpang, Selangor this month.
According to the chairman Dato' Haji Juhari Bin Abdul Ghani, the company has secured a supply contract from PETRONAS to be its fuel supplier to ensure that its fuel meets the highest quality standard.
Apart from a convenience store called Woo! Mart, the company will also have its own mobile application that will enable cashless payment and consumer loyalty programme.
Check out the press release for more information:
Press Release
FIVE Petroleum Malaysia Sdn Bhd, a newly licensed and homegrown petrol company in Malaysia has officially announced the launch of its brand. The new petroleum company is set to revolutionize the local petrol industry with its first station opening for business in March, 2020 at Kalumpang, Selangor.
In ensuring FIVE's fuel offering meets the highest quality standard, the Company has secured a supply contract from PETRONAS to be its fuel supplier.
Branded Ultimaxx, FIVE aims to keep to their brand promise of providing high quality fuel, economically and more conveniently. Speaking about the brand and partnership announcement, Dato' Haji Juhari Bin Abdul Ghani, Chairman of FIVE said, "FIVE is a unified energy company that aims to meet Malaysia's growing demand for fuel in ways that are economically, environmentally, and socially responsible. We also want to help Malaysia reach its next milestone in development."
FIVE will be managed by the same team that built Seng Group. Established in 1971, the Seng Group is a leader in the petrol retail business for nearly five decades that supplies and manage distribution services to petrol station operators, including the construction of new stations. FIVE received the licence from the Domestic Trade and Consumer Affairs Ministry on 15 January, 2020, which marks the company's first independent foray into the petrol retail business.
In keeping with FIVE's true Malaysian heritage, FIVE aspires to give Malaysians a hassle-free fuelling experience by integrating next-generation technology and innovation. It will also be the petrol brand in Malaysia to offer smaller and easier station setup for new entrepreneurs, which will revolutionize Malaysia's petroleum retail market.
This creates new enterprise opportunities for all Malaysians as it lowers the entry requirements for would-be petrol station operators. It also means stations can be opened in more remote areas, bringing much-needed fuel supply to more accessible locations. This will further boost Malaysia's economy by providing more entrepreneurial opportunities in the market.
As part of the digital movement in Malaysia, FIVE petrol stations will feature a new mobile application that will enable cashless payment. The company also plans to integrate partnerships, rewards and loyalty features into the mobile application in a bid to capture existing market share. Such partnerships will play an integral role in their petrol station convenience stores dubbed Woo! Mart and also feed into FIVE's soon-to-be-announced, consumer loyalty programme.
This push towards digitization is in line with the National Budget 2020 blueprint. From the budget allocation, it is evident that the government has included a strong proponent of driving economic growth via the digital economy. FIVE is set to become the digital energy company of choice among Malaysians and hope to do their bid in progressing the nation by delivering on its business plans.