Automotive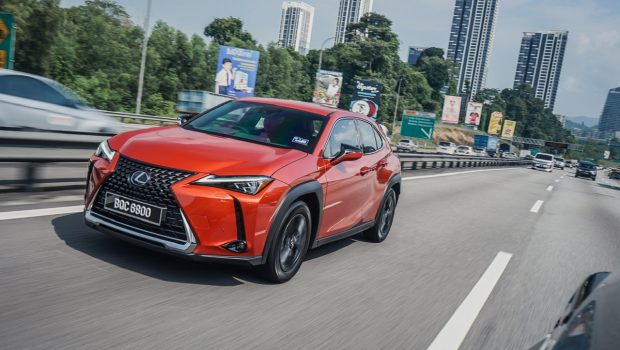 Published on March 4th, 2020 | by Subhash Nair
0
Lexus UX 200 Arrives to Challenge GLA, X1, Q3 and XC40
Lexus Malaysia have just introduced an all-new model into their local showrooms. It's the UX, which stands for 'Urban Crossover', and it arrives to challenge entrenched rivals in the premium compact crossover segment.
Vehicles like the BMW X1, Mercedes-Benz GLA, Audi Q3, and Volvo XC40 are all now in the sights of Lexus. Here's what how the UX has been packaged for our market.
Trim Levels, Equipment, Pricing
UX 200 Urban (RM243,888)
2.0L engine producing 169 hp and 205 Nm of torque. While it's less powerful than all of its rivals, this engine has the highest thermal efficiency of any naturally-aspirated motor in production, which is very impressive. This in-line 4-cylinder 16-valve petrol engine is paired with a 10-speed Direct-Shift CVT gearbox that drives the front wheels
5-year, unlimited mileage manufacturer warranty
17″ alloy wheels
7″ infotainment display with 8 speakers
8-way power adjustable driver seat
8 airbags
Pre-Collision System (PCS)
Dynamic Radar Cruise Control (DRCC) with Stop & Go Function
Lane Tracing Assist (LTA)
Adaptive High-beam System (AHS)
Tyre Pressure Monitoring System
Qi Wireless Charger
For the price, this is actually an extremely well-equipped vehicle.
UX 200 Luxury (RM283,888)
18-inch wheels
automatic wipers
a powered tailgate with hands-free operation
electric steering wheel adjustment
wireless charging
'Washi' paper grain finish on the dashboard
Sashiko quilting on the leather seats
10.3″ infotainment display with 10 speakers
Powered seat memory function
Heating and ventilation for front seats
Blind Spot Monitor
Rear Cross Traffic Alert
At this trim level, the UX 200 is at its best. BSM and RCTA complete the safety suite, while the larger infotainment system and ventilated seats add real value to the car. Washi paper grain finishing on the dashboard and Sashiko leather are the icing on the cake.
UX 200 F-SPORT (RM299,888)
18-inch F Sport wheels
F Sport front grille
paddle shifters
HUD
8″ instrument cluster display with sliding ring meter
Sport+ and Custom drive modes
F Sport seats
aluminium pedals
The F-Sport is a little tougher to justify within this segment, but there are features here that some may want. The sliding ring meter is particularly cool, and the F Sport bodykit, rims and seats make the UX look even more the part.
Check out the press release below for more.
PRESS RELEASE
The arrival of the All-New Lexus UX 200 signals a vibrant step forward for the Compact SUV segment in Malaysia. Arguably one of the most-highly anticipated new arrivals this year from Lexus Malaysia, the model is undoubtedly a game changer for the segment.
Lexus' first Compact SUV has been designed and built from the ground up to offer drivers the attributes and versatility of an SUV with the sleek and elegant styling of a hatchback. Created to take drivers to bold new heights in their urban adventures, the All-new Lexus UX 200 is decisively one of the most distinctive new SUVs on the market in recent memory.
The various firsts for the Lexus UX suggests that this model is designed as a game-changer rather than merely being evolved from various Lexus models. Inside for instance, the illuminated vent controls are a world first, lighting the air vents wirelessly using electromagnetic resonance. Thecombination tail lamps tail lamps too uniquely combine two useful yet aesthetic functions. Inspired by the rear wing of a racing car, the LED Aero Stabilizing Blade Lights works as an aerodynamic spoiler while providing a distinct character to the Lexus UX.
Among Lexus models, the Lexus UX spearheads its own designs and these include its audio switches that are intelligently positioned at the base of the palm rest, Washi Paper-inspired finish on parts of the trim, a pop-up accessory socket, a newly-developed 2.0L normally-aspirated engine and the Direct-Shift CVT transmission lists as some of the Lexus-firsts.
"The all-new Lexus UX is truly a product of immense technology and craftsmanship creatively engineered by a team spearheaded by Lexus' first female Chief Engineer. It seamlessly connects to the soul inspired by the spirit of Japanese traditional architecture," said Deputy Chairman of Lexus Malaysia Mr Akio Takeyama.
Naturally Sporty, Sublimely Fashionable
The design of the vehicle is based on 'Urban Explorer' concept, which combines strength with refinement, stylishness with functionality in a highly-appealing and sporty compact form. Richly expressive, the model features a bold exterior design with fluid lines, crisp, prominent sculpted surfaces and a distinctive spindle grille. Its sleek aerodynamic profile is further accentuated by that sexily-sculptured combination tail lamp that flows dramatically to the flared wings while the large wheels add a definitive muscular and agile stance.
Incomparable Inner Beauty
Stepping inside the cabin of the Lexus UX 200 Luxury, one is immediately immersed in a high quality environment inspired by elements of Japanese hospitality and craftsmanship. Designed to lather occupants in both comfort and luxury, the materials and workmanship utilised within the cabin space are pure Lexus, combining Japanese traditions with innovative modern production techniques.
This includes an interior trim finish inspired by Japanese paper, known as washi, which is commonly found in traditional homes, especially on shoji doors to evoke a feeling of calm and warmth. Sashiko quilting – traditional Japanese quilting technique renowned for its strength and commonly found in judo and kendo uniforms – is extensively used in the Lexus UX 200 Luxury's smooth leather upholstery. Entrusted to skilled Takumi craftsmen, the quilted leather is decorated with perfect perforation patterns that fuse art and functionality in order to enhance the appearance of the seats.
Driver Focused Features
Along with these interior refinements, the UX cabin merges the best aspects of dynamic, luxury sedan with the benefits of a higher seating position and versatility of a crossover, thus delivering the best of both worlds for drivers and passengers.
The UX is very much driver focused, allowing the driver to feel more in touch with the road thanks to its 'Seat-in-Control' concept adapted from the LC 500 Coupe. Drivers also gain an excellent field of vision and clearer sense of the vehicle's dimensions and position thanks to the upper section of the instrument panel, which appears to extend out beyond the windscreen into the wings.
Boasting the very best in Human-Machine Interface, the UX features critical vehicle functions within easy reach of the driver, which not only ensures comfort and convenience but also greater control. Lexus has also outfitted the UX with the Lexus Remote Touch Interface (RTI), which features a haptic interface designed to replicate smartphone usability. All variants have Apple CarPlay and Android Auto providing connectivity to smartphones and bringing favourite apps the display screen.
Composed Performance & Handling
The All-New Lexus UX 200 is developed on the latest Global Architecture-C Platform, offering a distinctive driving character with refined dynamics and handling, resulting in sheer driving pleasure. Nestled under the hood of the UX 200 is a highly-efficient 2.0L NA engine producing 169 hp in-line 4-cylinder 16-valve petrol engine, which is paired with a 10-speed Direct-Shift CVT gearbox. The powerplant not only boasts an enhanced power output but also excellent fuel economy as well as lower emissions.
Adding to this, the All-New Lexus UX 200 is also equipped with the Lexus Safety System + (LSS+) – an integrated suite of safety systems that operate in tandem to enhance driving pleasure whilst maintaining a high level of safety. This system employs several sophisticated sensors, cameras and systems to help mitigate road accidents through alerts and semi-autonomous actions.
The integrated suite of advanced safety systems such as Pre-Collision System (PCS), Dynamic Radar Cruise Control (DRCC) with Stop & Go Function & Lane Tracing Assist (LTA), and Adaptive High-beam System (AHS), also helps remove the daily stresses of commuting.
"The all-new Lexus UX embodies everything that a driver would desire with ample technology, aesthetics, craftsmanship and luxury packaged in a vehicle that they would truly enjoy driving," said President of Lexus Malaysia Mr. Ravindran K.
Three versions of the All-New Lexus UX 200 are available in the Malaysian market including the UX Urban, UX Luxury and the UX F-Sport. Each model features a number of high level features and functions such as a power back door with a kick-open function, wireless charging as well as a panoramic-view mirror.
The All-New Lexus UX 200 retails from RM243,888 and comes with a comprehensive warranty five (5) years with unlimited mileage. Complete aftersales support is available at seven (7) locations across Malaysia where professional and trained technicians by Lexus are ready to serve Lexus customers.
The Lexus showroom weekender is finally here! Come and visit any Lexus showroom from March 7 – 8 to test-drive All-New Lexus UX 200 while enjoying refreshment and activities.