Automotive
Published on April 2nd, 2020 | by Subhash Nair
0
Build Your Own Paper Toyotas at Home During Lockdown
You're probably very bored of sitting at home doing nothing thanks to the Restricted Movement Order (RMO). So here's something you can try out, provided you have a printer and some basic stationery.
This isn't the first time this UK Toyota blog has posted papercraft-able cars. Back in 2014, they even produced ones for the Toyota Land Cruiser, RAV4, Prius, even a different version of the GT86. These are older models that may have already seen a full model change or facelift, but what's worse is that the servers hosting the original PDFs for these papercraft Toyotas seem to be down.
So what we've done is we've compiled other third party papercraft Toyotas. Most of these are retro, just the way we like them.
Here's the press release with more.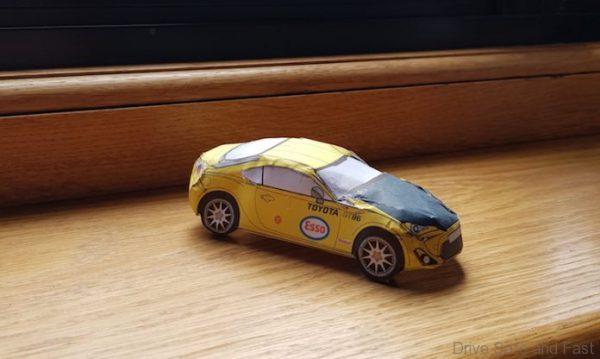 PRESS RELEASE
Looking for something to keep you or the kids occupied? How about 'building' your very own Toyota GT86 inspired by our distinctive retro-liveried examples of the sports car.
Our six special GT86s were originally created for the 2015 Goodwood Festival of Speed to help commemorate 50 years of Toyota in the UK. When they were revealed at Goodwood, we were blown away by the public reaction to them.
Seeing as demand out-stripped supply, after the event we decided to redress the balance by giving everybody the opportunity to have their own paper cut-out version of their favourite Toyota GT86.
It gave everyone the chance to take part in their own build process, study the car from every angle, and even 'drive' it around the dining room table – with or without authentic broom-broom noises.
How to build your Toyota GT86
You'll need access to a colour printer, some paper glue and a pair of scissors (plus an adult to supervise if you're a younger child).
First, download and print the high-resolution PDF of your chosen GT86 using these links, depending on which livery you like the best:
If you have the option to print the pdf document on A3 paper, rather than A4, this will make the building a little less fiddly and give you a bigger GT86 at the end.
Using scissors, carefully separate each of the three main sections (the roof and two sides) and each of the four tyre tracks from the grey background, being especially careful not to cut off the little white tabs with dots on.
Fold and glue all of these tabs so they adhere to the underside of the adjacent panel – doing so will pull the car into the three-dimensional shape that should resemble a Toyota GT86.
This activity is recommended for older children; it should take about an hour to carefully put your model together.
Happy with your finished GT86? We'd love to see your efforts over on our social media channels.
Twitter: @ToyotaUK
Facebook: @ToyotaUK
Instagram: @Toyota UK
Previous Press Release
The prospect of building your own Toyota might summon up images of long nights toiling in a cold garage surrounded by myriad parts and tools. But there's a way of crafting yourself a car that only requires a sharp knife, glue and an hour or so of patience.
With a nod to the traditional Japanese art of origami, Toyota has produced a range of scale desktop models representing some of the most popular cars from its showroom line-up.
Colourful, high-resolution kits for RAV4, Prius, Land Cruiser and GT86 can be downloaded together with simple instructions on how to turn your flat piece of paper into a credible 3D model.
True to the principle "so simple, a child could do it," the Toyota papercraft kits are ideal for youngsters whiling away the last days of the summer holiday, while office workers prone to procrastination can happily kill time exploring their inner engineer.