Automotive
Published on April 20th, 2020 | by Subhash Nair
0
Mustang Owner's Wife Crashed His Car, but He's not even Mad!
Last week, we received photos of this red Ford Mustang that veered off a road and landed on top of a large drain. We couldn't find much news coverage of the incident, but we did see a post by the owner on Facebook clarifying what had happened. This post was shared on Twitter, but most of the information comes from the original post. The incident seems to have happened on the 16th of April 2020.
According to the owner, the Mustang was being driven by his wife while he was having lunch near a Fibre Flex office. Other information seems to suggest this happened near Seberang Perai, specifically by the Bertam Perdana Signal Light 2, but we could not verify this information. In fact, the owner seems to reside in the Klang Valley area.
The owner's statement on facebook reads:
"Isteri yang bawak kereta ni. Abang dekat office Fibre Flex tengah mencari sesuap nasik. Apapun syukur Alhamdulilah isteri abang selamat tak cedera apa-apa. Itu yang penting. Kereta boleh beli, isteri boleh kahwin lagi, tapi susah nak cari spec macam ni. Spec bawak kereta macam Letty fast furious."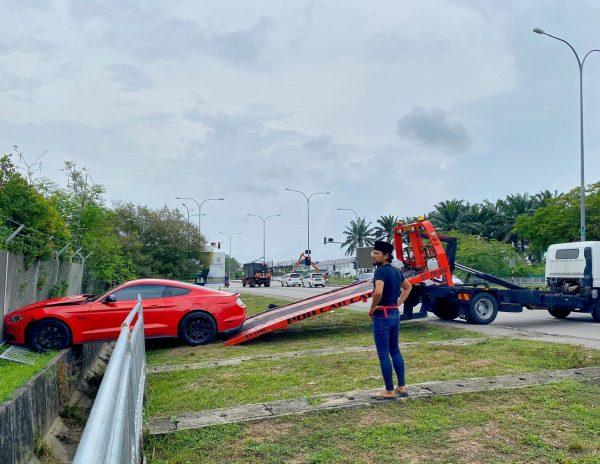 It's great to see the owner's attitude to the situation. The Ford Mustang is indeed a rarity in Malaysia, but it is still something that can be bought, fixed or replaced.
The particular Mustang we see in the photos looks to be the 5.0 GT in Race Red. Compared to the unit we drove in 2016, this Mustang seems to have some work done on it. The rims are 9-spoked, unlike the 10 split-spoked wheels the Sime Darby Auto Connexion supply with the car. We also see that the "5.0" badging on the front fender has been blacked out. There's also a little black spoiler and blacked-finished wing mirrors which we didn't see on our test car.
The Ford Mustang was introduced to the Malaysian market in 2016 by Sime Darby Auto Connexion. Two engine variants were brought in – the 2.3-litre inline-4 Ecoboost model and the 5.0 V8 GT model costing between RM488,888 and RM598,888 on-the-road without insurance. From what we've heard, most of these were sold during the 3-month GST/SST-free period which brought most car prices down by at least 6%.