Cars
Published on April 20th, 2020 | by Subhash Nair
0
Mazda Customers in UK Can Send Photos in for Repair Quote
The Coronavirus pandemic has resulted in a lot of new little services and solutions by automotive companies. The most recent we're hearing about is from Mazda in the UK. Their Accident Damage Repair website is now offering customers there a fast and free way to assess vehicle damage by just uploading an image. The website says that Mazda's Approved Accident Repair Centres are prepared to work on anything from "small scuffs to accident damage".
Mazda say that because of the current circumstances, the response time will be slower as only about 30% of its approved workshops are operational.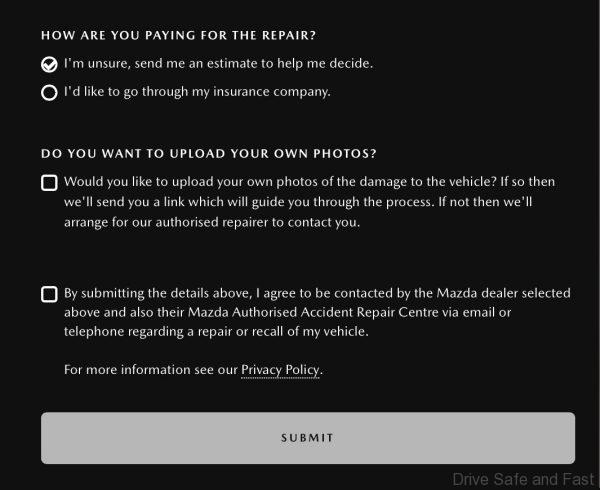 We think this is a pretty innovative way for businesses to continue to operate in these challenging times. Repairs and major servicing still needs to go on, and as pandemic starts to go into its 2nd or 3rd month, we'll see this need continue to rise. If it's still unsafe for service centres and authorised workshops to continue operating, then little measures like these can help move things along.
Original Text
With our range of services and offers, Mazda are there when you need them the most. From small scuffs to accident damage, highly skilled technicians at Mazda Approved Accident Repair Centres liaise with your insurer to get you back on the road. Mazda repair your car to the highest standards, ensuring that Mazda Genuine Parts are fitted and the latest repair and refinish technology is used.
Any repair is possible, from annoying car park dents to major damage, and every customer can be reassured that their car will be repaired by Mazda trained bodyshop technicians using Mazda genuine parts to ensure it is returned back to the original factory standard.
As part of the new highly convenient service, the Mazda Approved Accident Repair center will also check whether the vehicle has any outstanding safety recalls, and if required, these will be completed at the same time as the repair, ensuring both simplicity and convenience for the customer.
This new Accident Damage Repair Portal allows our customers to get an estimate of repair costs to their vehicle quickly from the comfort of their home. It's worth noting that in the current COVID-19 situation, the speed of response will be impacted by the fact that only around 30 percent of approved repairers are open and they are operating in-line with current government guidelines.
However, most importantly whether in the current unprecedented times or once we are at full capacity again in the future, this is a program that puts the customer first and is designed to offer something extra to drivers of Mazdas of any age or type.
Mazda offers a range of accident aftercare services in its new Accident Damage Repair portal, including Mazda Excess Return and Call Mazda First, a free 24-hour accident aftercare service for any Mazda driver involved in a vehicle collision.