Cars
Published on May 21st, 2020 | by Subhash Nair
0
Porsche 911 Carrera S Review: Improved Perfection
When it comes to the ultimate performance machines, car companies are often stuck in a bit of a quandary. Do they innovate or do they respect heritage? It's tough to do both, or even either, while staying financially viable. If you abandon all preconceived notions about your brand or legacy, you risk losing the enthusiasts crowd. Without that loud voice of support from the community, it's hard for your product to gain legitimacy. On the other hand, if you refuse to stay ahead of the competition, your product starts to look unappealing to the people with actual money to spend. There's only one model that seems to be able to find the balance between these two extremes and it's the Porsche 911.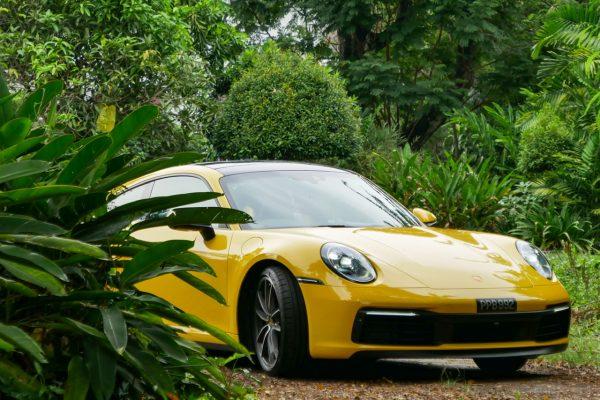 Now in its 8th generation, the 911 has kept up with modern expectations for performance, luxury, emissions and comfort while respecting the design language, component layout, character and purpose of the nameplate. Here's what we think of it.
Context
The 8th generation Porsche 911 is available in Malaysia as a coupé model in either Carrera S or Carrera 4S flavours. Globally, more options for this generation have been unveiled, including a more powerful Turbo variant and convertible and targa body styles. We picked up our Carrera S test car in early March, about a week before the MCO was announced.
Modern Performance, Raw Character.
Most Porsche fans have gotten used to the idea that the 911 Carrera models have to feature turbocharged engines to meet performance metrics and emissions regulations at the same time. In this Carrera S model, a 3-litre flat six produces 450 horsepower and 530Nm of torque, which puts it comfortably in supercar territory. Equipped with the Sports Chrono package, the 911 Carrera S sprints from 0-100km/h in 3.5 seconds! Now, that's fast. But contextually speaking, it's even more incredibly than you think. Just one generation ago, one would have to buy a 911 GT3 to get that kind of acceleration. Today, even a 2nd tier 911 can deliver that kind of time.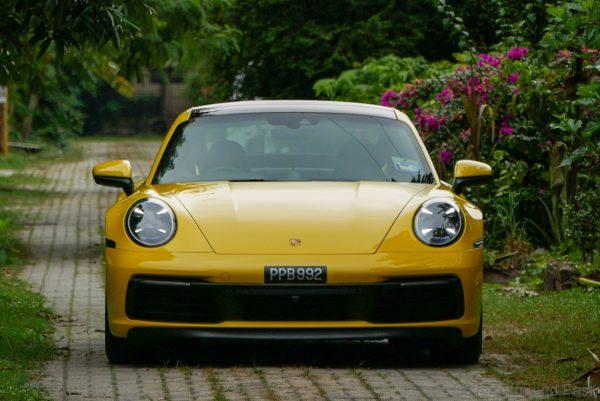 The 8th gen 911 also brings a nice little goodie that a lot of owners will appreciate. There's a Mode Selector knob mounted to the steering wheel. This allows you to scroll between drive modes while keeping your hands on or close to the steering. This knob also has a little button in the centre which temporarily activates Sport Response. This gives you a 20 second burst of performance where the engine and transmission work a little harder for you.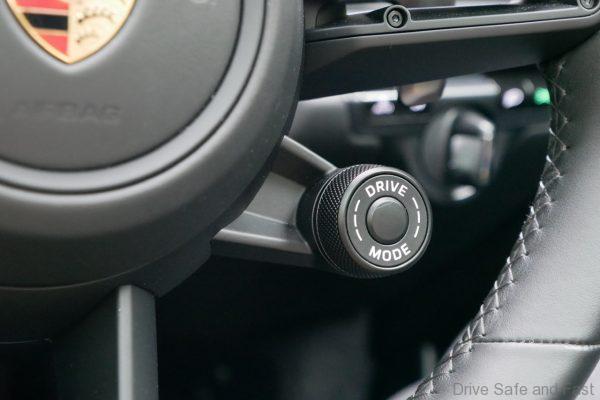 We found the 911 Carrera S to be civil without feeling sterile, and that's an incredible place to be for a supercar. With the motor placed all the way at the rear, the 911 can still at times give you a bit of a scare through fast corners. But the communicative steering and safety equipment make it feel manageable. There wasn't any rain during the test drive, but this new 911 has Wet mode, which can make the car a little safer to drive fast in the rain. There are actual sensors that pick up on the volume of water the tyres splash into the wheel wells to modify PSM and PTM behaviour for Wet mode.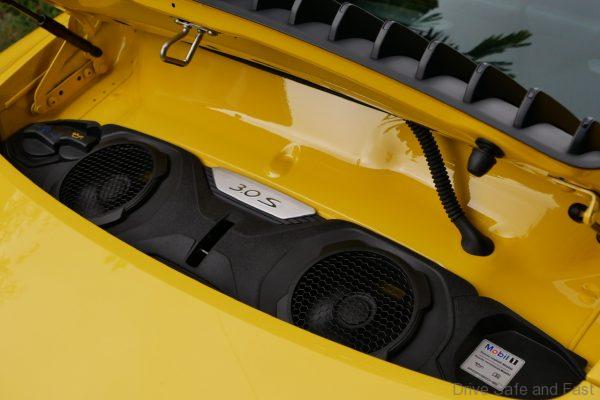 Wider tracks and a mild repositioning of the engine also contribute to this. In fact, this new 911 seems to only tease at the danger of a heavy rear end. We're sure the danger of sliding out is still present, but the limit has been pushed so far up that you never feel tempted to reach it on public roads. I vividly remember being terrified of the 7th generation Carrera S when I got a chance to drive it at Sepang. This one's a lot faster and a lot more manageable.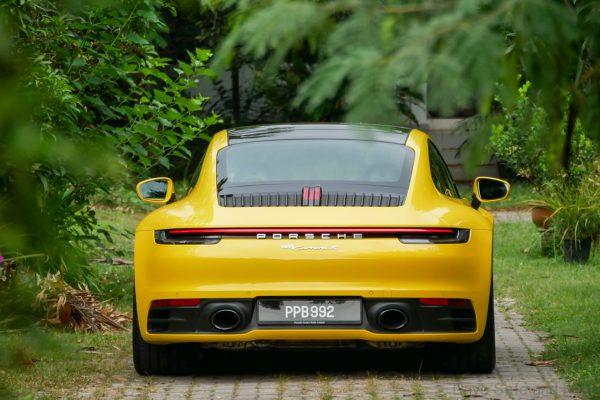 Luxury without Braggadocio
Luxury and comfort are usually two things one has to compromise on when the focus goes towards performance. In recent years though, this has become less of a problem and in the current 911 there's no compromise in this department. You get loads of high-quality leather-wrapped cushioning, great use of technology with high resolution displays and quality animations.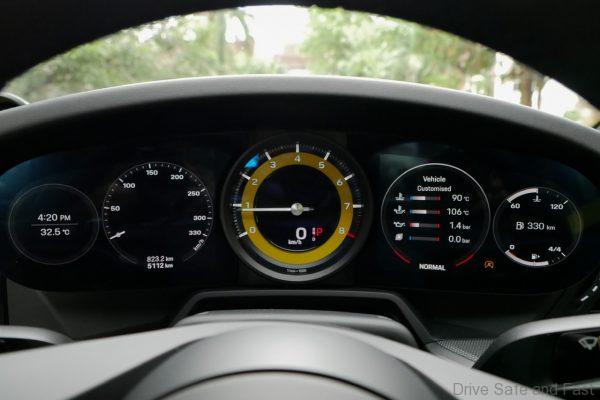 They've quite successfully integrated these advancements into the instrument cluster as well. Only the central gauge is analogue, the other two are digital with the one on the right bearing most of the customizability and functionality associated with digital instrument clusters.
It's also a surprisingly comfortable supercar. You'll still have to slow down for speed bumps, obviously, but little things, like being able to lift the front suspension, make car parks a little easier to navigate.
So, it is still as low to the ground and communicative as a supercar is expected to be, but it's not harsh or difficult to get in and out of. Many cars in this class wear that as a badge of honour. But Porsche take it as a challenge and have found a way to deliver a car that is just plain easy to operate daily. This thing even has a camera system to help you in tight spots. And beyond that, it's quiet enough for you to enjoy the little things like your own playlist through a Bose sound system.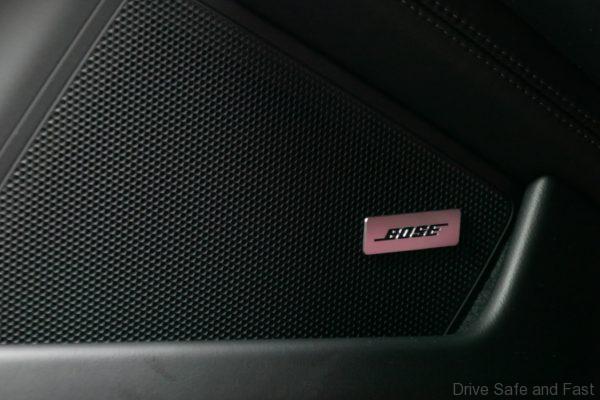 The real appeal of the 911 is that it doesn't draw attention to itself. There are no brash wings or ducts. It's a super clean, super modern design that blends beautifully into any backdrop. I think that's great and very difficult to achieve, especially for a supercar. This is a class of car that's normally designed to stand out and be a little bonkers. But because it's already the defacto supercar, the class-leader, the industry standard, there's no need for it to be any more blingy than it has to be.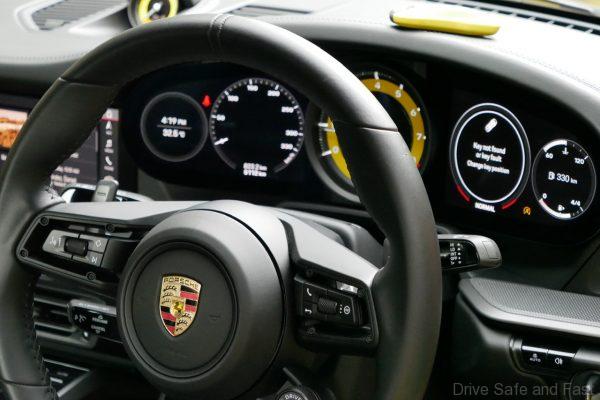 Concluding Remarks
I think the Porsche 911 Carrera S is an extremely appealing proposition for a purist looking for a supercar they can use almost as a daily. The 8th generation brings a really great looking interior along with a wide body look to the exterior that completes the 911 silhouette perfectly.
Porsche could have delivered just the performance benefits with this new Carrera S and still have an impressive product on their hand. But they really went beyond that and we can't help but be impressed.
Porsche 911 Carrera S Specifications
Engine: Flat 6, Twin-Turbocharged
Capacity: 2981cc
Gearbox: 8-speed PDK
Max power: 444hp @ 6500rpm
Max torque: 530Nm @ 2300-5000rpm
Top Speed: 308 km/h
0-100 km/h: 3.5 seconds (w Sport Chrono)
Price: RM1,150,000