Automotive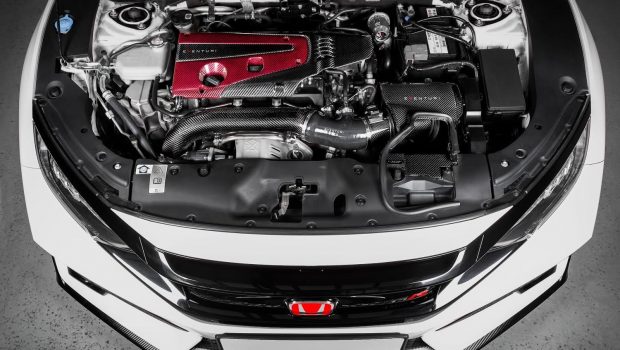 Published on May 19th, 2020 | by Subhash Nair
0
Civic Type R FK8 Gets Carbon Turbo Inlet Tube from Eventuri
Eventuri is a UK-based tuning company that specialises in engine intake design. The team have backgrounds in both aeronautics and tuning, and they've produced carbon fibre intakes for performance-oriented vehicles from Audi, BMW, Ford, Honda, Jaguar, Lamborghini, Mercedes-AMG, MINI Cooper, Porsche, Toyota, and VW.
Now they've turned their attention to the latest Honda Civic Type R, the FK8. The FK8, incidentally, is also made in the UK. This isn't the first time they've work on a Type R. They've also got a specially-designed air intake for the Civic Type R FK 2.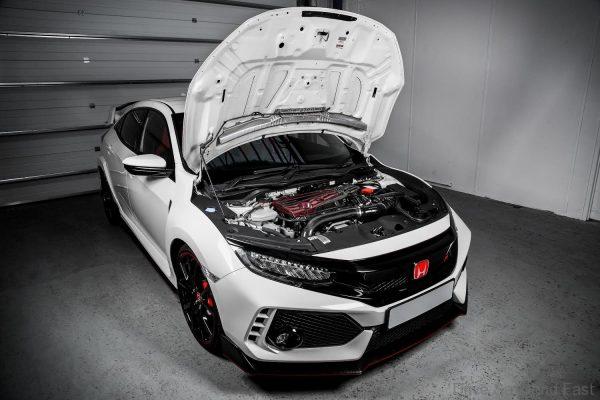 However, the FK 2 was naturally-aspirated. For the turbocharged FK8, they designed something completely different – an all carbon turbo inlet tube, which is apparently the first of its kind for this model.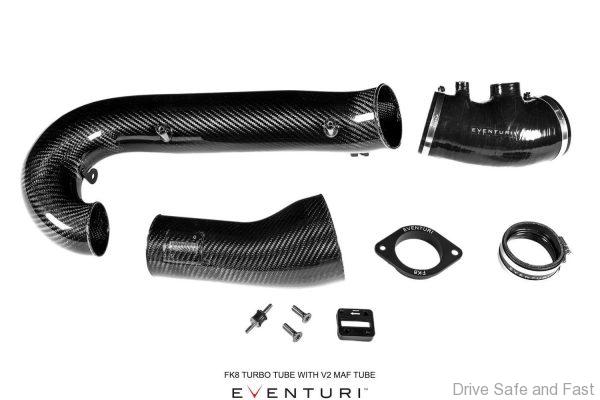 In designing this turbo inlet tube, Eventuri decided to focus on volume, flow quality and temperature.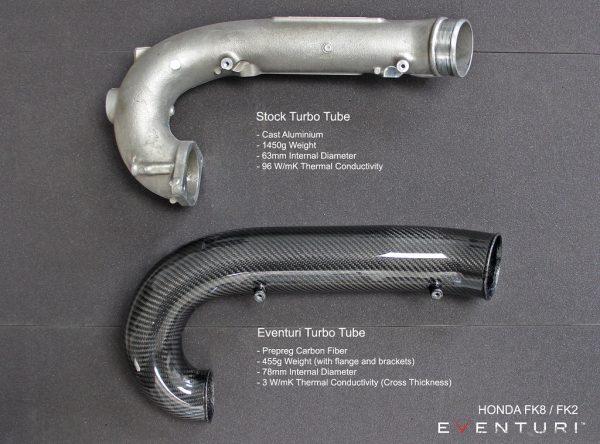 For temperature management, the team isolated the carbon tube from the turbocharger. The stock design has the tube connect directly and is made of aluminium which conducts heat well. Carbon fibre is naturally a poor conductor of heat, plus they've redesigned the tube with a thermal spacer so there isn't a direct connection between the tube and the turbocharger.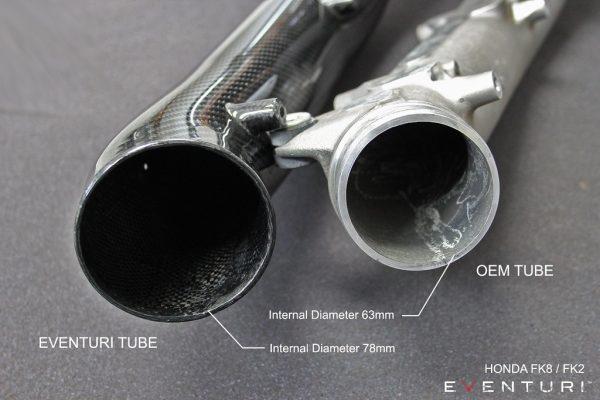 For volume, they extended the diameter of the tube from the stock 63mm to 78mm. The larger internal diameter allows more air to pass, which allows the turbocharger to operate more efficiently, spool up to peak boost faster and operate at peak boost with less turbine loading.
For flow quality, the team focused on keeping the curves and the internal surface as smooth as possible. To achieve this, they used high temperature prepreg carbon fibre, ditching the rough finished cast aluminium of the stock tube.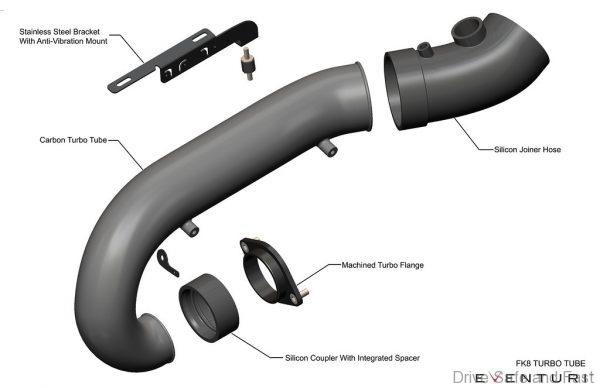 The result of these three objectives is an increase of 4hp and 6.8Nm of torque at peak output and 15hp and 24.4Nm of torque below 4,000 rpm. This is on stock tuning software and more can probably be achieved with customised tuning.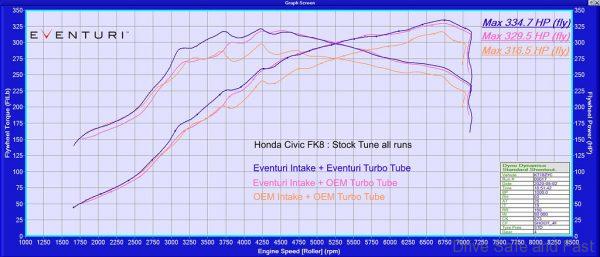 The Turbo Tube set for the Honda Civic Type R FK8 consists of the following components:
Carbon Fiber Turbo Tube
Optional Carbon V2 MAF tube (if required)
Custom Silicon Joiner at intake side
CNC Machined Turbo Flange
Custom Silicon Coupler at Turbo Side
Laser Cut Stainless Steel Brackets
Anti-Vibration Mount
Here's a list of Malaysian dealers who import Eventuri parts. Give them a call to see if they can help you out with this part.
Exotic Mods Sdn Bhd
t: +603-78803006
e: [email protected]
–
Everco Motorsport
t: +60122333508
e: [email protected]
–
Auto Technic Garage
t: +60167228411
e: [email protected]
–
Eurowerks Sdn Bhd
t: +60133407677
e: [email protected]
–
Megalodon Performance Ventures
t: +60182880000
e: [email protected]
–
United Everco Marketing Sdn Bhd
t: 601-22333508
e: [email protected]
Here's the press release with more.
PRESS RELEASE
Presenting a World First – an all carbon FK8 turbo inlet tube. We have invested months of intense R&D in developing an inlet which leaves no room for compromise. VOLUME – FLOW QUALITY – TEMPERATURE are the 3 main design criteria which we sought to meet.

1) VOLUME : Inlet Diameters – Eventuri 78mm : Stock 63mm. By maintaining the MAF section diameter from the intake through to the turbo tube we have increased the cross sectional area by over 53% for the majority of the intake flow path to the turbo. Clearly with significantly larger internal diameter sizes, the Eventuri tube encapsulates a much larger internal volume which de-restricts the flow path to the turbo. This allows the turbo to operate more efficiently and spool up to peak boost levels faster. It also allows the turbo to operate at peak boost with less turbine loading.

2) FLOW QUALITY : Having just a large internal volume is no good unless the flow path also allows for smooth airflow to the turbo. By using high temperature Prepreg Carbon Fiber we have managed to achieve a smooth internal surface. In contrast, the stock inlet tube is made from cast aluminium which ends up with a rough internal surface. This coupled with the smooth curvature of the elbow results in a flow path which minimises turbulence.

3) TEMPERATURE : The final criteria was to minimise the conduction of heat into the airflow. The stock inlet is directly connected to the turbo and so immediately conducts heat as the turbo spools. Our system uses a machined flange which connects to the turbo and then a silicon coupler with an integrated thermal spacer to keep the carbon elbow from having direct contact with the turbo. This barrier coupled with the low through-thickness thermal conductivity of carbon fiber results in less heat being transferred to the airflow.

Performance Gain (FK2 at stage 2 tune): 15-18hp, 17-20ft-lb Performance Gain (FK8 stock software): 5hp 5ft-lb peak, 15hp 18ft-lb under 4k rpm
This turbo tube has been designed to fit our FK8 intake with the updated V2 MAF tube.

All details can be found on our website – please contact your nearest Eventuri dealer for pricing and availability.