Automotive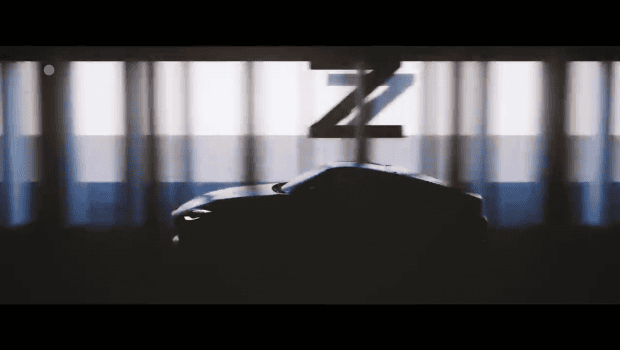 Published on May 29th, 2020 | by Subhash Nair
0
Nissan Officially Teased the New Z Car!
The Nissan 370Z is one of the longest running vehicles in the company's portfolio and now Nissan has more or less confirmed its successor. In a video titled, "NISSAN NEXT: From A to Z", the company showed the unmistakable silhouette of the next Z/Fairlady sports coupé.
There's really not much else to go on besides the shape of the new daytime running lights (DRLs), which are much different from the rest of the lineup. It doesn't look like there's a new GT-R in store either.
We wonder what factors drove Nissan to finally work on a new Z. Fans have been asking for a replacement for years. The brand's image has taken quite the hit over the last decade with scandals involving Carlos Ghosn being particularly infamous.
The timing of this video too is a little strange. It comes the same day as a press release from the company announcing major restructuring and downsizing over 4 years. The Japanese firm aims to achieve profitability by 2023. Since no other details involving the new Z car were announced, you can check out the press release about the new 4-year plan below.
PRESS RELEASE
Nissan Motor Co., Ltd. today unveiled a four-year plan to achieve sustainable growth, financial stability and profitability by the end of fiscal-year 2023. The scalable plan, involving cost-rationalization and business optimization, will shift the company's strategy from its past focus on inflated expansion.
As part of the four-year plan, Nissan will take decisive action to transform its business by streamlining unprofitable operations and surplus facilities, alongside structural reforms. The company will also reduce fixed costs by rationalizing its production capacity, global product range and expenses. Through disciplined management, the company will prioritize and invest in business areas expected to deliver a solid recovery and sustainable growth.
By implementing the plan, Nissan aims to achieve a 5% operating profit margin and a sustainable global market share of 6% by the end of fiscal year 2023, including proportionate contributions from its 50% equity joint venture in China.
Makoto Uchida, Nissan chief executive officer, said: "Our transformation plan aims to ensure steady growth instead of excessive sales expansion. We will now concentrate on our core competencies and enhancing the quality of our business, while maintaining financial discipline and focusing on net revenue per unit to achieve profitability. This coincides with the restoration of a culture defined by "Nissan-ness" for a new era."
The four-year plan is focused on two strategic areas, building on Nissan's reputation for innovation, craftsmanship, customer-focus and quality, alongside an ongoing cultural transformation:
1) Rationalization: robust actions to restructure, reduce costs and improve efficiency
Actions:
Right-sizing Nissan's production capacity by 20% to 5.4 million units a year under the assumption of a standard shift operation
Achieving plant utilization rate above 80%, making operations more profitable
Rationalizing the global product line-up by 20% (from 69 to fewer than 55 models)
Reducing fixed costs by approximately 300 billion yen
Intend to close Barcelona plant in Western Europe
Consolidating North American production around core models
Closure of manufacturing facility in Indonesia and concentrating on Thailand plant as single production base in ASEAN
Alliance partners to share resources, including production, models, and technologies
2) Prioritizing core markets and core products
Actions:
Focusing Nissan's core operations in the markets of Japan, China and North America
Leveraging the Alliance assets to maintain Nissan's business at appropriate operational level in South America, ASEAN and Europe
Exiting South Korea, the Datsun business in Russia and streamlining operations in some markets in ASEAN
Focusing on global core model segments including enhanced C and D segment vehicles, electric vehicles, sport cars
Introduce 12 models in the next 18 months
Expanding presence in EVs and electric-motor-driven cars, including e-POWER, with more than 1 million electrified sales units expected a year by end of FY23,
In Japan, launching two more electric vehicles and four more e-POWER vehicles, increasing electrification ratio to 60% of sales
Introducing ProPILOT advanced driver assistance system in more than 20 models in 20 markets, targeting more than 1.5 million units to be equipped with this system per year by the end of FY23.