Watches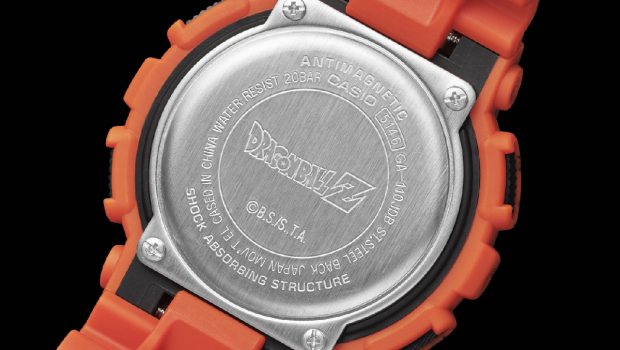 Published on June 28th, 2020 | by Daniel Sherman Fernandez
0
Casio Releases G-SHOCK Dragon Ball Z Edition
Coming to Malaysian stores very soon, so start saving up.
Casio Computer Co., Ltd., announced on June 17th that they were going to release of a new addition to the G-SHOCK line of shock-resistant watches.
The GA-110JDB has been developed in collaboration with Dragon Ball Z, a Japanese TV anime series popular with fans worldwide.
Based on the GA-110 which features a big watch case with a 3D presence, the new GA-110JDB expresses the worldview of Dragon Ball Z using bold color and design. The orange body and watch bands are covered in Dragon Ball illustrations and graphic elements, including scenes of training and growth for the main character, Son Goku.
The dial and logo are enhanced with a gold accents, for a strong impact. The inset dial in the 9 o'clock position displays a four-star ball motif. This ball is one of the seven dragon balls, and is the one most closely associated with Son Goku. In the 3 o'clock position, there is a "Z" motif. The Dragon Ball Z logo can be found on the case back and on the special package. This unique product design befits this special collaboration model.
Dragon Ball Z
Dragon Ball Z is an adventure story involving the quest to find the seven dragon balls. Whoever finds all seven can have any wish granted. The series focuses on the journey of the main character, Son Goku, as he makes friends and protects the world from evil forces, all the while constantly striving to become a better, stronger version of himself.
Who Designs These Watches
Ryusuke Moriai is the chief designer for Casio G-Shock. Having joined Casio in 1985, he started working on the collection in the 1990s and is responsible for some of the line's most iconic pieces like the DW-6400 and GA-100/110. The first watch that Moriai designed for Casio was the F-91W, a fuss-free, multifunction digital watch that costs less than USD18.00
While the legendary Kikuo Ibe is credited with creating the G-Shock, it can be argued that it is Moriai who helped establish the watch as a modern icon, driving its crossover success from utilitarian tool watch to a cultural phenomenon.
Casio G-Shock is now 32 years old this year, bigger and more popular than ever, is no small feat. And guarding the collection's design spirit is a responsibility that Moriai handles with both pride and a sense of privilege. His first deign, the F-91W which was introduced in the early 1990s, is still being sold today at some Casio stores and collectors have them in the safe keeping.