Automotive
Published on June 5th, 2020 | by Subhash Nair
0
How the First BMW X5 Was Designed On a 2-Hour Flight
The BMW X5 today is one of the most iconic Sports Utility Vehicles (or Sports Activity Vehicles as BMW would have you call it) on the premium market. It didn't get there overnight, and in fact, it wasn't that long ago when BMW was completely unrepresented in this segment. In the 1990s, they had access to Land Rover's expertise and technologies. With this in hand, they decided to try their hand at the off-roader market.
Frank Stephenson, who worked with Chris Bangle in BMW's design team at the time was given a very short turn around time to produce BMW's first ever SUV. In his latest "How I Designed" video, he recounts how he came up with his first draft of the thing during a short flight and within 6 weeks that turned into a full-sized model of the 1st BMW X5.
About the 1st Generation BMW X5
BMW revolutionised the SUV segment back in January 1999 with their first-ever X5. They chose their South Carolina factory as the site of production for the vehicle. It featured and fully embraced passenger car features, such as a unibody construction and independent suspension, while still having some off-roading ability.
Its passenger car features gave it better comfort and high-speed performance than any of its rivals. This is why BMW were confident enough to invent the term "Sports Activity Vehicle" (SAV).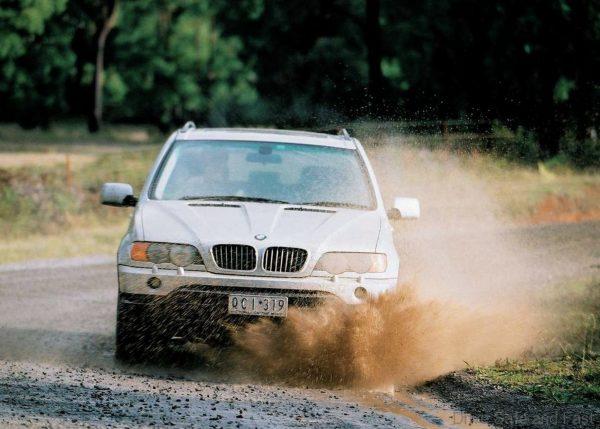 The X5 was offered with a 3-litre straight 6 petrol, a 3-litre straight 6 turbo diesel, and a 4.4-litre V8. This V8 model range was later expanded to include performance enhanced 4.6is and 4.8is models, but not in every market. It was offered with both manual and automatic transmissions in its first generation, but subsequent generations eschewed the manual gearbox altogether.
Even though the X5 was a four wheel drive vehicle, BMW chose from the start to route 60% of the engine's torque to the rear wheels, making it feel as close as possible to the company's rear-wheel drive sedans. Many reviewers commented on its road and track "feeling", and as time passed many other manufactures have caught onto this breed of SUV (e.g. Porsche Cayenne).
The X5 has been criticized for having low interior volume for its size – both the smaller BMW X3 and the 5 Series (Touring) have greater interior volume.
2004 refresh
For 2004 the X5 was refreshed with new headlights, a few new exterior colors, a new four-wheel drive system and upgraded engines. The exterior touches kept it fresh and gave the X5 a more aggressive look. The grilles were enlarged, as well as their actual slats being modified in a 'flame surfaced' style. In keeping with the E39 refresh of 2001, the 2004 X5's headlights got "angel-eyes" (rings or halos around all front headlamps). The taillights also got an E39-style refresh treatment and the exterior glass went from a "dotted" pattern to a cleaner one of "lines". BMW invented a new four-wheel drive system dubbed xDrive shared both in the X5 and X3 in 2004. Instead of using the previous X5 system which consisted of power being split 60-40 (rear wheels-front wheels) and DSC to brake wheels losing traction, xDrive could variably cut off power to the front or rear axles in a matter of milliseconds, while transferring 100% of the engine power to either, thus allowing the vehicle to regain traction quickly.
In terms of engines, the X5 got the new 4.4i engine which debuted in the 2002 7-Series. This raised output from 290 to 325 hp (242 kW). Also from April production, a new X5 4.8is was offered (see below), giving the driver 265 kW (355 hp) and making it the 2nd fastest SUV behind the Porsche Cayenne Turbo.
Several new extras were added to the 2004 X5 such as:
+ Soft-boot close feature (the top part of the trunk pulls itself closed)
+ Trailer Stabilization Control
+ Adaptive Headlights (available only with xenon HID headlamps; these swivel with the direction of travel of the car)
Right now, a quick search on listing sites puts a 1st generation X5 at around RM20,000.