Automotive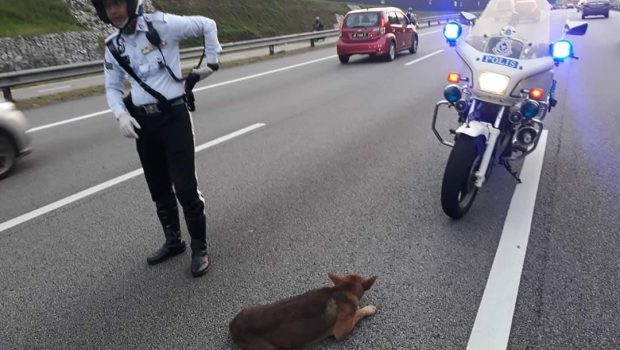 Published on June 12th, 2020 | by Subhash Nair
0
Traffic Police Officer Stops to Save An Injured Dog
Earlier today, the Royal Malaysia Police (PDRM) shared a rather heartwarming story on their facebook page.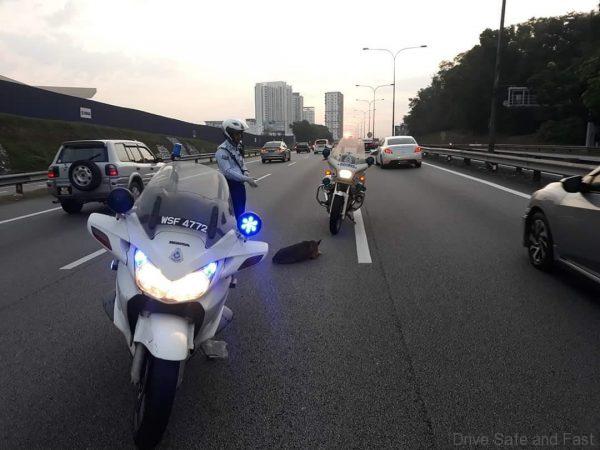 The facebook post was about how this traffic policeman went out of his way to redirect vehicles and save an injured stray dog. The incident happened at KM13.8 of the Federal Highway this morning when an officer working under the Investigations and Enforcement branch of the Traffic Police stopped to help the injured canine out.
A vehicle had struck the dog, and it was unable to move out of the way. With the officer's help, traffic was redirected away from the dog's lane and eventually the dog moved out of the way.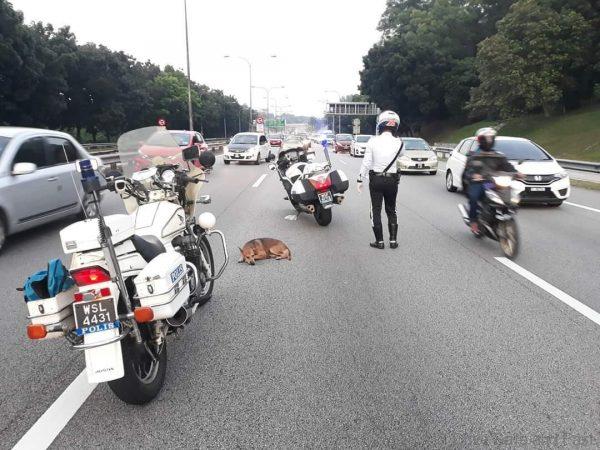 We commend the officer as well as PDRM for sharing a wholesome and positive post regarding the role of police officers in society. It would have been much more dangerous, terribly difficult and probably illegal for a civilian to try and rescue the dog from peril by obstructing traffic.
Here's the original text in a mixture of English and Bahasa Malaysia.
Original text, sans the #s:
PIC OF THE DAY: SETIAP MAKHLUK CIPTAAN TUHAN ADALAH BERHARGA
Setiap makhluk yang wujuf di muka bumi ini amat berharga, sama-samalah kita berbuat baik dan menyayangi antara satu sama lain kerana setiap uang bernyawa berhak menikmati hidup dengan aman dan selesa.
Terima kasih kepada anggota polis trafik dari Bahagian Siasatan Penguatkuasaan Trafik, Ibu Pejabat Polis Daerah Shah Alam, Selangor, kerana telah menyelamatkan seekor anjing yang cedera dilanggar oleh kenderaan di kilimeter 13.8 Lebuhraya Persekutuan Kuala Lumpur pagi tadi.
Walaupun sibuk dalam memastikan laluan trafik di Kuala Lumpur berjalan lancar, bantuan tetap diberikan kepada anjing berkenaan demi memastikan ia selamat dan kembali berjalan semula.
Here's what the officer's branch is all about.
Jabatan Siasatan dan Penguatkuasaan Trafik (JSPT)

Jabatan Siasatan dan Penguatkuasaan Trafik (JSPT) ditubuhkan secara rasmi pada 25 Mac 2016 sempena Sambutan Hari Polis Ke-209.
Objektif
JSPT ditubuhkan dengan objektif utama menjadikannya sebagai sebuah jabatan yang menerajui pengurusan trafik dengan teras perkhidmatan utama seperti berikut:-
Siasatan dan Perundangan
Penguatkuasaan
Kawalan Lalulintas
Pengurusan Saman
Visi

Agensi peneraju penguatkuasaan lalu lintas dalam menentukan keselamatan dan keselesaan pengguna jalan raya.

Misi

Memberi perkhidmatan yang cekap, profesional dan berkualiti dalam melindungi serta menjamin persekitaran yang selamat kepada pengguna jalan raya.