Automotive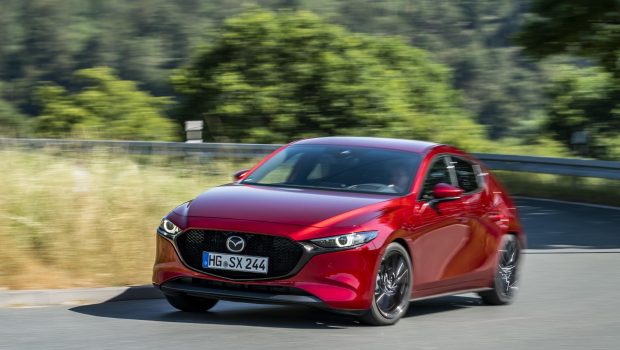 Published on June 26th, 2020 | by Subhash Nair
0
Turbocharged Mazda3 To Debut in 2 Weeks? Sounds Like It
Mazda have posted a very vague teaser on Youtube titled "Prepare for Launch". The 14 second clip, which was uploaded to Mazda USA's Youtube channel features some abstract red shapes and the sound of an engine revving interspersed with a date: 8th July 2020, but written 7.8.2020 following the style that dates are expressed in the United States.
While a clip like this doesn't give us much to go on, information from around the internet seems to suggest that it's a more powerful version of the current Mazda 3. Could it be a successor to the Mazdaspeed3? It's possibly, although Mazda officials themselves have not mentioned the return of Mazdaspeed/MPS branding. Perhaps they'll just call it the Mazda3 2.5T or something similar in order to maintain their rather well-ordered nomenclature.
Based on rumours we've heard before, this new high-performance Mazda3 will avoid battling against hot hatches like the Honda Civic Type R and Renault Megane R.S. They'll instead go straight for higher-powered hatches like the Volkswagen Golf R and Mercedes-AMG A35 or A45 4MATIC.
They'll do this buy skipping the standard 2-litre turbo and front wheel drive setup. They'll probably go for a 2.5-litre turbo with Skyactiv X technology, paired to an automatic gearbox. Will this be the same 6-speed Skyactiv Drive automatic or a new 8-speed gearbox? That too remains to be seen. What seems likely is that it will be paired to an all-wheel drive system for better distribution of power.
We can probably also expect to see the Mazda3's original look enhanced and made to look more athletic. Spoilers, larger rims, a sportier bodykit and sport seats are all expected in this high-performance 3.
This will be a return to form for Mazda. Ever since the company parted ways with the Ford Motor Company, they've been focused on delivering more premium and sporty passenger cars, with very little attention being paid to all-out performance vehicles. The only model that was showed love was the new MX-5, which has been updated with a hard top in the MX-5 RF. In more recent years, we've seen 2.5-litre turbocharged petrol engines coming to popular models like the CX-5.