Automotive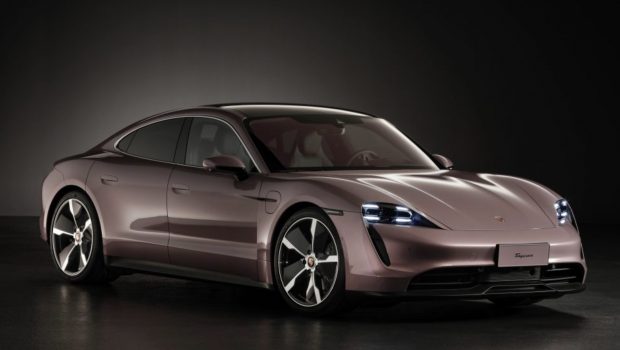 Published on June 30th, 2020 | by Subhash Nair
0
More Affordable Porsche Taycan RWD Debuts in China
Porsche's first all-electric model, the Taycan, is now available as a lower-powered rear-wheel drive model. This 'base model' Taycan is still quite respectable in terms of range and other performance figures. From a single synchronous motor on the rear axle, the Taycan is able to get from 0-100km/h in 5.4 seconds (with Launch Control) and has a top speed of 230km/h.
Customers looking to purchase the rear-wheel drive model with a few more toys can actually opt for "Performance Battery" or "Performance Battery Plus". These upgrades bring power up from 326 PS in the standard model to 380 PS or 476 PS.
NEDC's electric range is approximately 489km, which is longer than the all-wheel drive Taycan.
The standard Taycan RWD comes with steel springs but can be fitted with adaptive air suspension with 3-chamber technology with Porsche Active Suspension Management.
The new Taycan variant is powered by a permanent-magnet synchronous motor on the rear axle. Up to 300 kW (408 PS) of overboost power with Launch Control is available from the Performance Battery and up to 350 kW (476 PS) from the Performance Battery Plus. Nominal power is 240 kW (326 PS) and 280 kW (380 PS) respectively. The Taycan accelerates from 0-100 km/h in 5.4 seconds with Launch Control. The top speed of both models is 230 km/h. Its range according to NEDC is up to 414 kilometres with the Performance Battery and up to 489 km with the Performance Battery Plus, which is the highest range of any Taycan model.
The Porsche Taycan RWD has unique 19″ Aero wheels with black brake calipers. No price was announced, but Electrek expects it to come in around the price of the most inexpensive Tesla Model S.
Here's the press release with more.
PRESS RELEASE
Taycan drivers can conveniently charge their vehicles at home with 11 kW of alternating current (AC). An optional 22 kW charger will also be available.
The integrated Porsche 4D Chassis Control analyses and synchronises all chassis systems in real time. Both the standard steel-spring suspension and the optional adaptive air suspension, which features three-chamber technology, are equipped with the PASM (Porsche Active Suspension Management) electronic damper control system. The Taycan's energy recuperation system is unique. Thanks to its high regenerative braking, which boasts a capacity of up to 265 kW, the majority of braking operations in everyday use are performed by the electric motor alone, without the brakes needing to do anything.