Automotive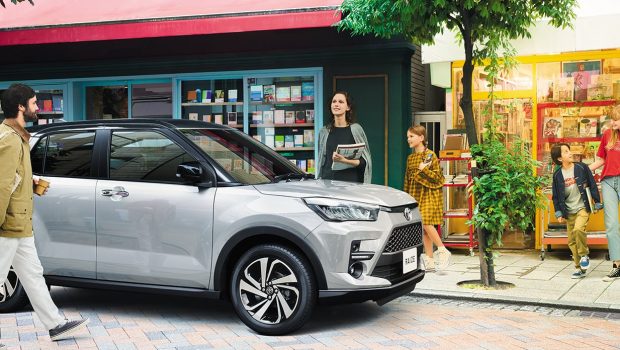 Published on June 1st, 2020 | by Daniel Sherman Fernandez
0
Toyota Raize not yet for Thailand and Indonesia
Daihatsu Rocky or Perodua D55 L……Maybe!
Shown for the first time at last years Tokyo Motor Show, it was also badged as the 2020 Daihatsu Rocky. This new Rocky is no where near the previous 1997 model Daihatsu Rocky which was a proper 4×4 Jeep (see picture below). This now is more like an urban crossover than an actual SUV.
Since its unveiling, ASEAN buyers have been waiting for its arrival. To date only Singapore has confirmed its launch with a funky microsite (see picture below) inviting interested buyers to register for more information.
Thailand motoring press have no clear indication if this new 2020 Daihatsu Rocky or Toyota Raize will be launched in their market and the same goes for Indonesia and India.
Perodua Perhaps
We in Malaysia are still guessing if and when it will arrive as a rebadged Perodua Crossover (codenamed D55 L) to sit between the popular Myvi and Aruz. Well, Malaysian business press have been publishing its confirmation as a rebadged Perodua since February 2020 and with an indicated price of RM70,000 and RM77,000 which puts it right against the much talked about Proton new crossover the X50.
The Proton X50 Crossover is still at least 5-6 months away from arriving in Malaysia as a rebadged Geely Bin Yue and part of the reason is because the Bin Yue was developed as a left hand drive vehicle and they will need time to produce a well engineered right hand drive version for Malaysia and the region. Philippines is a left hand drive country, so it could be launched earlier this year.
What Will It Be Called
Well, it seems that Daihatsu and its parent Toyota are watching closely the movement of its rivals in ASEAN and the best way to get maximum exposure would be to rebadge the Raize as a Perodua in Malaysia and export it to the Thailand and Indonesia.
For India, parties are already in talks to have a joint venture between Suzuki and Daihatsu for a localized version just for India.
Singapore and Sri Lanka will get fully imported units from Japan.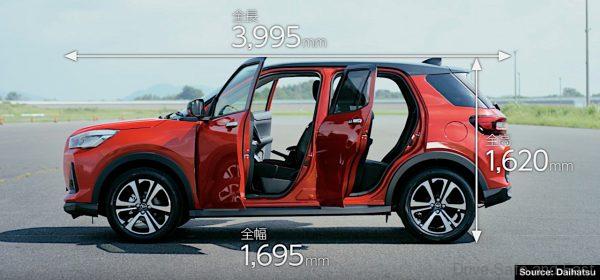 Raize Engine
The Raize combines a 1.0-liter 1KR-VET turbo engine with a D-CVT that incorporates a split gear―used in a Toyota vehicle for the first time―to realize the joy of driving and outstanding fuel efficiency. The powertrain provides the torque of a 1.5-liter-class engine at a variety of engine speeds, from low speeds upwards, which results in powerful acceleration.
Out-selling Corolla in Japan
In March this year, it was reported in Japan that the newly launched Toyota Raize compact SUV was receiving phenomenal response in its home market. Introduced in November 2019, the Raize has outsold the Toyota Corolla in Japan with 10,220 units sold in January 2020 which is nearly 2,000 units more compared to 8,480 units of Japan domestic market (JDM) Corolla.
Since its introduction hardly 3 months ago, Toyota has managed to sell 26,821 examples of Raize averaging a handsome 8,940 units a month. This is way more than Toyota's originally set monthly sales target of 4,000 units, which means that the sales volume it has achieved so far has already surpassed the target for 6 months.
Technical
The Raize is based on the new DNGA platform, which is basically the low-cost version of the TNGA platform. This platform will be used by Daihatsu and Toyota to produce vehicles for the emerging markets. In terms of proportions, the new Toyota Raize is 3,995mm long, 1,695mm wide and 1,620mm tall, which is similar to the Daihatsu Rocky SUV. The small SUV offers a boot space of 369-litres, which can be further increased by folding the rear seats.
For the Japanese market, the Raize is powered by a 1.0-litre, three-cylinder turbocharged petrol engine (another obvious indication that this Toyota is not a Kei car). This 996cc engine is tuned to produce 98hp at 6,000rpm and 140Nm of torque at 2,400-4,000rpm and comes paired to a CVT automatic gearbox.
Safety features include six airbags, traction control and electric stability control, ABS with EBD, hill-start assist, lane keep assist, a blind spot monitoring system, adaptive automatic headlamps with a static bending function, front and rear parking sensors, autonomous braking, a 360-degree camera and rear cross traffic alert.
Raize is its instrument cluster that is split into two parts – an LED digital speedometer (with the fuel gauge below) and a 7.0-inch TFT colour display that can be configured in four modes.
Keyless entry and go, push-button start, automatic climate control, heated front seats, USB ports at the front and rear, four speakers and two tweeters and steering-mounted audio controls are a part of the package on the top-spec Raize versions.