Automotive
Published on June 9th, 2020 | by Subhash Nair
0
Toyota RAV4 Plug-in Hybrid Now in Japan. 0-100km/h in 6s!
Toyota have just launched a plug-in hybrid electric vehicle variant of their 5th-generation RAV4 model. This RAV4 PHEV (styled and referred to as the Toyota RAV4 PHV) features the new Toyota Hybrid System II (THS II) Plug-in system.
It mates a 2.5-litre inline 4 A25A-FXS naturally-aspirated petrol engine with motors on the front and rear axles for a total system output of 306PS. The petrol itself puts out 177PS and 219Nm of torque, while the front motor exceeds that with 182PS and 270Nm of torque. The rear motor supplements power with 54PS and 121Nm of torque.
This huge amount of power allows the RAV4 PHV to complete the century sprint in just 6 seconds! On pure electricity, a full charged battery, it can return 95km of range. If driven conservatively on a full tank of petrol and a full battery, you could get up to 1300km of cruising range with this vehicle.
This variant of the RAV4 comes with better sound insulation throughout to help deal with electric motor whine. The lithium ion battery is kept cool by using air conditioning coolant. This helps maintain the lifespan of the battery. Fast charging this battery to capacity requires 5 hours and 30 minutes on Single-phase AC 200 V/16 A. On standard plug points, a full charge may take up to 27 hours complete.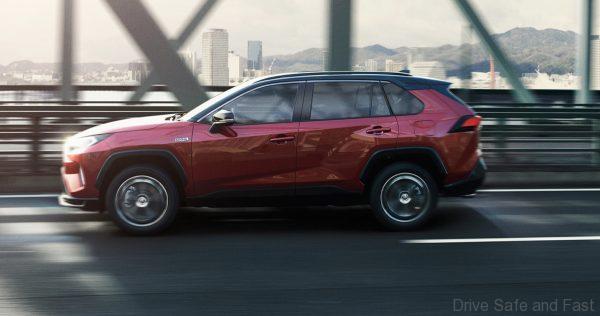 Will UMW Toyota become the first Japanese company to bring in a plug-in hybrid vehicle for local assembly?
Here's the press release with more.
PRESS RELEASE
Toyota has launched the new model RAV4 plug-in hybrid electric vehicle (PHEV) through dealerships in Japan on June 8, 2020.
Since its debut in 1994, RAV4 has pioneered the crossover SUV market, and remains the market leader. The fifth generation*5 RAV4 was released in April 2019. It has been popular with many customers, thanks to the superior driving performance delivered by three types of 4WD system, including Dynamic Torque Vectoring AWD; design which fuses refinement with SUV-like power; spacious luggage storage; and an interior designed for convenience, making it suited to diverse situations.
The new RAV4 PHEV aims to boost the fun-to-drive appeal of RAV4, adopting the newly developed Toyota Hybrid System (THS II). The front motor and inverter achieve more powerful output than the RAV4 hybrid system, and the combination with the new model, high-capacity, high-output lithium-ion battery achieves maximum system output of 225 kW, facilitating sporty, powerful driving. It also achieves a BEV driving range of 95 kilometers, top level in its class*6, for greater driving pleasure in BEV mode, thus also realizing superior environmental friendliness.
Vehicle outline
The pleasure of driving, unique to PHEV
Through installation of the newly developed THS II Plug-in system, Toyota strives for even greater driving pleasure. The new RAV4 achieves maximum system output*1 of 225 kW (306 PS), and maximum employment of the motor enables instantaneous acceleration and deceleration. In addition, with the assistance of the engine unique to PHEV, it achieves an acceleration from 0 – 100 kph in 6.0 seconds*2.
It adopts the TGNA platform (GA-K) and is equipped with a high capacity lithium-ion battery installed under the floor in the center of the vehicle. Efforts were made to realize a low center of gravity and optimal weight balance. It achieves high quality ride comfort focused on the driver and superior control stability.
Main specifications of THS II Plug-in with reduction gear
| | | |
| --- | --- | --- |
| Engine | Model | A25A-FXS |
| Displacement | (cc) | 2,487 |
| Maximum output | (kW[PS]/rpm) | 130[177]/6,000 |
| Maximum torque | (N・m[kgf・m]/rpm) | 219[22.3]/3,600 |
| Front motor | Model | 5NM |
| Maximum output | (kW[PS]) | 134[182] |
| Maximum torque | (N・m[kgf・m]) | 270[27.5] |
| Rear motor (E-Four) | Model | 4NM |
| Maximum output | (kW[PS]) | 40[54] |
| Maximum torque | (N・m[kgf・m]) | 121[12.3] |
| System maximum output*1 | (kW[PS]) | 225[306] |
| Traction battery | Type | Lithium-ion battery |
| Capacity | (Ah) | 51 |
| Total voltage | (V) | 355.2 |
| Total electric power | (kWh) | 18.1 |
Thanks to the E-Four electric 4WD system, the power produced by the newly developed plug-in hybrid system is fully distributed between all four wheels. In addition to achieving superior driving stability, a greater sense of stability when cornering, or driving in snow or rain, is enhanced.
It also realizes a BEV driving range of 95 kilometers*3 on a fully charged battery, and a hybrid fuel economy of 22 km/L*4. The RAV4 gasoline tank has a capacity of 55 L and boasts an incredible cruising range of 1,300 kilometers or more*5.
HEV driving mode, using the engine, leverages battery power to control engine revs, thereby reducing engine noise during acceleration. It provides a high quality driving space for not only BEV but also HEV mode driving.
Toyota has aimed for an even quieter motor-led driving performance, and introduced careful noise reduction measures into the body. In addition to optimal placement of sound insulation materials, the extent of dash panels and floor sound insulation has been expanded. Gaps at the joints have been carefully filled to prevent sound from penetrating the vehicle. Wind noise is also reduced through the use of a powerful soundproofing glass.
Adequate temperature of the lithium-ion battery is maintained using an air conditioning coolant. Reliable battery performance is enhanced by avoiding use under high temperature that accelerates deterioration and by appropriately controlling the battery charge.
The air conditioner employs a heat pump system that uses the heat from external air to raise the temperature of engine coolant water to heat the vehicle interior. When the air conditioner is on, it controls power consumption and reduction of the BEV driving range.
The vehicle also optimizes friction and damping force of the front and rear shock absorbers. Furthermore, it achieves superior control stability when cornering, for a solid, smooth ride comfort.
Enhancing the convenience, unique to PHEV
The new RAV4 comes with a maximum of 1,500 W (AC 100 V) external power supply function as standard equipment that are useful during blackouts and other emergencies, and for outdoor leisure activities. In addition to an accessory electrical socket in the luggage compartment, it is also equipped with a vehicle power connector which can be plugged into the regular charging inlet at the rear (right) of the vehicle for use as an external power socket.
It offers two settings, either BEV or HEV external power supply mode, which can be selected according to the intended purpose. BEV mode*6 only uses power from the battery, whereas HEV mode starts the engine if the remaining battery power is too low, enabling approximately three days'*7 of power supply on a full gasoline tank.
The RAV4 is readily able to provide regular power supplies at home or outside as a standard feature. The supplied power cable (both AC 100 and 200 V) can be connected to an electrical socket for recharging. Away from home, the PHEV recharge support*8 can be used to charge at G-stations located at around 4,200*9 Toyota dealers, and at around 10,800*10 other regular charging points across Japan.
Charging methods and time needed
Charging method
Regular charger (standard equipment)
Single-phase AC 200 V/16 A
Single-phase 100 V/6 A
Time needed for charging
Approximately 5 hrs 30 mins. (full charge)
Approximately 27 hrs (full charge)
Requirement of electrical installation work
Required
Not required*11
Fitted with a remote-controlled air conditioning system. Air conditioning can be switched on using a smartphone application or a smart key. The car interior can be heated or cooled for up to 20 minutes, using electricity from the lithium-ion battery.
Even with the inclusion of a large lithium-ion battery and an emergency spare tire, the new RAV4 provides 490 L (VDA measurement method) of luggage storage space, more than ample for a SUV.
Refined, sporty design exclusive to RAV4 PHEV
Exterior design
As the leading model in the RAV4 line-up, the front perspective strongly projects an advanced, sporty image. The front grille and lower mall reveal the distinctiveness of the RAV4 PHEV, while the low center of gravity enhances the vehicle's strong sporty appeal. Special LED day lights boost the advanced appearance.
The vehicle is fitted with newly designed 19-inch RAV4 aluminum wheels. The machine-cut highlight*12 spokes and black-enameled sides bestow a refined and luxurious appearance suited to city driving.
The exterior uses six colors, including Emotional Red II, exclusive to RAV4 PHEV. The lower body*13 combines Attitude Black Mica to complete the sporty finish of the exterior.
The exclusive Black Tone paints are part of the two-tone setting in a total of five combinations. Two-tone coloring coordinates Attitude Black Mica for the lower body, roof, and door mirrors. The combination perfectly expresses RAV4's cosmopolitan image.
Interior design
The interior, including ceiling, pillars, and open tray, are unified with black, to emphasize the sportiness, combined with red stitching, for a luxurious finish. The interior is coordinated with red stitching on the instrument panel, door trim, seats, steering wheel, shift boots, and center console.
Synthetic leather sports seats are standard equipment for all vehicles. Black Tone and G "Z" incorporate lateral underlying tone quilting design that emphasize the nuances, combined with red ribbon, for a strongly luxurious appearance. For its main fabric, "G" also features a REZATEC®*14, combining the comfort of fabric with the high quality appearance of leather, to enhance the sporty feel of the seats.
Advanced fixtures for a safe, secure, comfortable, and convenient drive
comfort and convenience
A large 9-inch Display Audio (DA) and the DCM*15 are standard equipments that can be used with connected services for greater convenience and peace of mind.
In addition to SmartDeviceLinkTM*16, it now features Apple CarPlay*17 and Android AutoTM*18 as standard equipments, enhancing connectedness with smartphones. Maps, phone calls, messaging, and music applications can be used through Display Audios by connecting smartphones with a USB cable.
Comfortable heated seats are provided for drivers and front passenger seats, and seat heaters are standard equipment on the left and right rear seats. Furthermore, the Black Tone and G "Z" driver and passenger seats feature a ventilation function to improve comfort.
Safety and security
The new RAV4 comes with Toyota Safety Sense, which employs a pre-collision safety system that detects pedestrians at day and night, as well as cyclists during the day. It is fully equipped with safety equipment for safety and peace of mind, such as Intelligent Clearance Sonar with Parking Support Brakes (Stationary Objects) that helps reduce and/or mitigate damage from collisions during low-speed driving in parking lots, etc.
The Display Audio displays a panoramic image of the vehicle surroundings with a bird-eye view, supporting rear visibility and enhancing safety by enabling viewing of blind-spots.
The Head Up Display (HUD) helps to prevent driver fatigue by reducing the need for eye movement.