Motorcycles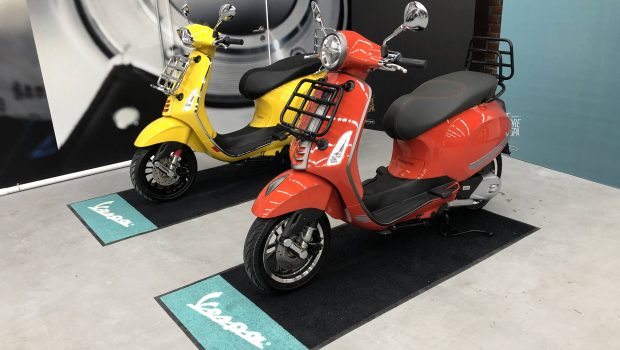 Published on June 4th, 2020 | by Daniel Sherman Fernandez
0
VESPA 2020 Models Arrive In Malaysia
Vespa in Malaysia is no longer with its previous brand guardian and is now (for 2020) with a new company, Didi Resources that is working closely with Piaggio in Italy to bring down the cost of running a Vespa in Malaysia to some 60-70 per cent of the previous parts and maintenance cost. This new pricing structure will soon be shared with us and then with you to better understand the running cost of this iconic Italian scooter.
This lower cost also includes the pricing for parts, accessories and merchandise. The whole Vespa experience will soon be on par with its Japanese rivals.
Didi Resources Sdn Bhd, which is the official distributor of the Vespa brand in Malaysia has just introduced two sporty and stylish scooters from the 2020 model range, the Vespa Primavera S Special Edition 150 and Vespa Sprint S 150. Available at their headquarters right now in Petaling Jaya which is located at Lot 15, Jalan 13/6, Section 13, 46200 Petaling Jaya, Malaysia. Next to Colombia Hospital and in front of Jaya One mall.
Forged from the Vespa sport DNA, the new Vespa 2020 model's line-up has upgraded aesthetics and is perfect for active and trendy Malaysian urbanites of all genders who love being at the centre of attention.
The previous Primavera S 150 was launched in Malaysia just 10 months ago in August 2019 at a selling price of RM16,400 and now this latest 2020 version is selling for RM18,300. Both prices are (on-the-road without insurance).
In December 2018 the Vespa Primavera 50th Anniversary Edition was priced at RM16,300 (on-the-road without insurance).
Vespa Primavera S Special Edition 150
Vespa is launching a new Special Edition of its most stylish version. Primavera S shows more sporty and brave characteristics, that are further stressed with this model, born for who that want to Live with More Zest.
This outstanding and sophisticated Vespa is strongly characterised by the dark grey shield edge, crest, rims, tie, rear and front light frames. More charm is further added by the sporty stickers contrasting with the colour of the body: dark/light grey on the Orange Tramonto and orange/grey on Grey Stile. The boldness of the vehicle is stressed by refined statement-making specifics, as the black saddle with orange stitching and the orange horn cover.
The Vespa Primavera S Special Edition is equipped with 12"-wheel rims, made of aluminum alloy and with a five-spoke design. This provides greater stability, improved safety and better holding on all surfaces and in all road conditions. LED front and rear lamps, together with LED daytime running light, anti-theft system (Immobilizer) and ABS front disc brake compose the safety equipment of this amazing product.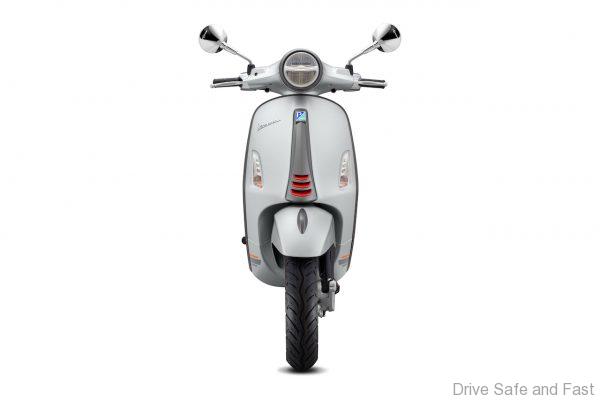 As the Primavera S range, this version is equipped with a USB charging port that enhances convenience for users who are in a need of charging for phone, tablet and small electronic devices.
The new Primavera S is driven by modern one-cylinder four-stroke 125 and 150 cc iGet engines air-cooled and equipped with electronic injection and 3-valve distribution. Each detail from the exhaust to the inner structure of the transmission casing was designed to provide a smooth, quiet and comfortable ride. The engines are absolutely environmentally-friendly and perform at the top of their category, with extremely low fuel consumption.
The Vespa Primavera S Special Edition 150 is now available from RM18,300 with a dedicated stunning colour range; Orange Tramonto (Glossy) and Grey Stile (Matt).
Vespa Sprint S 150
The updated version of the youngest and sportiest vespa, meant for those that want to live competitively and are not afraid of contrasts. Vespa Sprint S further accentuates Vespa Sprint's sporty styling and is designed to be ridden by those who have the most competitive attitude among vespa lovers.
To highlight the Vespa Sprint S strong mentality and its endless aim to be the winner in all competitions, 3 striking new color combinations were designed: Yellow Sole, Black Opaco and White Innocenza, sided by the best-seller Grey Materia.
Sprint S keeps its signature details such as red horn cover, sporty decals on the body side and red spring. The seat of the Vespa Sprint S 2020 has been further renewed and is unique to this model to create an all-round sporty elegance look.
With the entire steel body under the stunning new colors, characterized by the sporty stickers and details in glossy red, Vespa Sprint S is made for those who always finish at the front, for the skilful players that turn everyday travel into thrill and pleasure.
The Vespa Sprint S 150 is designed to be the gutsiest of the Vespa family, adding a series of novelties to the already-sporty Vespa Sprint. Donning an entire steel body, the Vespa Sprint S 150 is the first of its class to mount two 12" rims and was crafted for those who play to win; the adventurous Malaysian with desire for their daily commute to be enjoyable and fun.
The Vespa Sprint S 150 is also driven by the 150cc environmental-friendly one-cylinder four-stroke i-Get engine and barometric sensor to ensure optimum riding pleasure, steadiness and reliability while manoeuvring through the congested city roads.
Characterised by the sporty stickers and details in glossy red, the Vespa Sprint S 150 comes in Yellow Sole, Grey Materia and White Innocenza, and is priced from RM16,900.
The new 2020 Vespa Models are now available at all authorised Vespa dealerships and outlets nationwide.