Automotive
Published on July 1st, 2020 | by Subhash Nair
0
Rolls-Royce Cullinan Black Badge Now in Malaysia
The Rolls-Royce Cullinan Black Badge was just launched in Malaysia, making our country the only one in the region with the entire range of Black Badge products. The Rolls-Royce Black Badge family also consists of the Wraith, Ghost and Dawn.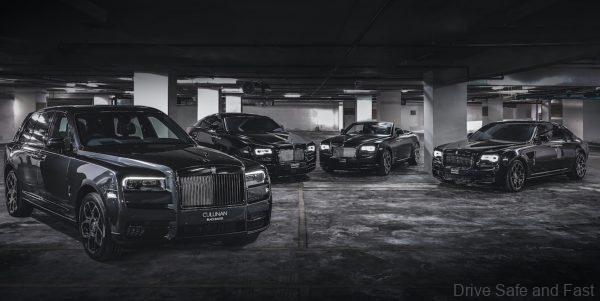 Black Badge cars are truly a level above the standard products in a huge number of ways. To put it one way, no matter how much you spend customising a standard Rolls-Royce Cullinan, you'll never be able to get it to the same level of performance and exclusivity of a Cullinan Black Badge. Bear in mind, customisation on Rolls-Royce vehicles are limited to your imagination and budget.
What sets the Black Badge product apart from the standard Rolls-Royce models ranges from the mechanical to the aesthetic. At the more simple side of things, you have the badging and look of the car. This Cullinan Black Badge, for instance, comes with the Spirit of Ecstasy hood ornament finished in high gloss black chrome. Many of the badges on the car are finished in silver-on-black and all chrome surfaces have been finished in a darkened chrome. The grille's vertical bars, normally silver is now black but still highly polished for that regal look.
Additionally, Rolls-Royce have created an exclusive set of 22″ forged alloy wheels that's only available on the Black Badge Cullinan. These rims too are finished in gloss black. Behind these rims sit Rolls-Royce's first ever painted brake callipers in high-gloss red.
The interior of the Cullinan Black Badge is finished in a material that's completely unique. The veneer is called Technical Carbon and it's a hand-polished, labour intensive piece of trim. The Starlight Headliner is present here with 1344 fibre optic lights embedded in handwoven black leather. Additionally, bits of steel trim (such as the housing for the clock) have been darkened to fit with the Black Badge theme. The seating is covered in an embroidered 'Infinity Lemniscate' motif.
Of course, being a Rolls-Royce product, all of this can be customised to your heart's content. Even the Cullinan's Viewing Suite and Recreation Module can be fully customised.
Perhaps the most impressive thing about the Cullinan Black Badge is its customised performance. The 6.75 V12 twin turbo engine has an additional 29PS and 50Nm of torque, bringing the final power output to 600PS and 900Nm of torque. To better cope with high-performance driving, suspension components have been reworked.
The braking system has been retuned to have less pedal travel, a higher braking bite point as well as redesigned disc ventilation for better overall performance. The Cullinan is the first Black Badge car to sit on the new, all-aluminium Architecture of Luxury.
The Rolls Royce Cullinan Black Badge is available in Malaysia from RM1.7 million before duties. Other Black Badge models are priced as follows:
Black Badge Wraith: RM 1.7 million
Black Badge Ghost: RM 1.4 million
Black Badge Dawn: RM 1.8 million