Automotive
Published on July 6th, 2020 | by Subhash Nair
0
Hyundai Bring A Manual Shifter without the Clutch Pedal
Many young drivers today no longer feel the need to use a traditional manual shifter. One doesn't even need to learn how to use a stick to get a driver's license in Malaysia. But that doesn't mean the manual gearbox is going to completely lose its relevance. Some of us will continue to have at least one vehicle in the garage that requires user-inputted gear selection. And now Hyundai have figured out a way to draw more young people back towards this engaging method of car driving with the use of their new intelligent Manual Transmission (iMT).
From what we can recall, Hyundai first mentioned the iMT in the 3rd generation i20 model. In that model, a 6-speed iMT was announced, but the model's official availability has been pushed back due to the coronavirus pandemic. Instead, Hyundai are soldiering on with the introduction of the new Venue in India.
The Venue comes with a 1-litre Turbocharged 3-cylinder petrol which puts out 118hp and 172Nm of torque. That's actually quite a high output considering how small and light the Venue is. More importantly, this engine can be paired to a 6-speed iMT in India.
The 6-speed iMT comes with a H-pattern manual gear selector, but no clutch pedal. Most 'clutchless manuals' that we've seen on older Italians vehicles were operated with more of a tiptronic or sequential selector. That means the user had to use buttons or a lever to go up or down one 'speed' and no satisfying H-pattern shifter was present.
This system works differently. There's a Transmission Control Unit (TCU) that takes instructions from a Lever Intention Sensor. When you start to shift gears, the TCU can accurately guess what gear you need next based on where your shift pattern is about to head to.
The TCU will engage a Hydraulic Actuator, which use hydraulic pressure to control the clutch and pressure plate. It sound a little more complicated than a clutch pedal. And it probably won't be as cheap or as durable as a regular manual gearbox, but wow does it sound interesting.
It's great to see a company still interested in keeping the manual gearbox around for a while. If Hyundai brought this technology in with the Venue in Malaysia, we're sure they'll find a few brand-converts especially those who are in the younger, more enthusiastic crowd. That is, as long as they can keep prices reasonable.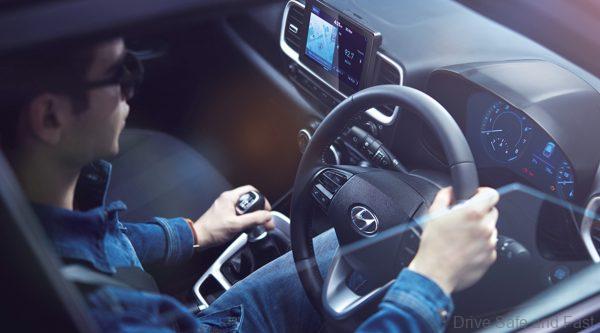 Here's what Hyundai Motor India's CEO, Seon Seob Kim, had to say:
 "Hyundai has been driving the adoption of new and innovative technologies at scale. With our 'Future Ready' business strategy, we have been continuously striving for customer delight with Human centric technologies that present our innate understanding of what our customers' desire. iMT is one such technology that accounts for pleasure of driving and also the convenience needed to ease the hectic burden of daily commutes. This unparalleled drive experience on Hyundai Venue – India's First Connected SUV has been curated through a constant pursuit of innovation for Customer Delight."