Automotive
Published on July 15th, 2020 | by Subhash Nair
0
Toyota GR Supra's Power Output is UP 14% in Local Showrooms
The Toyota GR Supra is an incredible sportscar with a 3-litre turbocharged straight six worthy of its recent win at the VOTY 2020 awards. But UMW Toyota aren't resting of their laurels. Instead, they've improved the GR Supra's performance in a number of ways.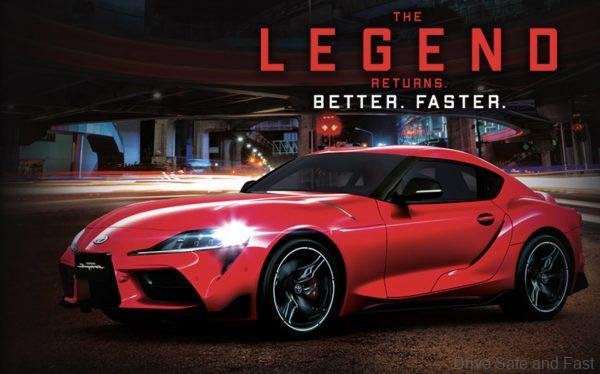 Engine Improvements
The inline 6 motor now delivers 14% more power at 388PS between 5800 and 6500rpm. It still puts out 500Nm of torque, but peak torque is now available between 1800 and 5000rpm. This is a wider range than previously.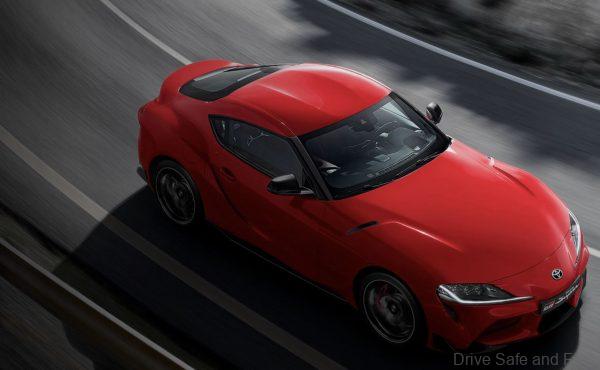 The acceleration time has been improved from 4.3 seconds to 4.1 seconds.
To achieve these results, the engineers have improved heat management by adding a new dual-branch exhaust manifold with 6 ports. They've also reduced the compression ratio to 10.2:1 by changing the piston design. Improvements to the turbocharger have also helped to improve the output.
Chassis improvements
Increased roll resistance and enhanced cornering stability have been achieved by returning the chassis and adding a new Performance Rod.
Red Brake calipers with Supra logos have been added.
Paint Option Revision
Deep Blue Metallic has been taken off the option list, but Prominence Red, Lightning Yellow, White Metallic, Silver Metallic, Ice Grey Metallic, Black Metallic and Matte Storm Grey Metallic are available.
The GR Supra is available from RM589,987 with the sales tax discount.
Here's the press release with more.
PRESS RELEASE
As the first global model to be developed by TOYOTA GAZOO Racing, the Toyota GR Supra has made a remarkable impact wherever it has been launched, including Malaysia. It draws on Toyota's sports car heritage, affirming its status as a sports car in its purest form, designed and engineered for the joy of driving.
As the fifth generation of a legendary model in automobile history, the GR Supra is a fully forward-looking sports car, brimming with an advanced powertrain, chassis and safety technologies. In the spirit of Kaizen (the Japanese philosophy of 'constant improvement'), the now available 2020 GR Supra has already received upgrades which further extend its capabilities. Specifically, the 3-litre engine has additional output which will deliver better performance numbers and reward drivers of all skill levels.
The upgrades centre around the turbocharged inline-six engine which now delivers 285 kW (388 PS) of power at between 5,800 and 6,500 rpm, a 14% increase. Maximum torque remains at 500 Nm, but peaks through a slightly wider range of 1,800 rpm – 5,000 rpm instead of 1,600 rpm to 4,500 rpm.
The engineers increased the power output not just by tuning but also added a new dual-branch exhaust manifold with 6 ports (instead of two), which improves heat management. A new piston design also reduces the engine's compression ratio from 11:1 to 10.2:1.
The improved engine with the torque band raised retains the eagerness to rev with turbine-like smoothness. With the standard 8-speed ZF automatic transmission, the acceleration time from 0 to 100 km/h is 2/10ths of a second quicker, shortened to 4.1 seconds from 4.3 seconds.
Complementing the extra power are some chassis improvements aimed at increasing roll resistance and enhanced cornering stability. Taking note of feedback from high-performance drivers in the time that the car has been in the market, the latest GR Supra has receivedchassis retuning with a new Performance Rod added to increase lateral rigidity. Apart from the fitment of red-coloured brake calipers with the Supra logo at the front, other technical specifications and features remain the same. The Deep Blue Metallic exterior finish is no longer available but customers can still choose from seven sporty and striking colours – Prominence Red, Lightning Yellow, White Metallic, Silver Metallic, Ice Grey Metallic, Black Metallic and Matte Storm Grey Metallic.
Standard with the GR Supra are the Adaptive Variable Suspension and Electronically-Controlled Limited-Slip Differential (LSD).
Safety is always a priority for Toyota, and even more important with models like the GR Supra which is capable of very high performance. Toyota Supra Safety technologies enable drivers to take the car to its limits in safety. These technologies include a variety of active systems which work together to assist the driver when necessary. Additionally, there are features like the Tyre Pressure Monitoring System, Intelligent Parking Sensor with Emergency Braking Function and Blind Spot Monitor with Rear Cross Traffic Alert.
The standard interior features of the GR Supra are a blend of luxury and functionality, with a driver-centric approach. For example, there's a head-Up Display which allows the driver to keep his eyes on the road ahead while being aware of important operating information. A memory function for the power seat makes it easy to set and retain a preferred seating position if there are other's sharing the car. As for entertainment while on those long journeys, the JBL audio system has nothing less than 12 speakers strategically placed around the cabin for the best sound quality.
Priced from RM589,987 (*with sales tax exemption and without insurance) and RM611,880 (*without sales tax exemption and without insurance), the new GR Supra is now available for booking from selected authorised Toyota GR Garage showrooms nationwide. For further information, customers can visit Toyota.com.my or call the Toyota freephone line 1-800-8-TOYOTA (869682).