Automotive
Published on September 10th, 2020 | by Subhash Nair
0
Mitsubishi Galant Reimagined for the 2020s
Many fans of Mitsubishi's glorious past will be familiar with the 'Galant' nameplate. The Galant was a huge source of pride for Mitsubishi Motors. It ran for 9 generations, all the way from 1969. The 7th generation was when Mitsubishi really started to show its engineering prowess on the vehicle. The Galant was one of the first front-engined, front-wheel driven cars in the world to feature multi-link suspension on both the front and rear.
However, by the end of the 2000s, it was clear that Mitsubishi was struggling to make sense of the model, giving it a third facelift and halting manufacturing operations in Australia. The 'Galant' now exists in name only, being used to market the previous Lancer Sportback model.
While it has been just over a decade since we saw a proper Mitsubishi Galant, some hardcore Mitsubishi Motors' fans are hoping it will make a return. Mitsubishi's recent integration in the Renault Nissan Alliance could give it the resources it needs to put a new sedan into development.
To help push Mitsubishi in the right direction (we wouldn't want another Eclipse Cross, would we), Russian automotive renderers from Kolesa.ru have come up with a rather striking, modern looking potential Galant sedan.
They've combined Mitsubishi's current 'Dynamic Shield' front grille with slim headlights and triple LED foglights in the bumpers. It's really still in the same vein as the current Triton, but definitely a lot sleeker and suited to the sedan bodystyle. Not overly aggressive too, as many car renderings tend to be. The bonnet is clean and slightly muscular, but it's clear a lot of the panel lines haven't been too clearly defined. The front bumper, for instance, continues all the way into the fenders and it's not known if the hood is a clamshell-type.
The rear end looks handsome as well, with the whole 'unibrow' look that's being popularised by German brands (like on the Audi A7). It's not a very 'Mitsubishi' design, but then again, the company hasn't really been concentrating on their sedans in the last decade, so perhaps a move like this could be what the company needs right now.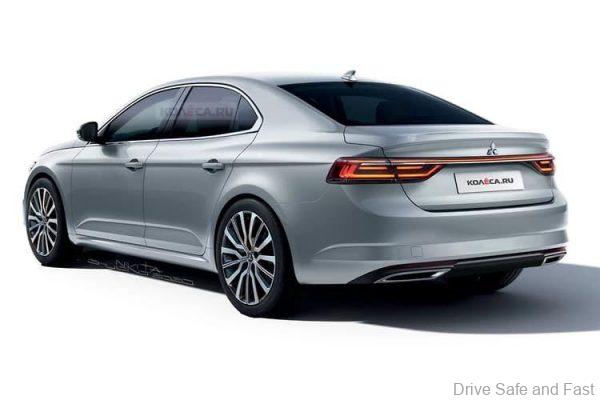 Since the Galant name has been used by Mitsubishi to show off their engineering prowess in the past, this could be an opportunity to introduce more PHEV and electric offerings. Imagine the Galant as a Model 3 competitor with Nissan LEAF internals, that could work, yes?
What do you think of this Galant rendering? Should Mitsubishi concentrate on pick-ups, crossover and SUVs or should they go back to their roots and attempt to regain the trust of fans? Let us know.