Automotive
Published on September 1st, 2020 | by Subhash Nair
0
Next Gen SL Roadster Being Road Tested for 2021 Launch
Mercedes-Benz are extending the legacy of the SL with an all-new model that is currently being road tested in its pre-production phase. The SL is seen by many as the Flagship lifestyle roadster in the Benz lineup. Alongside the SL sits the S-Class Cabriolet and S-Class Coupé, both of which will probably not return with the next generation S-Class. That means, come 2021, Mercedes-Benz will shave its flagship line down by 2 models, and the SL has made the cut.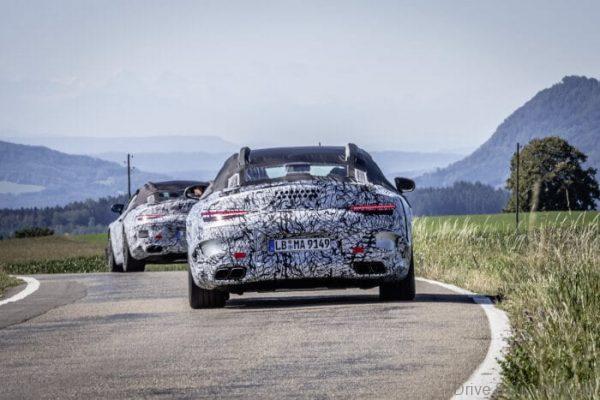 The next generation model was developed digitally and went through many of its trials using simulators, but now Daimler is confident enough to brings the car into its first 'dynamic driving' tests in its pre-production phase. This is at the Test and Technology Centre in Immendingen as well as a few public roads.
A history of long serving SL generations
The current, 6th generation SL has actually been around for quite some time, but it's not the longest serving generation of the SL yet. The 'R231' SL first debuted in 2012 and will likely be replaced by this next-generation model some time next year. In contrast, the 5th generation SL came around in 2001 and only stopped being produced 10 years later in 2011. The 4th generation, extremely recognisable R129 SL was around for even longer, serving between 1989 and 2002. Its predecessor, the R107, was around for the longest duration of time, being found in showrooms from 1971 all the way to 1989.
The SL started life in the 1950s with the iconic Gullwing 300 SL and then the stylish 300 SL Roadster model joining. There was also a lower powered 190 SL with an inline-4 petrol engine option.
We're excited so see where Mercedes-Benz will take the SL model – one of the few remaining models in its lineup that escapes the constant need for updates and spec bumps.
PRESS RELEASE
The next generation of the legendary SL Roadster is going back to its roots, which lay in motorsport back in 1952. Mercedes-AMG, as the performance and sports car brand of Mercedes-Benz AG, has fittingly taken on the task of overall vehicle development for the reinterpretation of the legendary roadster. Following extensive digital development steps, test stand runs and simulator trials the new sports car is now entering a scheduled phase of wide-ranging dynamic driving tests – thus far at the Group's own Test and Technology Centre in Immendingen – and now also on public roads in some cases.