Automotive
Published on September 12th, 2020 | by Subhash Nair
0
Owner Says Proton X70 Spare Parts Unavailable for 2 Months
The Proton X70 has been available in Malaysia since the end of 2018. For about a year, it was fully-imported from China, and built by Geely Auto there. It was essentially the same Geely Boyue that had been available in the Chinese market for years, but with a right-hand drive conversion, modifications to the grille, infotainment unit and badges to make it fit for sale in Malaysia under the Proton brand. At the time, Proton were selling loads of these X70 models in Malaysia and while it was a better equipped vehicle than anything in the segment, we would often get complaints about the availability of spare parts. This was somewhat understandable, as Proton had no real experience with importing vehicles from China, and their dealer network probably also was not initially equipped to handle Geely's system for spare parts. There was going to be initial teething issues, but that was to be expected.
A year later, Proton launched their own locally-assembled version of the X70. It was a facelifted, and thoroughly updated model, but the design was largely unchanged. By this time, Proton should have had a handle on Geely's way of dealing with spare parts and there should be no excuse for having to wait more than a week for spares to arrive.
Yet, we recently came across a similar customer complaint. This time it was not directed at us as it was before, but we decided to look into it anyway. This Proton X70 owner had an accident and decided to get his insurance to pay for the repairs. According to him, the insurance company had signed off on the repairs, but after 2 months, the workshop has been waiting on spare parts to carry out the job.
The owner says the damage wasn't that bad, and the picture below is essentially what the car looks like with the damaged parts removed. To be fair, even it the damage was not very severe, it does look like a LOT of parts need to be replaced. Modern car exteriors are not quite as straight-forward as they used to be. In older designs, you had one piece for the bumper, one for the grille, a badge, fenders and a the lights. Nowadays, there are tonnes of plastic trim pieces, sensors, multiple grilles, foglights and more. Different manufacturers handle inventory differently. Some may treat the front fascia as a single inventory item, so if you crack your bumper, you'll have to claim for the entire grille, bumper, and more. Others might separate these pieces, which poses problems of its own. What happens if one piece is out of stock? To save on shipping, they might wait until all parts necessary for the repair come in before shipping them all out at once. We wonder if that's what's happened here.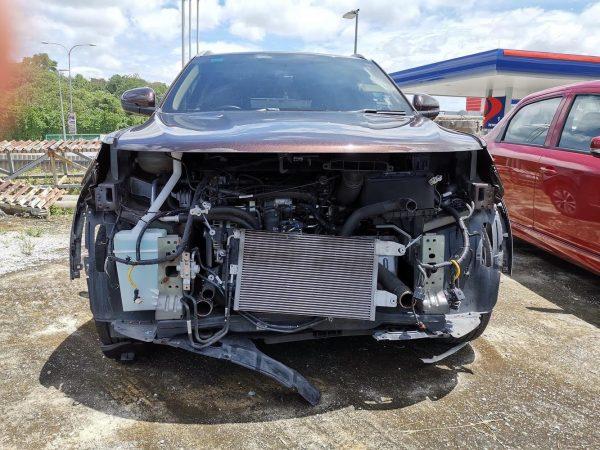 We looked online for more information and found that it was posted on Facebook pages like "Geng Kaki Kereta" and even shared on the Lowyat forum. However, the post has since been removed. We reached out to Proton, who said that their customer relations team were on it, but they did not give us a follow-up quote beyond that.
We did a 360 walkthrough of the Proton X70 last year which discusses some of the car's construction.
Here's the original text posted by Mohamad Nur Sufi, whose phone number we've removed.
Original post (Bahasa Malaysia)
Ada plan nak beli Proton X70? Pertimbangkan baik2 dulu. Ambil pedoman dpd post gua ni. Cerita nya aku buat Own Damage Insurance Claim sbb ada minor mishap yg buat kan kereta tu kena masuk bengkel.
Dah 2 bulan kereta dekat bengkel, barai tp xda progress sebab apa? Spare parts tak sampai2. Katanya masalah dekat sistem dekat HQ Shah Alam. Semestinya bukan masalah owner kan isu spare part tu betul tak? Pandai jual kena pandai repair lah kan? Ke Proton Cars pandai publish sales report je tp tak pandai improve aftersales?
You are banking on the new models to push sales up but your after sales services are utterly dissapointing. I don't go public if I have not already tried any other means. The fact that this goes public meant I've exhausted all other options. (Termasuk personal message Li Chunrong, CEO Proton)
Bawa duit pergi ke kedai,
Spare parts aku bila nak sampai?
Proton Cars kasi jawab pantun. Thank you.
*dalam gambar kereta yg dah dibaraikan menunggu spare parts nak dimasukkan. Tak teruk mana pun sebenarnya tp haram tak sampai2 spare parts nya sampai ke sudah