Automotive
Published on October 8th, 2020 | by Subhash Nair
0
BMW Returns to "Driving Pleasure" Roots with 128ti
As of late, BMW have been deviating from whatever brand values they'd initially gathered fans with. We first noticed this back in 2017, but it with unpopular design shifts, a focus on obscenely large grilles, and steps towards more lifestyle elements, it became clear that the brand and its fans were on very different trajectories.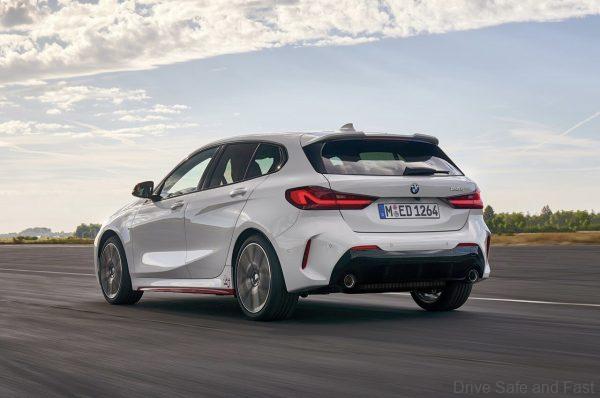 Last month, the release of the new M3 cemented this idea of the brand 'doing its own thing'. But it seems this week they're ready to turn things around and give the fans a little taste of what they've been asking for: simpler, performance-oriented cars. To this end, they've released the 128ti. That's right, BMW are using the 'ti' moniker in their model names again and it's going to wreak havoc on their otherwise well-structured nomenclature.
The 128ti is essentially a performance-enhanced version of the current 1 Series, that combines the simpler front-wheel drive setup of the 120i with the power and handling characteristics of the M135i xDrive.
In BMW's own words, "it is positioned between the BMW 120i (fuel consumption combined: 5.8 – 5.5 l/100 km [48.7 – 51.4 mpg imp]; CO2 emissions combined: 134 – 126 g/km*) and the range-topping BMW M135i xDrive (fuel consumption combined: 6.7 – 6.3 l/100 km [42.2 – 44.8 mpg imp]; CO2 emissions combined: 155 – 145 g/km*)."
Sorry, what I meant to write was:
In BMW's own words, "It is positioned between the BMW 120i and the range-topping BMW M135i xDrive."
The 128ti will feature the 265 horseopower 2.0L BMW TwinPower Turbo 4-cylinder petrol motor from the M135i. This is paired to an 8-speed Steptronic Sport transmission which sends power to the front wheels.
It also derives its firmer anti-roll bars and anti-roll bar mounts with high preload from the M135i. However, without the xDrive all-wheel drive setup, it's 80kg lighter than the flagship 1 Series model.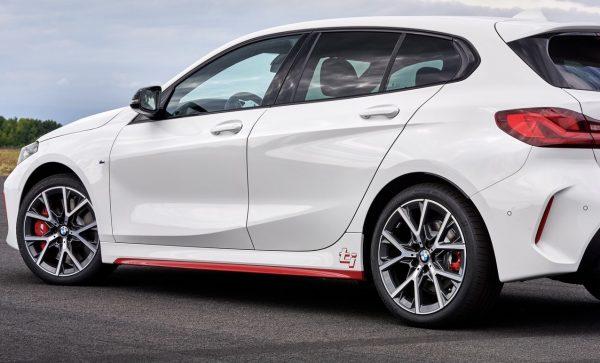 Compared to the standard 120i, it has M Sport suspension (10mm lower), stiffer springs and shocks, a Torsen LSD and a unique steering tune. It also gets M Sport brakes with red-painted callipers.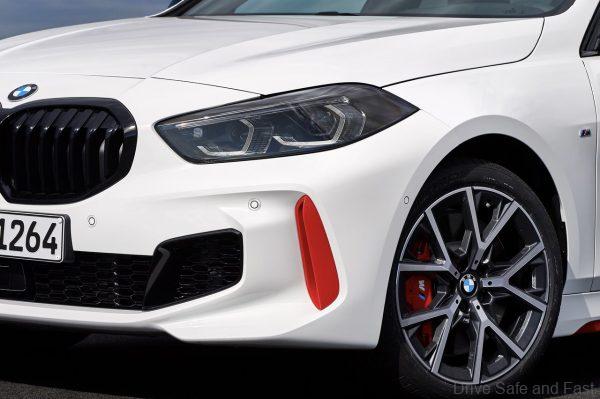 18" Y Spoke 553 M dual tone light alloy wheels are made exclusively for the 128ti and wrapped in Michelin Pilot Sport 4 tyres.
In terms of aesthetics, the 128ti gets specific covers and trim mouldings above and beyond the M Sport bodykit. "ti" badges have been added in either black or red around the car. There are also a lot of red accents around the lower parts of this vehicle's exterior.
The Shadowline trim comes standard in some markets. This includes a black BMW kidney grille, black mirror caps, chrome trim deletion and optional darkened headlights.
Inside, red is a primary element. Race Red makes up many surfaces, including the backrests of the sport seats, the ti badge in the central armrest, contrast stitching, and steering wheel stitching.
The 128ti is expected to launch at the end of 2020 with a price of €41,574.79.