Automotive
Published on October 27th, 2020 | by Subhash Nair
0
This Indian Suzuki Plant's Production Rate Is Astonishing
If you think Suzuki needs the Malaysian market with its population of just 30 million, you might want to think again. The compact car producer was forced out of the market by Proton under the previous management and they've yet to make a return. But maybe they don't really need or want to. They left our market in 2016, leaving their CKD operations behind as well. Quite separately, they opened up another factory in India in February 2017.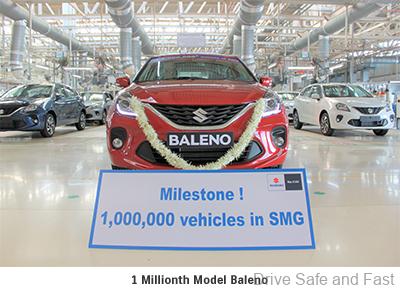 That factory, Suzuki Motor Gujarat (SMG), has since produced its 1 millionth vehicle, becoming the fasted Suzuki production site to reach that number at just 3 years and 9 months.
For CONTEXT, Suzuki sells about 1.5 million cars in India yearly and the SMG-produced Baleno makes up a quarter of those sales. For PERSPECTIVE, one of the most successful cars from one of the most successful car companies in Malaysia, the Perodua Myvi, took about 12 years to get to 1 million units.
I think Suzuki is quite happy to concentrate on one of the largest car markets in the world, though there are pretty strong rumours that the franchise might be brought in again under different hands.
PRESS RELEASE
Suzuki Motor Gujarat Private Limited (SMG), a subsidiary of Suzuki Motor Corporation for the production of automobiles in India, has achieved accumulated automobile production of 1 million units on 21 October 2020. SMG becomes the fastest production site of Suzuki to reach 1 million units in just 3 years and 9 months since starting production in February 2017.
SMG started production of Baleno in February 2017, followed by the production of Swift in January 2018, and subsequently started production for exports in March 2018. In January 2019, the second production site, B Plant, and the Powertrain Plant started operation to meet the growing needs in India and abroad.
In FY2019, Suzuki sold approximately 1.44 million units (82% year-on-year), and produced approximately 1.58 million units (85% year-on-year) in India, of which SMG accounted for 25% of production units in India at approximately 410,000 units (141% year-on-year). Suzuki will continue its production activities to meet customer needs through securing safety by thoroughly conducting preventive measures against the spread of COVID-19 pandemic.