Automotive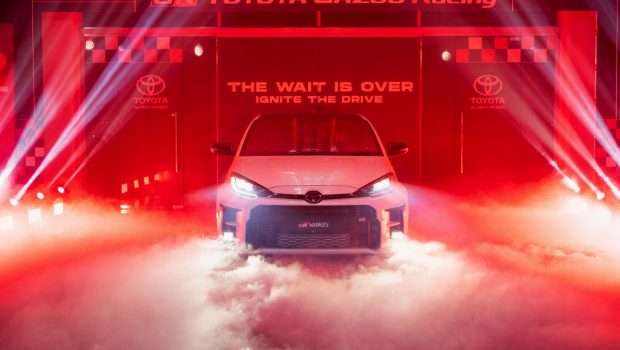 Published on December 18th, 2020 | by Subhash Nair
0
200 Units Of Toyota GR Yaris Now In Malaysia For RM300K Each
UMT Toyota Motor actually did it! Towards the end of last night's live event, they released the GR Yaris, a true performance hatchback with a turbocharged engine, all-wheel drive and a manual shifter! The launch came as a surprise after the facelifted models of the Yaris and Vios were unveiled. Only 200 units were made available in Malaysia, as worldwide production is limited to just 25,000 and this car is a hot seller in many other markets.
The GR Yaris is completely distinct from the standard Toyota Yaris that Malaysians are already familiar with. It's built on a combination of the TNGA-B platform with the rear section adopted from the TNGA-C for independent rear suspension. The car is specially built at Toyota's Motomachi plant, where the Lexus LFA was once constructed, so you know Toyota have really poured their heart and soul into this vehicle.
It's also built on Gazoo Racing's wealth of rallying experience, with Tommi Makinen and the Toyota Gazoo Racing World Rally Team being involved in the car's development from the start.
The car is powered by a 1.6-litre 3-cylinder turbocharged petrol engine capable of 261 PS @ 6,500 rpm and 360 Nm of torque @3000-4600 rpm. Add a 6-speed iMT, a full time GR Four all-wheel drive system, a Torsen LSD and a weight of just 1280kg and you have yourself a true hot hatch from Toyota for the first time in MANY years.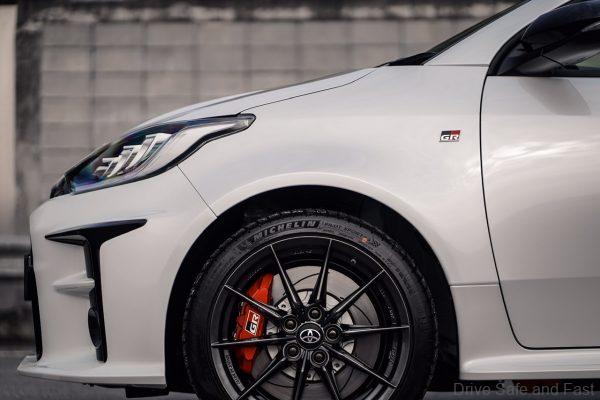 However, all this means that the Toyota GR Yaris is going to be a pricey vehicle. The 200 units available are all priced at RM299,000 (w/o road tax and insurance). It's available in Platinum White Pearl, Emotional Red 2 and Precious Black. Toyota Malaysia has paired each one of their 200 cars with a special number plate.
The 200 units brought to Malaysia are all outfitted with the Performance Pack, which gives it 18″ inch BBS forged alloy wheels wrapped in Michelin Pilot 4S 225/40R18 tyres, GR badges on the front bumper, front fenders and the rear tailgate.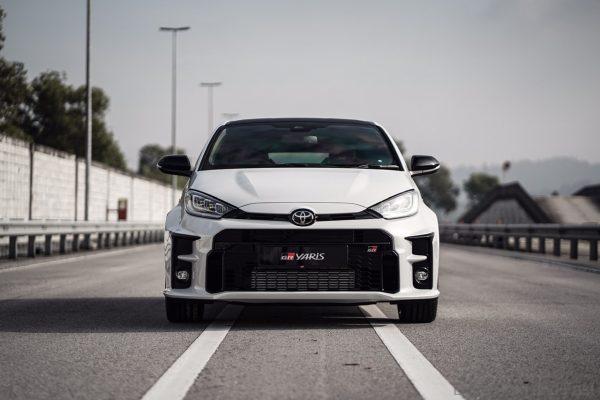 Early buyers will get an exclusive helmet bag, a GR Yaris scale model will go through the GR Yaris Driving Experience in 2021. This Early Bird Package is valued at RM5,000.
Here's the press release with more details on the new Toyota GR Yaris Performance Pack Edition in Malaysia.
PRESS RELEASE
UMW Toyota Motor Sdn Bhd today celebrates the arrival of the highly-anticipated GR Yaris, with limited units of the top-of-the-range Performance Pack Edition being made available for the Malaysian market.
Priced at RM299,000.00, (excluding road tax and comprehensive insurance) only limited production units of the GR Yaris Performance Pack Edition will be sold in Malaysia, with each car bearing a special number plate to indicate its exclusivity. The GR Yaris is available in three signature colours: Platinum White Pearl, Emotional Red 2 and Precious Black.
The GR Yaris consolidates Toyota's Gazoo Racing (GR) line-up of vehicles in Malaysia which also includes the 3.0-litre GR Supra and the newly-launched Vios GR-Sport, giving customers multiple entry points into owning performance-built models from Toyota.
In commemorating what is not only a highly anticipated model but one purely bred for competition, UMW Toyota Motor Sdn Bhd is also offering an Early Bird Package that will see buyers of the GR Yaris receiving an exclusive helmet bag, a GR Yaris scale model and undergoing a GR Yaris Driving Experience in 2021, the combined package of which is worth RM5,000.00.
THE BIRTH OF A WORLD RALLY CHAMPIONSHIP CONTENDER
When the dust settles, the GR Yaris is ultimately a World Rally Championship (WRC) car built for the road and it is the only WRC road legal car you can buy for non-competition purposes. Even before designers produced the very first renderings, it was conceptualized as a WRC car, the intention was to build a WRC car, it was purposed as a WRC car, it was engineered with dimensions and components tailored to being a WRC car, and it was built with expertise and knowledge of a WRC winning team.
Breaking convention, and not turning a mass produced vehicle into a competition contender, Toyota engineered the GR Yaris purely as a purpose-built rally car with its sights firmly set on competing at World Rally Championship (WRC) before refining it into a road-going high performance hot hatch. The GR Yaris is Toyota's first homologation model for the WRC since the Celica GT-FOUR was last produced in 1999.
Built on a unique platform combining Toyota's new GA-B platform (from the new generation Yaris hatchback) and a rear section adapted from the GA-C platform (used for the Corolla and C- HR), the GR Yaris is the first production model to built at the bespoke GR factory at Motomachi, Japan – the same facility responsible for building the Lexus LFA supercar.
The GR Yaris is built to fill extremely large shoes, with Toyota's WRC heritage dating back to 1973 and includes winning four WRC Manufacturers' Championship titles and three Drivers' Championship titles.
Engineered in collaboration with the Toyota Gazoo Racing World Rally Team and Tommi Makinen Racing, under the stewardship of its team principal and WRC legend Tommi Makinen, the GR Yaris benefitted from competitive advantage in terms of vehicle development, technologies and expertise from the very beginning of its inception. The team's WRC designers and engineers were able to focus on perfecting the aerodynamics, weight distribution and light weight construction of the car – the three key qualities essential to achieving the best
performance and drivability. The result was a lower roofline to enhance the GR Yaris' aerodynamic performance; an all-new 1.6-litre turbocharged engine; repositioning of the battery in the boot for better chassis balance to improve handling, stability and responsiveness; and the birth of a new three-door body shell made from lightweight materials including carbon fibre polymer and aluminium, to deliver an impressive power-to-weight ratio, while the new platform allows for a wider rear track and new double wishbone rear suspension system.
PRONOUNCED AGGRESSION
The front silhouette of the GR Yaris is bold and menacing, projecting its highly-competitive identity. The large front opening at the front takes the shape of radiator and has been designed for maximum cooling performance while vertical intakes on both sides of the front bumper function to cool the brakes. The top carved edges of the front bumper also function as canards accentuating its wide and low stance.
Moving towards the rear, the GR Yaris gets a tapered roof and rear pillars in addition to a deep, high-mounted GR spoiler to enhance its overall down force.
The GR Yaris is fitted with 18″ inch BBS forged alloy wheels wrapped in Michelin Pilot 4S 225/40R18 tyres – exclusive to the Performance Pack Edition – and to announce its unmistakable presence, the distinctive GR badges adorn the front bumper, front fenders and the rear tailgate.
PEDIGREE PERFORMANCE
Powered by a 1,618 cc three-cylinder, In-line, DOHC, intercooler turbo charged engine, the GR Yaris produces a maximum power of 261 PS @ 6,500 rpm and 360 Nm of torque @3000-4600 rpm.
The GR Yaris is only available with a six-speed manual gearbox with i-MT (Intelligent Manual Transmission) function that detects the driver's shifting operation and matches the engine speed to provide a smooth and comfortable shift feel.
Every detail was addressed to project its performance pedigree. The gear shift lever is positioned high on the centre console and set closer to the steering wheel for quicker shifting while the shift stroke is also shortened and lightened for a more engaging feel.
Utilizing an all-new fulltime four-wheel drive system (GR-Four), the GR Yaris offers Normal, Sport and Track modes. It is the first to be developed since the four-wheel drive system in the Toyota GT-4 some 20 years ago. The GR-Four system distributes power between the front and rear axle via a high response coupling and an electronically controlled multi-plate type clutch that manages the power split between the front and rear wheels. In Normal mode the torque is split 60:40 front to rear, in Sport the torque split is 30:70 while in Track mode, the torque split is a perfectly balanced 50:50 distribution. The Performance Pack Edition also sees the GR Yaris fitted with a Torsen® limited slip differential (LSD).
PERFORMANCE BY LIGHT WEIGHT
Weighing in at 1,280 kg and in order to become a featherweight contender in the WRC, the GR Yaris turned to a number of materials for the construction of the exterior body to achieve a better power-to-weight ratio and structural rigidity.
This includes a roof made of a new forged (rather than woven) carbon material and C-SMC (carbon sheet moulding compound); aluminium bonnet, front doors and rear boot; its design as a three-door which reduces weight by another 24 kg; and thin-sheet steel in the wings and side members, with light and strong high-tensile steels in critical areas to ensure structural rigidity and ability to safely absorb and dissipate impact forces.
Performance by light weight was also fulfilled by the design of the new 1.6-litre, three cylinder turbo charged engine; in the suspension, braking and engine components; and carried through to the interior.
Rally-bred suspension tuned by the Toyota Gazoo Racing World Rally Team has the geometry and settings defined to maximize tyre grip. The front anti-roll bar of the Performance Pack Edition is thicker and the diameter of the front suspension spring increased for greater stability and agility.
Stopping power comes in the form of 356 mm ventilated two-piece brake discs with a four- piston red aluminium GR calipers at the front, and 297 mm ventilated discs with a two-piston aluminium red GR calipers at the rear. The GR Yaris is also fitted with a mechanical hand- operated parking brake for extreme cornering in rally stage driving.
INTERIOR SIMPLICITY, ELEGANCE AND EQUIPPED FOR HIGH PERFORMANCE DRIVING
The interior of the GR Yaris combines simplicity, understated elegance and functionality to reflect on its athleticism and performance. Lightweight was again a primary concern and this included a light but highly rigid seat frame for the black leather with red stitching front sports seats, and all-black rear leather seats.
The car gets a bespoke GR three-spoke leather wrapped multifunction steering wheel while the overall interior is finished in black with smoke silver trim details to the interior door handles, side air vents and centre console.
The GR Yaris' attention to details is astounding. Drilled aluminium sports pedals designed with a wider surface make it easier to switch pedals and facilitate heel and toe shifting between braking and accelerating. The pedal position, pad angle and pressing angle have also been calculated in line with the driver's hip point to gain the best possible controllability.
Instrumentation in the GR Yaris is an analogue meter featuring white figures with red pointers for high visibility sports driving, and a 4.2-inch TFT colour multi-information display (MID) with an all-wheel drive indicator showing the torque distribution and driving mode selected for the GR- FOUR system, a gear shift indicator, as well as a turbo pressure monitor. The GR Yaris also has a Head-up display (HUD).
Infotainment comes in the form of a 7" inch capacitive touch screen with Apple CarPlayTM and Android AutoTM Connectivity*, FM tuner, USB, Bluetooth® and a six-speaker audio system. Other features include a dual zone automatic climate control air-conditioning, electrochromic mirror rear view mirror, electric power steering (EPS), a smart entry system, a push start button with a GR emblem, and power windows with (Auto Up / Down with Jam Protection).
An engine sound enhancement system meanwhile, transmits exhilarating sounds into the cabin in accordance with the accelerator operation amount and torque.
SAFETY ALWAYS A TOP PRIORITY
Guided by the high levels of safety in a WRC car, at the heart of GR Yaris' safety system is the Vehicle Stability Control (VSC) and Traction control (TRC). The VSC also features an Expert mode allowing the driver to disable it and the TRC. Other standard features include Anti-lock Braking System (ABS); Brake Assist (BA); and Electronic Brake Force Distribution (EBD).
Safety is further reaffirmed with Toyota Safety Sense (TSS) features that include a Pre-Crash System (PCS); Dynamic Radar Cruise Control (DRCC); Lane Departure Alert (LDA); Lane Tracing Assist (LTA); and Auto High Beam (AHB).
Protected by 6 SRS airbags, other safety features include Hill-start Assist Control (HAC); front & rear seat belt reminder; automatic retractable wing mirrors with turn signal lamps; automatic wipers with rain sensor; driving video recorder; rear parking sensors; a tyre pressure monitor system (TPMS); three-point Emergency Locking Retractor (ELR) seatbelts with two pre-tensioners and force limiters; isofix ready; an immobiliser, siren and intrusion sensor; and Toyota's premium security and solar film window tint. Vehicle Telematics System is available as an optional accessory.
The GR Yaris comes fully-backed by a five-year warranty 5 years warranty from the date of first registration with unlimited mileage (terms and conditions apply).
With a production of a mere 25,000 units only worldwide and less than 200 units are available here in Malaysia, the GR Yaris is not only one-of-its-kind, but also a rare and unique model to own. The exceptional GR Yaris is available exclusively at all GR Garage outlets. For more information on the GR Yaris, log on to our website at www.toyota.com.my