Automotive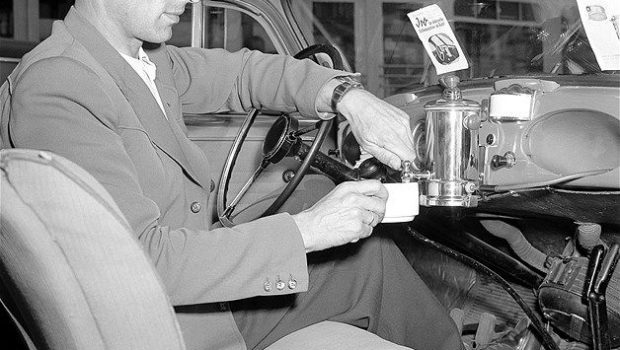 Published on January 23rd, 2021 | by Daniel Sherman Fernandez
0
Volkswagen Beetle 1959 Came With This Coffee Machine Option
Do you want this in your new car today?
Visit a new car showroom today and step into a premium model on sale and you will see an amazing amount of technology and 'toys' sitting right in front of you. From the multi-function steering wheel with predictive touch panels, to the paddle gear-shifter behind the steering wheel to the digital instrument screen with dozens of possible viewing formats and the colored heads-up display that lets you keep looking ahead and alert when driving.
Then there is the hand-free connectivity and the current favorite, the voice activated infotainment and control panel center that talks to you and obeys most of your commands while driving.
All this is great, but one very innovative car cabin planner way back in the 1950's got his bosses to agree to have a coffee machine and cup installed in their best selling car at the time and till today, no modern vehicle product planner has thought to have this installed.
Coffee Craze
With the coffee drinking craze continuing its rapid expansion globally and coffee bars out-numbering alcoholic bars in many places today, it is time that a car manufacturer found a way to install a coffee machine with a cup in a vehicle with the appropriate safety standards still included.
Hertella Coffee Machine
Meet the Hertella Auto Kaffeemachine, the first and only known dashboard-mounted coffee maker in the world. Manufactured specifically for the Volkswagen Beetle in 1950's, this automobile accessory has after 60 years from its introduction, almost vanished from existence. This coffee machine does have a few clever features. The porcelain cups that came with it had a metal disc on the bottom of them that allowed them to stick to the machine magnetically and the unit itself mounts to the dash with a simple bracket, allowing for the coffee pot to quickly be removed and cleaned when necessary.
Luxury Vehicles Need This
Can you imagine a luxury people mover (MPV) like the Lexus LM having a coffee maker fitted in-between the front seats for the rear passengers to enjoy a cup while sitting in traffic, on their way to a business meet?
Or the latest 2021 Mercedes S-Class Maybach having a coffee maker and cup holder as mentioned in the above with a metal disc under the cup to stay stable at the rear seat tray for the 'boss' to enjoy his favorite drip coffee brewed through a machine sitting at his side as he reads the business section of his online newspaper on the screen in front of him. The waft of freshly brewed coffee lingering in the cabin as he sips and reads whilst sitting in traffic. This will be an accessory that will take luxury automotive features to the next level.
Which Other Cars Had It
Yes, not only the classic VW Beetle had this accessory. As recent as 2012, Fiat (being a product of Italy and a country that loves their expresso) had as an option a Lavazza Espresso machine. French company, Handpresso designed the Fiat's 12-volt coffee maker but it never became popular as cup holders become unpopular with many auto manufacturers and coffee bar drive thru's started sprouting up all around the city.