Cars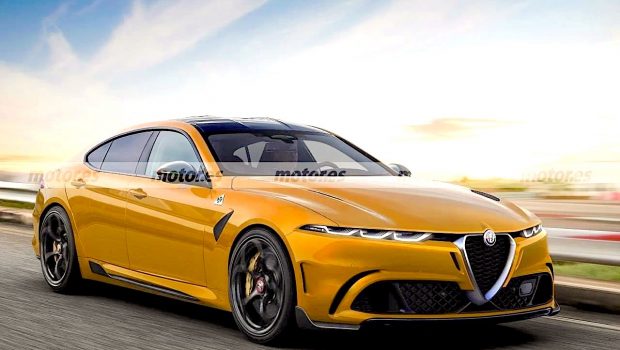 Published on March 5th, 2021 | by Daniel Sherman Fernandez
0
Alfa Romeo Will Return In 2025 With New 166
Better late than never for a new Alfa 166 to challenge Audi, BMW and Benz.
The Alfa brand loyalists around the world will be cheering to this news, hopefully it will not be short-lived as there might not be a glorious Italian V6 or a seductive and emotional design to be admired when it is finally unveiled.
Yes, as European governments move actively to embrace electric vehicles and boring mundane designs to suit slippery aerodynamics, new cars are starting to look almost all the same.
Take this picture here, a proposed design for the reborn Alfa Romeo 166 for 2022. Yes, it looks great and carries that 156 nose treatment, in a sharper and slender look, with a side profile that looks very much like a BMW Gran Coupe. Its gorgeous. However, the final product might end up looking rather dumpy and boring to meet the needs of the new bosses. Let us explain.
Over the many decades, Alfa Romeo designers have never failed to impress at showroom level, even when they decided to play with a 'boxy' design. The 146 and 155 proved their ability to bring to life sharp lines mixed with stunning detailing around the vehicle.
Back in late 2009, there were news that the 166 name was to be revived with a Chrysler developed platform and it was to be built in Chrysler's Brampton, Ontario factory in America to capture US car buyers interest. This, of course never happened.
Now, Alfa Romeo who has been part of the Fiat-Chrysler Automobiles Group (FCA) since 2007 and little has been done since the merger to revive this iconic brand and put it back on the automotive map. For the past 15 years there have been multiple turn-around plans for Alfa Romeo with no success. Remember the promise of the new GTV and 8C supercars?
Yes, they launched the Stelvio sports SUV and the Giulia sports sedan and both cars created an initial stir in the global market and then it faded away with little attention. Yes, there was also the 4C Spider which even made it to Malaysia and had a good number of sales via private importers. Since these cars, there has only been chatter about the Alfa Tonalecompact plug-in hybrid vehicle going into production, but it has been more than 2 years and still no confirmation.
In early 2021, FCA and PSA merged to form Stellantis and the Peugeot boss Jean-Philippe Imparato was moved over to run Alfa Romeo, replacing Tim Kuniskis. Stellantis is now the world's fourth-largest car firm, with 14 brands (including Abarth, Alfa Romeo, Citroën, DS, Fiat, Jeep, Peugeot and Opel/Vauxhall), more than 400,000 staff, industrial operations in more than 30 countries and revenues of more than £150 billion combined.
To date, Stellantis has 29 electrified models in its portfolio, with 10 more in the pipeline, the company said in a release earlier this year. This could mean full electric Alfa Romeo's that might share its emission free powertrains with new electric and also hybrid powered Maserati's.