Automotive
Published on April 21st, 2021 | by Daniel Sherman Fernandez
0
Mercedes S-Class Wins The 2021 World Luxury Car Award
S-Class beats Rolls Royce and Bentley for this prestigious award.
When it comes to delivering pure luxury motoring, Rolls Royce has always maintained their position of being simply the best and without any question far forward from even the 2nd place luxury automotive brand, Bentley. Both British brands are today part of German automotive groups and are still being built completely in England.
But it looks like a distance 3rd place luxury automotive brand has reached their doorstep and taken the top spot above both Bentley and Rolls Royce after a jury of 93 motoring journalist from 28 different countries voted the all new Mercedes-Benz S-Class with this prestigious award.
Well, for Bentley, the brand marketers at the parent company Volkswagen Group will be scrambling to figure out why they did not take the top spot, but with Rolls Royce, their brand marketers will be 'putting the kettle on' for a cup of tea and that's that. Rolls Royce will continue to sell as they have positioned themselves to be in a segment by themselves.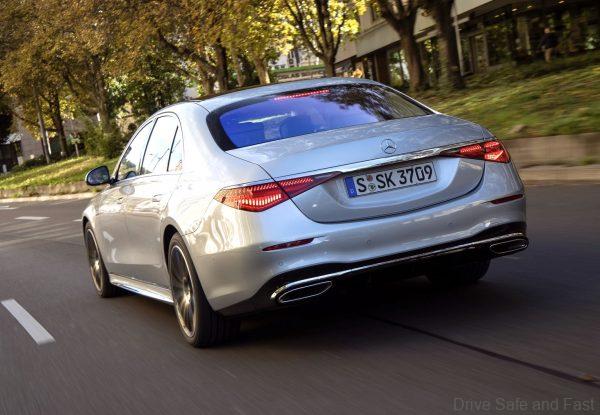 Bentley probably the same with the original team from Crewe in Cheshire, England but it is the brand owner in Wolfsburg that will be scrambling for answers.
The Road to the 2021 World Car Awards journey concluded today with the declaration of the MERCEDES-BENZ S-CLASS as the 2021 World Luxury Car as voted by our 93 distinguished international journalists from 28 countries that make up the World Car Awards jury panel. The votes were tabulated by KPMG.
This is the fourth World Luxury Car win for Mercedes-Benz and the second time that the S-Class has won the title in the World Car Awards' 17-year history.
"It's a great honour to see the new S-Class recognized around the globe as the 2021 World Luxury Car", says Prof. Dr. Uwe Ernstberger, Head of S-Class and C-Class model series product group at Mercedes-Benz AG. "And it feels right. Building on its long tradition of innovation, the new generation once again sets the pace in the automotive industry. The S-Class offers trailblazing innovations in all areas, from safety and comfort to efficiency."
The MERCEDES-BENZ S-CLASS was chosen from an initial entry list of ten cars from all over the world then a short list three finalists as announced on March 30th. The 2021 Top Three in the World finalists are the Land Rover Defender, the Mercedes-Benz S-Class, and the Polestar 2.
Vehicles eligible for World Luxury Car award must be produced in volumes of at least 5,000 units/year, must be priced at the luxury-car level in their primary markets, and must be "on-sale" in at least two major markets, on at least two separate continents, between May 1, 2020 and May 1, 2021.