Automotive
Published on April 15th, 2021 | by Subhash Nair
0
TREVO Guard Launched: Car Insurance Renewal On Your Phone
TREVO Guard lets any car user in Malaysia renew their car insurance on their phone.
TREVO, the people-to-people (P2P) car-sharing marketplace under SOCAR Mobility, has just launched a new service on their app called TREVO Guard. TREVO Guard allows any user to renew their car insurance via the app. This service operates independently of TREVO's P2P service. That means you don't necessarily have to sign your car up to be shared on the platform.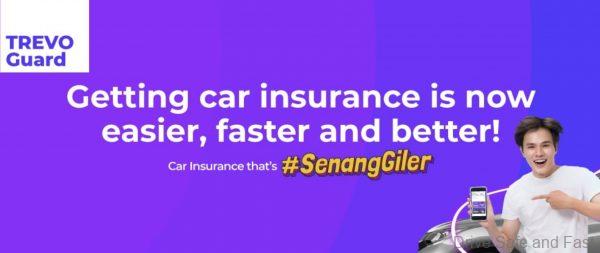 All TREVO Guard does is let you renew your car insurance from their app with just a few personal details shared.
As of publishing, only three insurance providers have partnered up with TREVO guard, but they aim to continue growing this list of partners. Allianz is on board though, and they're the leading car insurance provider in Malaysia with some of the best value-added services.
Early Adopter Promo
If your car insurance policy is near its end and you'd like to try out TREVO Guard for yourself, you may be in luck. The first 1,000 car owners to use the service will be entitled to:
a free temporary replacement car (should your insured car meet with an accident or if it breaks down)
Access to a personal driver for 2 hours (can be used 2 times)
RM128 Cashback (for cars 10 years or younger, works only if you use TREVO's P2P service as as TREVO Host)
For more on this, check out the press release below and visit TREVO's website.
PRESS RELEASE
TREVO is expanding the ways it is helping car owners reduce the burden of car ownership with the introduction of TREVO Guard. TREVO Guard is a motor insurance renewal service available to all car owners via the TREVO app.
Policies offered by TREVO Guard are curated to focus on features catering to the mandatory insurance needs of car owners in the modern P2P car-sharing and e-hailing ecosystem. Currently, new motor insurance policies from Allianz are available via TREVO Guard.
Perks for early TREVO Guard adopters
As an introductory offer for the first 1,000 TREVO Guard renewals, car owners will enjoy a number of perks courtesy of TREVO. This includes a Free Temporary Replacement Car of the same model or similar car segment.
This is for up to 7 days per year if the insured car is unable to be driven. It also includes complimentary use of a personal 'buddy driver' to drive them in their own car for TWO 2-hour trips per year. Meanwhile, TREVO Hosts who are among the 1,000 new renewals will also receive an RM128 cash rebate.
To get started on your motor insurance renewal via TREVO Guard, download the TREVO app and register for a TREVO account. Then, once you're logged in, just tap on the 'TREVO Guard' icon and fill in your car registration number and NRIC number or passport number for foreign nationals. You will get your motor insurance quote within 24 hours.
Find out more about TREVO Guard at https://trevo.my/guard and stay updated on the latest from TREVO on Facebook at https://www.facebook.com/TrevoMY/