Cars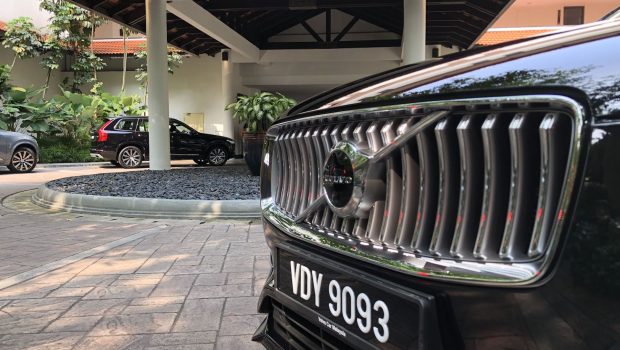 Published on April 6th, 2021 | by Daniel Sherman Fernandez
0
Volvo XC90 T8 Recharge SUV Selling Price Confirmed Today
Here is the latest update on the selling price of Malaysia's safest SUV.
The current latest version of the Volvo XC90 was launched on November 2019 and now comes the pricing for the Recharge version with attractive features, as always with a Volvo and some great safety technology included. The selling price for the XC90 Recharge T8 without SALES TAX is just RM393,743.00 for personal registration and this 7- seat luxury SUV is available at all Volvo showrooms right now.
The Immediate Rival
Its nearest rival will be the BMW X5 xDrive45e which is also a plug-in hybrid and local assembled. This new X5 is not a 7 seater, but a large 5 seat luxury SUV and it is priced at RM440,745.00. (this is a healthy RM47,000 price difference).
Extended Warranty
Plus, in December 2020 Volvo Car Malaysia announced an extended hybrid battery warranty coverage of up to 8 years or 160,000km for all Volvo hybrid vehicles launched from December 2015 onwards like the seven seat XC90 T8 SUV.
With the company taking active steps to meet its climate vision, Volvo Car Malaysia is closing off the year on a greener note by extending the warranty coverage to 8 years or 160,000 km or whichever comes first for all hybrid batteries for its Plug-in Hybrid Electric Vehicle (PHEV) range.
Applies To The XC60
This warranty extension also covers the popular Volvo XC60 T8 SUV which was launched in early 2018. The T8 Twin Engine offers an unrivalled mix of performance and efficiency.
It features a supercharged and turbocharged 320hp petrol engine that powers the front wheels and an 87hp electric motor that drives the rears. Total power output is 407hp, yet CO2 emissions are just 49 g/km. It is also possible to drive for up to 28 miles in electric-only mode, in near silence while emitting no tailpipe emissions.
Applies To The S60
The T8's 400 V/10.4 kWh high-voltage battery pack can be recharged in as little as two and a half hours using the optional 16-amp fast-charging cable. Fully recharging via the standard three-pin plug cable takes between three and a half hours (at 10 amps) and six hours (at six amps).
This latest battery warranty update also covers the Volvo S60 T8 sports sedan T8 model which is powered by a 2-litre turbocharged and supercharged petrol "Drive-E" Engine as well as an electric motor. Combined, this powertrain has an output of 407hp and 640Nm of torque which gives the S60 a 0-100km/h time of just 4.4 seconds.
This handsome looking sedan has a Volvo 11,600 kWh battery pack, which is housed in the centre tunnel of the car and is built using responsibly-sourced materials. Driven conservatively, you can get up to 46km of electric range from a fully charged car. At its launch earlier this year it came with a 5-year warranty and now this warranty for the plug-in hybrid battery has been extended to an impressive 8 years.