Automotive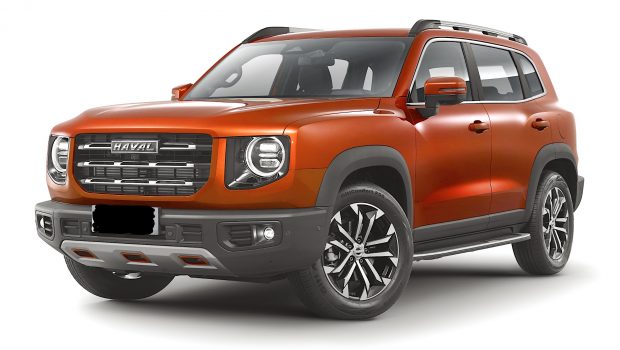 Published on June 26th, 2021 | by Subhash Nair
0
Haval Big Dog SUV Might Arrive In Malaysia
Haval Big Dog is a rugged looking Toyota Prado alternative from China.
At last year's Chengdu Motor Show, Haval showed off two SUVs for the Chinese market. The new H6, which is now in Thailand as well as the Big Dog. The Big Dog (translated from "Haval Dagao") got its name from the public but was codenamed the B06 before that.
There are now reports surfacing that Australia and New Zealand might get these SUVs as well.
This means that a right-hand drive version is in the works! We don't think Haval Malaysia will be bringing it here unless the company goes for a big push after the pandemic.
The Haval Big Dog gets two engine choices. The base model is powered by a 1.5-litre 4-cylinder turbocharged engine with direct injection called the "GW4B15A". The motor produces 166 horsepower between 5,000 to 5,600 rpm. Max torque is rated at 285Nm between 1,400 to 3,600 rpm, rather high for a 1.5-litre engine, turbocharged or not. The only transmission option is a 7-speed dual-clutch transmission. The setup conforms to China VI emissions standards. Fuel efficiency is 6.9L/100km.
There's also a 2-litre petrol turbo 4-cylinder with 221 horsepower and 385Nm of torque. This engine has a 2000kg towing capacity. By default, the Big Dog is a front-wheel driven SUV, but all-wheel drive capability comes from an optional BorgWarner Haldex 5th generation 4WD system. There's also an optional rear differential lock.
The Haval Big Dog measures 4620mm in length and is 1890mm wide. Its wheelbase is 2738mm and its height is 1780mm. In China, there are a few body kit options with at least two different front grilles and roof rails. It is built on the L.E.M.O.N platform by Great Wall Motor, Haval's parent company. The design is said to have been done by ex-Land Rover designer Phil Simmons.
There are 9 exterior colours:
orange
red
dark blue
dark green
black
white
yellow
light blue
pale blue
Head here to customise it yourself.
About the L.E.M.O.N. Platform
GWM's L.E.M.O.N. platform is a highly intelligent modular technology platform that boasts the advantages as follows: flexibility, high performance, high safety, and lightweight.
The platform's safety system integrates 18 typical usage scenarios collected from global users and strictly complies with the requirements of NCAP five-star safety rating and IIHS's highest rating ("Good"). It has been subject to 124 kinds of operating condition tests and more than 8,000 virtual simulation updates and optimization.
In addition to the above international standards and regulations, GWM also analyzes and studies non-standard operating conditions by centering on high-frequency actual collision scenarios.
As a result, the L.E.M.O.N. platform serves as one of the few platforms in the industry that can comply to the world's most stringent collision requirements and improve users' driving safety in all aspects.