Automotive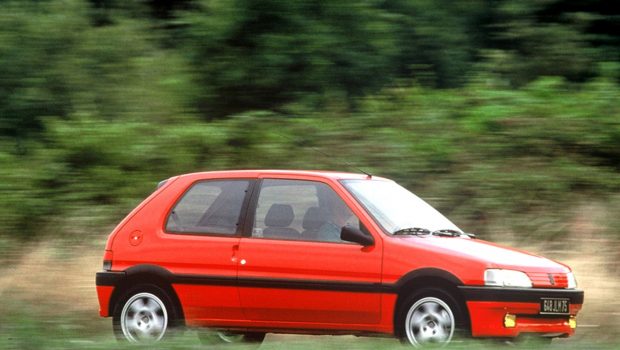 Published on June 21st, 2021 | by Subhash Nair
0
Peugeot 106 Turns 30 This Year
The Peugeot 106 is old enough to be a collector's car.
In Malaysia, older Peugeots are uncommon, but not completely unseen. We often see older 306 and 405 models, but usually nothing smaller. However, in Europe, the smaller 106-series models are pretty popular. This nameplate began for Peugeot back 1991, 30 years ago.
In France and many other European countries, small city cars were immensely popular, and so the 106 was an instant success.
Between 1992 and 2003, the 106 sold nearly 2.8 million units, mostly made in Mulhouse. It had a 4-cylinder petrol motor that was mounted transversely, sending power to the front wheels. Displacement ranged between 1-litre to 1.6-litres for petrol powered 106 models. Diesel engines were between 1.3 and 1.6-litres.
Here's the press release with more.
PRESS RELEASE
The PEUGEOT 106 will be celebrating its 30th anniversary in September 2021 and will become a youngtimer eligible as a collector car.
The PEUGEOT 106 was the first car of the 6th generation. This new vehicle was intended to broaden PEUGEOT's offer in the B segment of small city cars, which at the time accounted for just over a third of European registrations and 40% of registrations in France.
It was first produced in three-door form, then in five-door form from 1992, with almost 2,800,000 units produced until its marketing ended in 2003. The PEUGEOT 106 was mainly manufactured in Mulhouse, but the factories in Sochaux and Aulnay-sous-bois came on board when customer demand was at its strongest. The PEUGEOT 106 is a front-wheel drive car, available with 4-cylinder petrol engines of the TU type: from 954 to 1587 cm3 and from 1360 to 1558 cm3 in diesel.
The PEUGEOT 106 is certainly one of the lion brand's cars with the most special series on offer – about twenty in total in twelve years of marketing. The most iconic are the very beautiful "Roland Garros" and "Zenith" which appeared in 1993, the famous 106 Kid and its jean seats in 1994, the very fun 106 Cartoon presented by Droopy from 1996 to 1999, the elegant "Inès de la Fressange" in 1997, or the Enfant Terrible marketed in 2000.
The car also came in sporty versions with the 106 Rallye in 1993, the 106 XSI with 95 hp in 1992 and 105 hp in 1995 and the 106 S16 120 hp in 1996 for its last year on the market. It had a successful sporting career in Peugeot Sport meetings and in Group N rallies. In 1997, the 106 Maxi was unveiled, inspired by the 306 Maxi. Developed and driven by Lionel Montagne from 1998, it was driven by Cédric Robert in 2000 who finished 5th in the French Rally Championship.
PEUGEOT was a forerunner of the electric car with the first VLV (electric city car) presented in 1941, the PEUGEOT 106 was the second and went on to hold the world record for sales of electric cars until 2010. The electric version sold nearly 3,550 units and was aimed at both private and fleet customers.
Finally, the PEUGEOT 106 has also been the mainstay of emblematic advertising campaigns based mostly on humour with the famous: "A gentleman will do anything to borrow his wife's car"
To find the PEUGEOT 106, the PEUGEOT Aventure Museum in Sochaux is dedicating an exhibition to it until the end of 2021. Eight models will be on display for this anniversary: 106 Rallye (Italian version) from 1994, 106 XSI from 1992, 106 Signature from 1995, 106 S16 from 1997, 106 Enfant Terrible from 2002, 106 Electric from 1996, 106 Maxi from 1997 and a prototype 106 Cabriolet from 1992.
The Museum teams are also preparing a large gathering of PEUGEOT 106s with the 106 Team Rally Club and the 106 S16 Club on Saturday 11 September 2021. All PEUGEOT 106 owners will be welcome. To find out more: www.museepeugeot.com