Automotive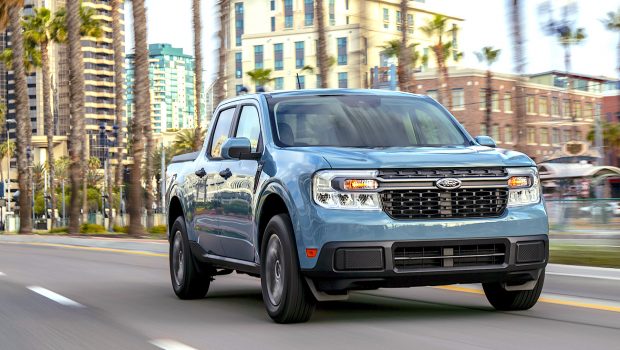 Published on June 12th, 2021 | by Daniel Sherman Fernandez
0
Reasons To Buy A Ford Maverick Pickup Truck
We share 5 reasons why we finally want a pickup truck in our garage.
The first issue to look at is its size. Traditionally pickup trucks in North America have grown in size with every new model. This is also true with cars, crossovers and MPVs. Buyers around the world are always looking at bigger and larger vehicles, whether they need the extra 'size' or not.
So, auto manufacturers have their designers and engineers making sure every new model gets larger by a few inches at least.
Now comes a sort or reversal and a great one if you ask us. Ford in America has revived the Maverick name recently and delivered a brand new compact pickup truck and this makes so much sense today as most pickup truck drivers do not need all that height, width and rear 'bed' space.
The Ford Maverick is 68.7 inches tall versus 75.6 inches for the popular and very large Ford F-150 pickup truck (pictured below).
So, why is it that we now want a pickup truck in our garage and it has to be this Maverick? (we have never ever owned or loved pickup trucks).
Below are 5 reasons why we NOW want to get a pickup truck like this Maverick in our garage.
1. Well, as early as Ford Courier pickup truck, the idea of owning one brought images of being rugged and taking to the rough. But then these trucks did not have a 'passenger car' cabin and its comforts. The Maverick has a SUV/passenger car cabin.
2. Then there was the issue of size. As the Ford Courier evolved to the Ranger and then the wide and large Raptor, it looked just great, but parking was a real issue in many places where parking lots have never grown in size. The Maverick is the right size.
3. Then came the issue of getting in and out. With age comes a sore back and the idea of getting in and out of a high riding vehicle daily does not look all that accommodating to our 'tired' back. The Maverick is the right size.
4. Huge torque. Yes, it is great to have a lot of torque and power, but will we ever use it daily and in our part of the world, we are not towing caravans, boats or large trailers. So all we need is a simple cost effective engine with decent power delivery and easy on the wallet fuel usage. Powering the Ford Maverick will be either the 2.0L Ecoboost petrol with an 8-speed conventional automatic or a 2.5L Duratec hybrid with an e-CVT.
5. Rear seat comfort. Until recently with the launch of the all new Isuzu D-Max, the Mitsubishi Triton and the revised Nissan Navara PRO-4X, the need to provide good rear seat comfort has taken a 'back seat' with manufacturers as they had to keep the rear bed space large enough for the utility work and cargo carrying functions. The Maverick takes a big step forward in providing great rear seat comfort with SUV-like rear suspension comfort.
As an added bonus, the asking price of the Maverick in America starts at USD20,000 (just RM82,000 before delivery costs) when its F-150 has a sticker price of USD80,000 (RM330,000 before delivery costs). This gives the Maverick a huge price advantage in America as well as ASEAN if Ford takes the leap to build a right hand drive version in Thailand or even better Malaysia for regional sales.