Automotive
Published on July 27th, 2021 | by Subhash Nair
0
Malaysia Car Plate Specifications According To JPJ
Car plates in Malaysia are governed by specifications set out by JPJ. Here they are.
Malaysian road users sometimes lament the strict guidelines set up by the Road Transport Department (Jabatan Pengangkutan Jalan, or JPJ). Well, like it or not, some degree of uniformity is required. Car plates in Malaysia bear the Vehicle Registration Number. These unique alphanumerical keys are used by the authorities to quickly and reliably identify specific vehicles and their grants. The data on the grant alone is enough for authorities to track down the car's owner in most cases.
Malaysia Car Plates: Orientations
JPJ only recognises two orientations for car plates in Malaysia and you can have a mixture of both or two of the same kind on your vehicle. Most of the time, it comes down to the type of bracket that your vehicle can accommodate.
The first orientation is to have a top line with the first three letters and a bottom line with the digits (and additional alphabet in some cases).
The second orientation is to have all letters and digits arranged in one line.
Malaysian Car Plates: Dimensions and Spacing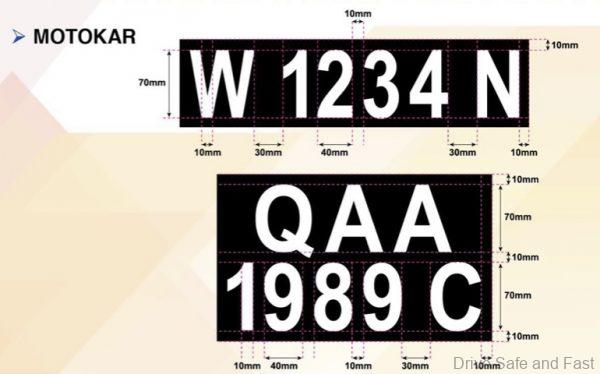 JPJ routinely sets up roadblocks and fines vehicle owners who don't conform to the standards set up. Please take a moment to familiarise yourself with the dimensions required. Individual letters and digits should be no more than 7cm tall and 4cm wide. Breaks between letters should be 3cm, while spacing between individual letters or individual digits should just be 1cm. The thickness of the font used should be no more than 1cm for each stroke. The gap between individual digits and the borders of the car plates should be at least 1cm. Finally, the gap between lines when oriented in 2 lines should be just 1cm.
Special Car Plates: Dimensions and Spacing
You may have seen special car plates in Malaysia that use a word rather than 1-3 letters. These are issued once in a while and they still have to conform to specifications determined by JPJ.
For these plates, the font used is "Calisto MT Italic", with a shorter 3.5cm height for letters and 47mm for digits.
Car Plate Versus Vehicle Registration Number
The Vehicle Registration Number is what is found ON the car plate. These two things are separate and we're only focusing on the car plate in this article.
However, here's a summary about Vehicle Registration Numbers in Malaysia.
In Malaysia, the Vehicle Registration Numbers are typically 1-3 alphabets, followed by 1-4 digits. Some territories will have an additional alphabet at the end of the plate. The first alphabet is related to the state or territory in which the vehicle was registered. Some territories are represented by 2 or more alphabets. In the past, this was adhered to quite strictly. However, over the years, the business of special Vehicle Registration Numbers has become quite lucrative.
JPJ has even come up with a price guide for certain recurring numbers, which you can learn about here.
Prime numbers are the most expensive, with a RESERVE price of RM10,000, attractive numbers (list available in above link) have a reserve price of RM2,000. Popular numbers have a reserve price of RM300, same as current numbers. Mind you, this is just the reserve price, you still have to be the highest bidder if you're looking for a specific number.