Automotive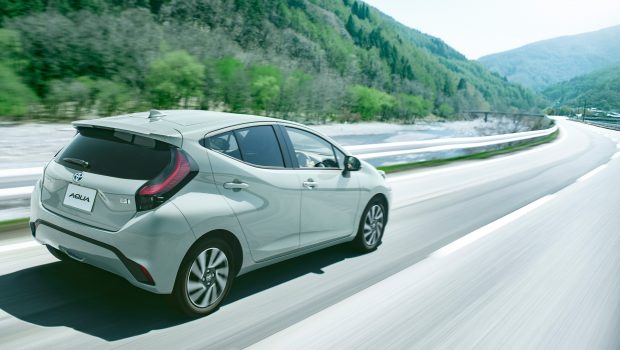 Published on July 20th, 2021 | by Subhash Nair
0
All-New Toyota Prius C (or Aqua in Japan) Premiers Online
The Toyota Prius C gets a successor, known as the Aqua in Japan.
The Toyota Prius C was once an inexpensive way for many Malaysians to own and run a hybrid. However, it was discontinued in many markets a few years ago with no successor. The last major update was in 2017 for the US market and then it disappeared from the scene in 2019. Yesterday, things changed.
Toyota announced an all-new Aqua, which is what the Prius C is called in Japan. While it hasn't confirmed the return of the Prius C on the global market, it's likely this will come shortly.
The new Aqua uses cutting edge bipolar nickel-hydrogen battery technology. Compared to the previous nickel-hydrogen battery in the old Prius C, this battery has about 2 times the power output. This enables smooth, linear acceleration from a standstill or low speeds.
It also enables higher EV-only speeds versus its predecessor. The electric motor is paired to a 1.5-litre Dynamic Force Engine which can come in to drive the wheels when the batteries are a little low on juice or when the car is moving above a certain speed. The combination of this small, efficient 1.5-litre petrol motor and the electric motor with the nickel-hydrogen battery enables the new Toyota Aqua, or Prius C, a fuel economy of 35.8km/L.
Toyota are also fitting the new Aqua with a 'Comfort Pedal', which enables single pedal driving in certain modes. Lowering pressure on the accelerator will increase the 'braking' force.
For the first time, the Toyota Aqua will be offered with E-Four, which is Toyota's all-wheel-drive system with electric power driving one of the axles and petrol power on the other.
The new Aqua or Prius C will also come with the latest Toyota Safety Sense system, including features such as pre-collision braking with vehicle detection even when turning at an intersection. The system will also have Full Speed Range Radar Cruise Control , Lane Tracing Assist (LTA) and much more. The new Aqua also debuts Toyota's Teammate Advanced Park for the first time in a compact vehicle. It also gets Parking Support Brake, which detects stationary objects on the sides of the vehicle and prevents collisions when driving or parking at low speeds.
In Japan at least, the Toyota Aqua will be able to output 100V/1,500-watt of power for accessories and emergencies. We're not sure if this feature will make it to the Prius C, as it seems to be more of a norm in Japan to have EVs with 2-way charging at this point.