Automotive
Published on August 3rd, 2021 | by Subhash Nair
0
Honda NSX Type S Teased, Coming By September 2021
The Honda NSX Type S will be the swan song for this nameplate.
The current generation Honda NSX never lived up to the original product in terms of hype. It's no secret that since its debut in 2016, the new NSX has not been selling very well at all, with sales peaking at just 581 units sold in the United States in 2017 and dropping to as low as just 128 units sold in 2020. The car was doing much worse in Japan, where just 9 units were sold last year.
That being said, it was no performance slouch. It had a total system output of nearly 600 horsepower from a Sport Hybrid SH-AWD system. This consists of a 3.5-litre twin turbo V6 petrol engine, 3 electric motors and a 9-speed dual-clutch automatic. The 2nd generation NSX accelerated from 0-100km/h in just 2.7 seconds and had a top speed of 310km/h. It was extremely high-tech for its time, building off the hype set by hybrid hypercars like the McLaren P1, Ferrari LaFerrari, and Porsche 918.
Honda has a plan to send the model off with one last hurrah. This involves giving it a final limited edition run in the form of the NSX Type S. This new model variant will debut by the end of August 2021 as an Acura model in the United States and as a Honda in other markets.
About the Honda NSX Type S
Few details were shared by Honda, but teaser images seem to indicate some aesthetic differences:
red engine cover
matte and gloss black exterior trim pieces
"Type S" logo
There might be some performance enhancements to increase the total system output or even increase the chassis rigidity. Whatever Honda decide to do, they'll be releasing the details by September 2021.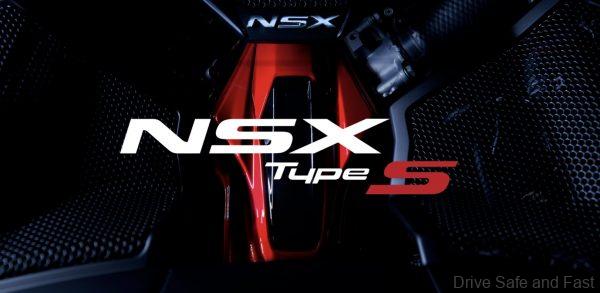 Only 350 units of the Honda NSX Type S will be sold worldwide, with just 30 units being reserved for sale in Japan. Production of the 2nd generation NSX is done at the Performance Manufacturing Center in the U.S. It will come to a halt there in December 2022, bringing the Honda NSX nameplate to an end with no replacement on the horizon.
As a reminder, the last time Honda stopped selling the 1st generation NSX, it took them 10 years to debut a 2nd generation mode.