Automotive
Published on August 27th, 2021 | by Subhash Nair
0
The 2021 Proton Persona Is A Gem In Terms Of Value For Money
The 2021 Proton Persona is actually a huge leap in value for money in the segment.
Earlier this month, Proton launched the new Persona – their B-segment, family-friendly sedan entry. It was the second update to the Persona following the last facelift which took place in 2019 but what most people haven't realised yet is just how much more this new Persona is offering for around the same price as before.
I think that's partly because the new Persona was launched with the new Proton Iriz and the conversation was split between the two cars.
But now that some weeks have passed, we thought we'd take the time to examine just how much work has gone into tweaking and improving the Persona package to be a better fit for most Malaysian small families.
The first place I'd look at is the interior of the Persona 1.6 Premium. The dashboard, centre console and door cards no longer sport the dual-tone look. Instead, they're all in black, like how it is on the Iriz. However on this particular trim level, Proton has now added brown leatherette pieces as soft touch points on the door cards. This material also matches the brown leatherette used on the seats, which makes the interior feel a lot more upmarket than is expected at this price point.
Another big plus in the interior is the all-new infotainment system. The entire centre stack has been redesigned to accommodate a floating-type 8" display. The redesign of this centre stack is also where a lot more value has been added.
The previous model had air conditioner controls that felt like they were taken from a 1980s car parts bin. The switchgear was on the poorer side. This time around, the centre console feels modern with a digital air cond control module and switchgear that feels and looks premium. It's a night and day difference compared to the original Persona models.
The amount of equipment on the Persona is also very competitive for the price. The expected items are indeed here: a reverse camera, daytime running lights, bluetooth connectivity.
However, Proton has also packaged some unexpected features at this price, such as 6 airbags, front and rear parking sensors, 6 USB charging ports, in-car WiFi with 4G infotainment connectivity, voice command, an N95 air filter for the air cond system, and automatic LED headlamps.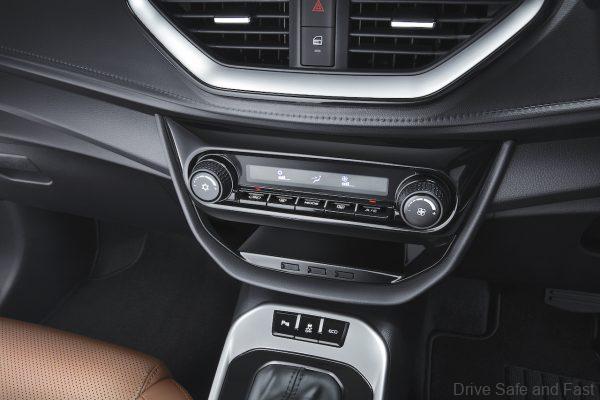 It's really quite an improvement over the last model and the price difference is negligible with the Persona starting at RM45,800 and topping out at RM55,800 for all the bells and whistles. The same hot press formed steel is still used to produce one of the safest chassis in its segment too.
We think the Persona is a very good value in this segment, especially considering the large gap in price between what Japanese competitors are asking for.