Automotive
Published on August 5th, 2021 | by Subhash Nair
0
Toyota's Sales In US And China Have Returned To Pre-Pandemic Levels
The pandemic may have ravaged the economy, but Toyota sales are showing healthy signs already.
After beating VW Group in sales last year, Toyota Motor has posted a net profit of US$8.2 billion between the months of April-June 2021. The latest numbers project Toyota to post a net profit increase of 1.9% rather than a decrease. The company sold 5 million vehicles in the first half of 2021, an increase of 32.7% versus the first half of 2020. Even compared to 2019, this represents an overall increase of 4.5%.
However, things are not all on the up-and-up. Despite the better than anticipated net profit, Toyota are NOT revising their net profit forecast for the rest of the financial year.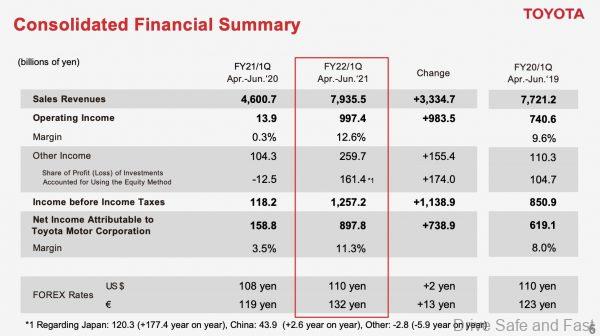 That's because of a number of factors.
Why Toyota Isn't Revising Forecasts for 2021
Firstly, the price of raw materials are rising. Lithium, rhodium, steel, aluminium and plastic prices are all rising, and these are essential to the construction of modern, more electrified cars.
Secondly, emissions standards are now tightening in important markets like China, the US and Europe. Better emissions requires, amongst other things, better catalytic converters. These unfortunately are very expensive, and the raw materials that go into them are also getting pricier.
A third reason for Toyota not revising their forecasts for the year is down to the ongoing semiconductor shortage. The combination of a plant fire at Renesas Electronics in Japan and lockdowns across Asia is choking Toyota's supply chain.
"With the belated recovery of the Renesas Electronics plant that caught fire combined with lockdowns in Asia, we downgraded annual unit sales expectations," said Executive Vice President Seiji Kuraishi.
Finally, there are plant shutdowns to contend with. Many of Toyota's production hubs in Asia, including their Thailand, Malaysian, Vietnamese and Japanese plants, had to be shut down. These shutdowns are all related to COVID delta variant outbreaks in each respective nation.
"In the first quarter, we have seen the results of our improvement activities despite the severe business environment," the company said in a statement. "We will continue these activities in the future, but the situation is still unpredictable due to the expansion of COVID-19 in emerging countries, the semiconductor shortage and soaring material prices."