Automotive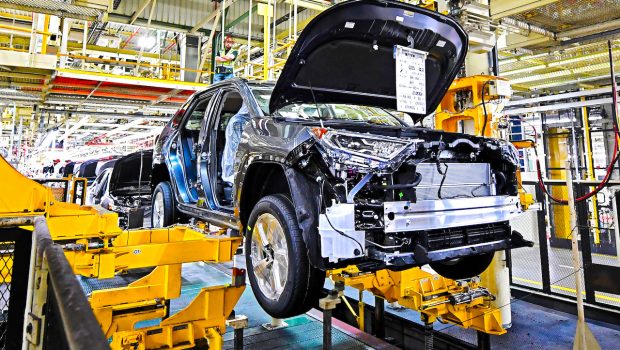 Published on August 20th, 2021 | by Daniel Sherman Fernandez
0
Toyota To Cut Global Production By 40 Percent Due To Chip Shortage
The production cut by Toyota also affects factories in ASEAN.
Toyota Motor Corporation has just shared news of its coming production cut due to supply chain woes as the global shortage of automotive microchips continues to hit its rivals also. Immediate rival Volkswagen Group is also planning to reduce production for the same reason.
In announcing this production reduction last night (Thursday), Toyota blamed the suspensions on bottlenecks in worldwide chip supplies and the outbreak of the COVID-19 Delta variant in Southeast Asia.
Car manufacturers worldwide have been cutting production due to the months-long chip shortage, but a resurgence in COVID-19 cases in Japan, Philippines, Thailand, Vietnam and Malaysia which is the home to auto factories and chip plants have led to stricter curbs and compounded the crisis.
The sweeping shutdowns as reported by Reuters, which started this month, August and will continue through the end of September, will reduce Toyota output in virtually every major market, starting with Japan, North America, Europe, China and Asia.
Japan's biggest automaker expects to lose 360,000 vehicles of output globally in September alone. North American operations will lose about 80,000 units, Europe about 40,000 vehicles, China some 80,000 units, and other Asian operations will feel an 8,000-unit impact.
The world's largest automaker by sales volumes also mentioned that its global production target of 9.3 million vehicles for the year ending in March, as well as its plan to sell 8.7 million cars in the period will be maintained.
The cutbacks will affect 14 Toyota assembly plants in Japan and 27 of 28 production lines here. Toyota said it expects to lose about 140,000 units of production from home market factories in September, on top of another 20,000 units lost through dial backs in August.
Affected factories include the Takaoka and Tsutsumi plants in Japan, which together build the RAV4 and Harrier crossovers, Corolla and Camry sedans as well as the Prius hybrid, among other nameplates. Also hit is the Tahara plant that makes the Lexus LS, IS, RC, RCF and NX models.
The loss represents about 40 percent of Toyota's initially planned global output for September.
Despite the worldwide suspensions, Toyota said that, for now, it was holding steady its production plan to build 9.3 million vehicles globally in the current fiscal year ending March 31, 2022. That total covers output only from Toyota and Lexus, not Daihatsu or Hino.
Toyota is not alone in this parts shortage issue as most of its rivals like VW, including General Motors, Ford, Nissan, Daimler, BMW and Renault, have already scaled back production in the face of the global chip shortage.