Automotive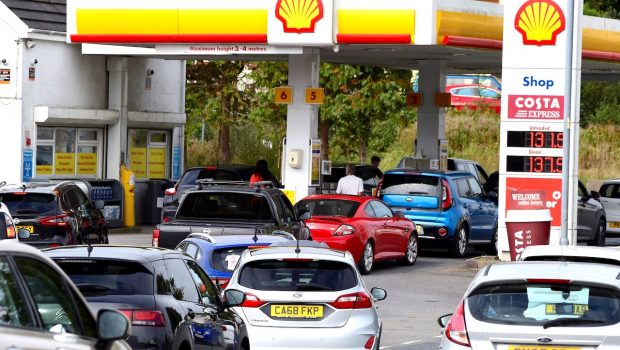 Published on September 26th, 2021 | by Daniel Sherman Fernandez
0
UK Fuel Crisis, Electric Vehicle Owners Not Affected At All
This fuel crisis is just one of many Brexit issues that are popping up.
Motorists in the United Kingdom, specifically petrol and diesel powered vehicle owners only are having to wait for hours to get fuel (petrol and diesel) as long queues form around fuel stations in the country the past three days. Electric vehicles drivers are smiling as they can continue to charge their vehicles at home or at charging stations NOT connected to petrol stations.
ITV in the news.
ITV News reported that a number of petrol stations in the UK have temporarily closed, with BP and Esso warning of petrol and diesel shortages at some of its stations.
BP said on Thursday it had closed a "handful" of its petrol stations due to a lack of available fuel, transport secretary Grant Shapps said as of Thursday five BP petrol stations were affected.
Yesterday the national news reported that panic buying continued throughout Britain's petrol stations on Saturday, prompting an industry chief to say "a lot of people are going to go without fuel".
"This could be emergency services, it could be deliveries to supermarkets, it could be NHS [National Health Service] workers, doctors, firemen, people who have really serious jobs that need 24-hour requirements for fuel," Brian Madderson, head of the Petrol Retailers Association, told Sky News.
The real reason.
Meanwhile, the guardian news said that it was panic buying rather than supply chain issues is driving the shortage of fuel at some petrol stations in the UK, the president of a motoring association has said, amid continued reports of queues for fuel on Saturday.
Police urged drivers to be "sensible" about filling up at petrol stations after long queues built up.
So, why did this happen.
Is there a fuel shortage or a delivery shortage? Well, the UK recently stopped renewing work permits for European truck drivers (who get paid less) to keep UK truck driver wages healthy. Meanwhile, due to Covid-19 pandemic and also Brexit, driver testing and training for UK drivers were stopped for a year and this resulted in a shortage of almost 100,000 drivers which is needed not only for fuel delivery around the country but also for moving goods, food and supermarket essentials.
The driver shortage has also pushed some supermarkets to close temporarily and others to have empty shelves.
Reuters has just reported that Britain's decision to issue temporary visas for 5,000 foreign truck drivers is a short-term fix will not solve an acute labor shortage that risks major disruption for retailers in the run-up to Christmas, business leaders have warned.
EV owners are not affected at all.
So, this situation has shown the benefit of having a full electric vehicle (EV) as they are still able to move around easily without worry of fueling up for petrol or diesel and this might spur the sales of electric cars to buyers who were previously hesitant in taking ownership of an EV.