Automotive
Published on October 30th, 2021 | by Subhash Nair
0
All-Electric Toyota bZ4X Details Revealed
Nearly two months after more Subaru Solterra images were shared, we get info on the Toyota bZ4X version.
The Toyota bZ4X will be spearheading the company's new era of battery electric vehicles when it debuts in the middle of 2022. This all-electric SUV is being co-developed with Subaru and will sit on the all-new e-TNGA platform. This will be the first time Toyota are offering an electric vehicle with its own dedicated electric vehicle architecture. As such, the bZ4X is expected to have extra-wide interior space rivalling that of a D-segment sedan.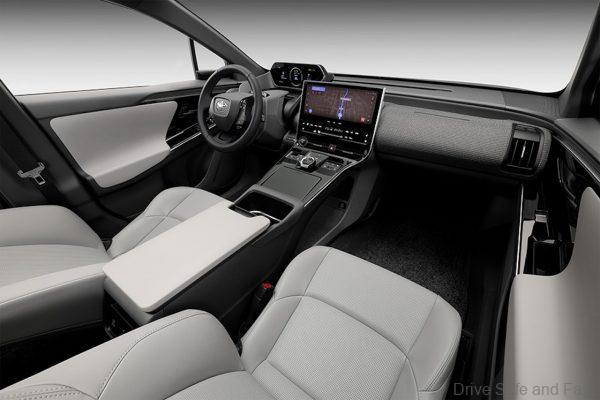 bZ4X Battery Information
However, new information shared by Toyota indicates that the bZ4X will not feature their game-changing solid-state battery technology. Still, Toyota says that the battery pack in their bZ4X will have industry-leading capacity retention, with up to 90% of the original range expected even after 240,000km or 10 years of normal use. For both the front-wheel drive and all-wheel drive models, the lithium-ion batteries will have a capacity of 71.4kWh.
As assumed, the battery pack will be placed under the vehicle's floor. Toyota have engineered the pack to be as thin and flat as they can make it. The E-axle, integrating motor, transaxle, inverter, and Electricity Supply Unit are all firsts for Toyota.
To keep the battery pack safe, the chassis is designed for maximum impact protection from all directions. Hot stamped materials and high tensile steel has been used in key framework parts, with enhanced rigidity of various parts around the battery pack, suspension and radiator.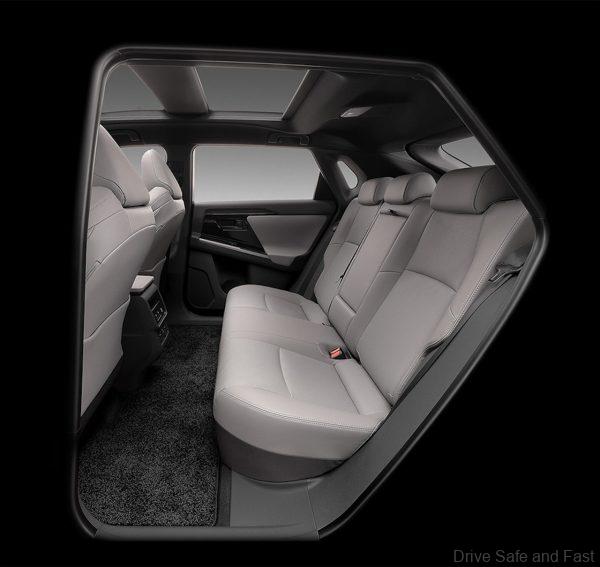 Toyota also shared that the bZ4X will feature loads of energy-saving ensure maximum range can be extracted for use. This includes the use of a heat pump type air-conditioner. It will also be compatible with 150kW DC Fast Chargers for up to 80% state of charge recovered in just 30 minutes.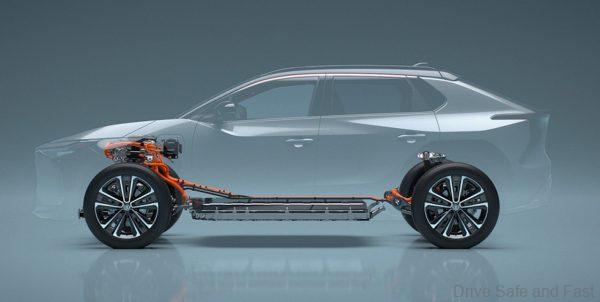 They've also committed to giving these batteries as sustainable a lifespan as they possibly can. On top of its world-class capacity retention, they will also proactively promote initiatives for battery recycling and reuse of materials.
One of the options available for the bZ4X is a solar panel roof. This accessory can recover about 1800km worth of driving range per year based on Toyota's estimations. That amounts to less than 5km a day of free energy. Not great, but not terrible either. It will be down to how expensive this feature is.
Other Interesting Aspects
To give the Toyota bZ4X the best dynamics possible, the front and rear motors are independently controlled during turning. It will also inherit Subaru-developed X-MODE with the new Grip-Control feature.
An innovation being brought to the interior of the bZ4X is the positioning of the meters, which are now top-mounted. Steering-mounted controls are now mounted to sides of the horn pad, which Toyota says promotes eye guidance from hands to meters.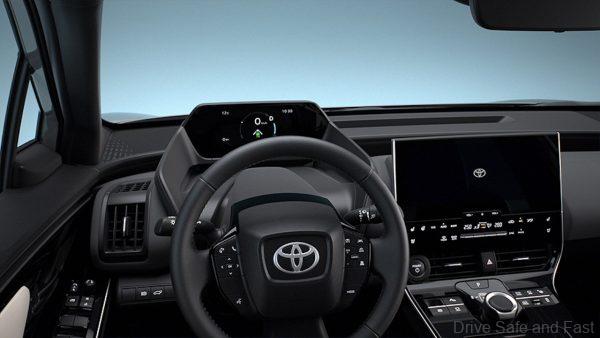 Available for the first time is a steering 'wheel' with handles on the side and bottom, but not the top called 'One-motion grip'.
Some models will incorporate a steer-by-wire system which has a lock-to-lock of 150-degrees, allowing drivers to keep their hands on the steering at all times, even when doing a U-turn or driving on exceptionally twisty roads. This also prevents unnecessary vibrations from being transmitted into the steering wheel and the shape of the One-motion grip also improves legroom. Toyota are also adopting a dial selector for the transmission, which is another first for them.
Other features expected on the Toyota bZ4X are:
Enhanced Voice-Recognition
Over-the-air software updates
Digital key for use with smartphones