Automotive
Published on October 24th, 2021 | by Daniel Sherman Fernandez
0
Why Is The NEW Defender The Best Off Roader In The World
We share some 4×4 features and capabilities of this all new Defender.
The all new Defender has just been launched in Malaysia and it is Land Rover's most capable vehicle ever thanks to its Electronic Active Differential, all-wheel-drive, and a two-speed transfer case.
The all-terrain capability of this new and very safe Defender is further enhanced by the vehicle's ability to take on steep angles. The Defender has an approach angle of 38 degrees, a break over angle of up to 29 degrees, and a departure angle of 40 degrees so you can climb any object that stands in your way.
If the driver needs a little bit more height to go over an object in its path, all the driver needs to do is just use the Electronic Air Suspension system of the Defender to raise the ride height by 2.9 inches and if that is still not adequate, then the driver can get even more you need even more ride height from the new Defender with an additional 2.7 inches.
New Defender All Wheel Drive Explained
The all-wheel-drive system of the Defender works by balancing torque between the front and rear wheels when driving across low traction surfaces. Balancing torque between all four tires provides the Defender with enhanced control and stability so you can make it through any terrain.
The Defender's ability to conquer steep inclines and declines is assisted by a twin-speed gearbox that provides an additional set of lower gears that really shine when conditions are tough. Off-road technologies such as Gradient Release Control and Hill Descent Control also assist in delivering a smooth ride down steep terrain.
When traversing down a particularly challenging incline or through tough terrain turn on All-Terrain Progress Control which maintains a steady speed so you can focus solely on the task of navigating your way through the tricky path ahead.
The Terrain Response system of the Defender then allows you to individually adjust the steering, powertrain, traction control, and differential settings to your needs.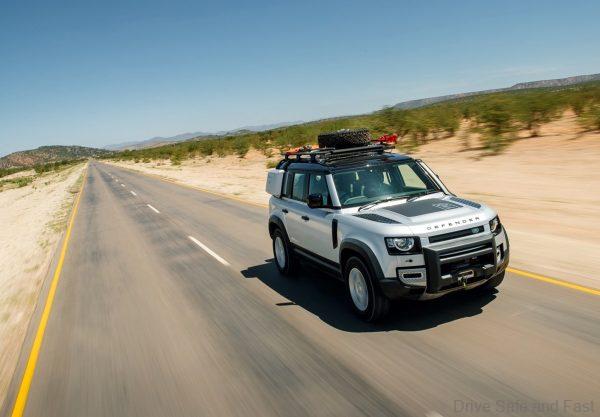 The immense off-road capability of the Defender is powered by your choice of two powerful engine options. The first engine option is a 2.0-liter 4-cylinder turbocharged petrol engine that retails for RM798,800.
The second powertrain option is a mild hybrid that combines with a 3.0L turbocharged petrol engine and this retails for RM998,800.
Land Rover Defender Off-Road specifications are as follows.
Ground Clearance: 8.6 inches to 11.5 inches
Maximum Wading Depth: 35.4 inches
Approach Angle: 30.1 – 38.0 degrees
Breakover Angle: 22.0 – 28.0 degrees
Departure Angle: 37.7 – 40.0 degrees
Wheelbase: 118.9 inches
While the new Defender pavement driving experience like its sibling, the Range Rover, however, as soon as the tires of the new Defender meet unforgiving terrain, this new 4×4 will deliver unrelenting off-road capability.
"The new Land Rover DEFENDER is the toughest vehicle we've ever made with an evolved all-aluminium monocoque that makes it safe, light, capable and engaging to drive. Tested to the extreme having done 1.2 million testing kilometres and 45,000 individual tests to ensure a combination of everyday reliability and a lifetime of strength."