Automotive
Published on November 24th, 2021 | by Subhash Nair
0
Great Wall Motor Has Launched Its Third Brand This Year, Saloon
Great Wall Motor may not be on many of our radars, but they've been expanding heavily this year with the Saloon brand for EVs.
Great Wall Motor (GWM) has just launched another sub-brand called "Saloon", which they say will produce luxury all-electric vehicles to go up against the likes of Tesla. The Saloon brand was launched at the 19th Guangzhou Auto Show.
Now much was shared about the long term strategy of the Saloon brand, but it is clear that they want to use this brand to do battle with the likes of Tesla and perhaps even the Porsche Taycan. The first car that was shown by the Saloon brand was the Saloon Mecha Dragon – a car that gets its name from video game character from Mega Man 2.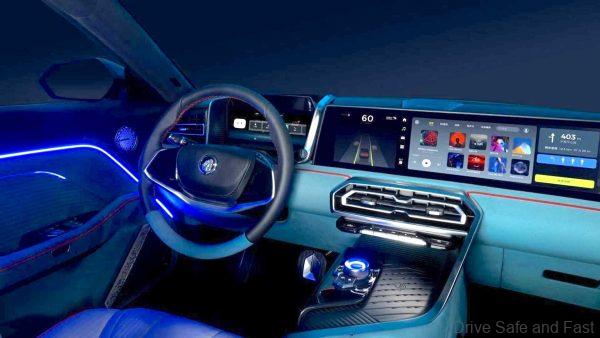 The design of the Saloon Mecha Dragon is quite polarising. On the one hand, it is rather unique with its hard lines, sharp angles and flat surfaces. It almost looks as if it's purposefully made to mimic the hard lines of the late 1970s and early 1980s with the 5-door fastback shape that's becoming popular amongst non-SUV buyers today.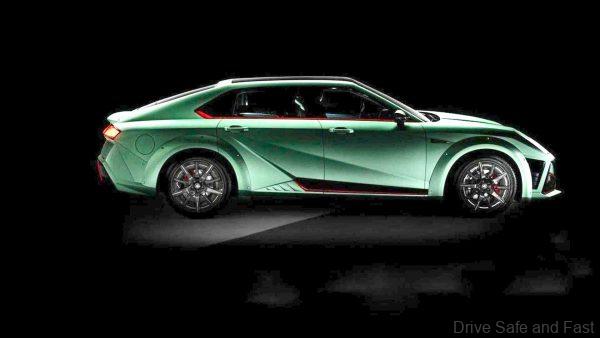 The side profile view shows all 5.2 metres of the Mecha Dragon's length. Loads of creases and panel lines create a truly unique silhouette. Red and black highlights bring a level of contrast against the body colour.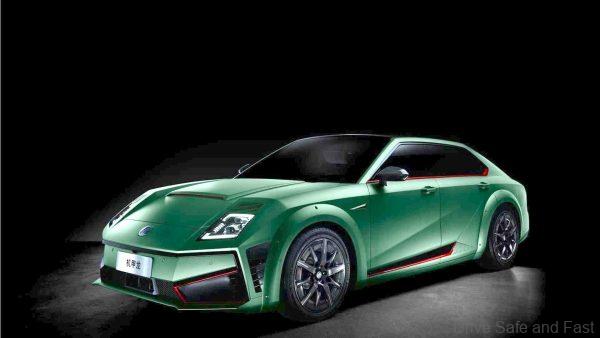 The face of the Mecha Dragon is probably the sportiest angle of the vehicle. A (probably non-functional) hood scoop and various air intakes on the bumper create the impression of a performance car. Again, not a curve is in sight from this angle. Around back, some interesting lighting elements can be seen… and fake exhaust pipes? It makes us wonder how much of the design is actually functional at all.
Inside though, the design softens up and we're left with a very luxurious and modern looking cabin. Two options were presented in the press photos. One with blue upholstery and blue ambient lighting. The other with more palatable brown leather upholstery.
The interior photos show a few Porsche-esque design cues along wide a dashboard-spanning display, a digital instrument cluster, a 2-spoke steering wheel and seating for about four and a half humans. There's a mix of leather and suede-like upholstery on the seats.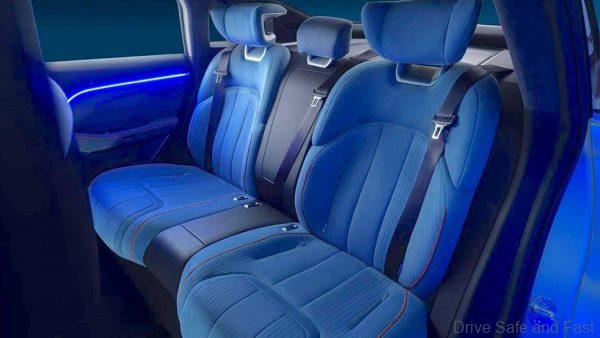 The images of the brown interior show a dual-tone cabin complete with black suede or alcantara headlining and a full-length moonroof.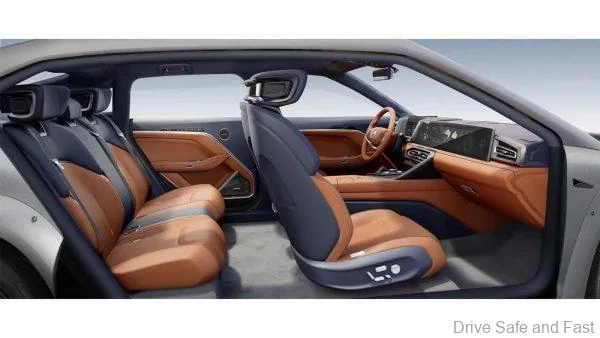 It certainly looks like a spacious and comfortable cruiser form these rendered images.
But now on to the more important questions – how good is it as an electric vehicle and how much will it cost?
Well, according to the in-house specifications, the Saloon Mecha Dragon will have dual electric motors capable of 405kW/543 horsepower and 750Nm of torque. A 115kWh battery enables the Mecha Dragon to be driven for 802 kilometres, which is really impressive. Do note that this range rating is based on the Chinese light-duty vehicle test cycle (CLTC) and not WLTP. 480kW/800V fast charging is supported, which is also extremely impressive. With that kind of charging power, one can recover 400+ km with just 10 minutes of charging! 0-100km/h is done in just 3.7 seconds.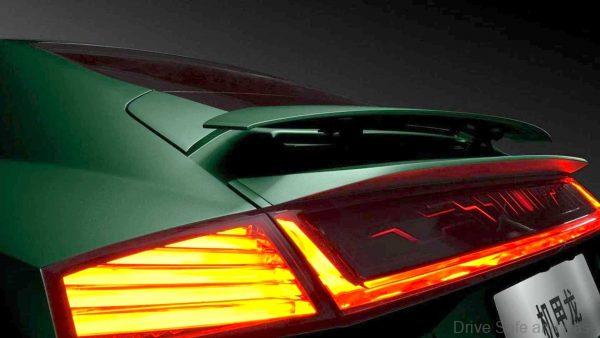 The Saloon Mecha Dragon will also come with a range of self-driving features thanks to a set of 4 LIDAR modules and multiple cameras and sensors.
Only 101 units will be made a cost of approximately US$80,000 per car. Not bad at all for a debut model!