Automotive
Published on December 16th, 2021 | by Subhash Nair
0
Audi S1 e-tron quattro Hoonitron Is Electric And Made With Ken Block
Rally driver Ken Block teamed up with Audi to create a one-off electric Audi S1 e-tron quattro Hoonitron.
About 10-15 years ago, Ken Block exploded on the scene with a promising rally career and he popularised the whole gymkhana scene – a form of autocross that involved a lot of drifting, spinning, reversing and more. His popularity has not quite waned and he still commands a rather large audience. Now Audi have delivered to him a one-off all-electric gymkhana prototype that takes inspiration from the original Audi Sport Quattro S1 Pikes Peak race car.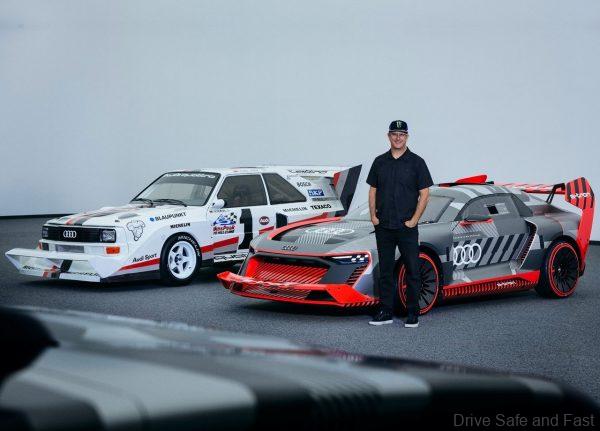 The Audi S1 e-tron quattro Hoonitron went from concept to reality in just four weeks. Normally the process would take at least a year, but Audi's design team was so enthusiastic about it that they skipped building a scale model of the thing. The vehicle has already been driven by Ken Block, but no footage of this was shown. It will be used in an upcoming Electrikhana event.
Here's the press release with more information.
PRESS RELEASE
Audi has presented the Audi S1 e-tron quattro Hoonitron that it has exclusively and uniquely developed for American drift artist Ken Block. This all-electric one-of-a-kind car will be the protagonist in a new video that Block is producing together with his team for release in the next few months.
Two electric motors, all-wheel drive, power galore, a carbon fiber chassis, and the full safety standards as prescribed by motorsport's top governing body, the FIA – these are merely the S1 Hoonitron's statistics. In November 2021, the driver got to know the car for the first time.
The entire development, including the technology, of the S1 Hoonitron was conducted by Audi Sport at the Neckarsulm location – a perfect fit for the project, because that's also where the Audi RS e-tron GT is produced. Audi Design in Ingolstadt was responsible for the styling, which has been anything but a run-of-the-mill job for Marc Lichte and his team.
Fans will be able to see the US star's success with the project for themselves: under the working title Elektrikhana, Ken Block and his team are going to produce a video of his famous Gymkhana series featuring the S1 Hoonitron.